Level Up Leadership: Alpa Jain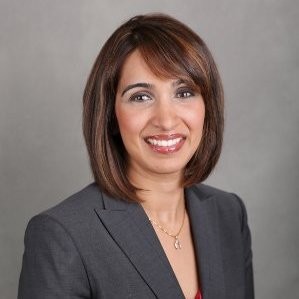 Level Up is designed to help you get to know the leaders of Experian and gain insight into the skills needed to grow your career.
You can subscribe to The Level Up Leadership podcast on iTunes, Google Play, SoundCloud and Spotify.
Most recently, we spoke with Alpa Jain, Vice President of Experian Information Technology Services (EITS) Strategic Projects. Alpa joined Experian in 2012 and has well-rounded expertise in key business functions, including managing and running the Prospecting suite of solutions in Consumer Information Services (CIS) Product Marketing, as well as experience in areas of legal/compliance, sales and the National Customer Assistance Center (NCAC). Alpa Jain was Vice President of the API Center of Excellence for EITS for several years.
Here are a few takeaways from our discussion with Alpa:
Establish trust and empower your team.
Alpa is a big believer in entrusting your team to perform to the best of their abilities by empowering them. The work that we do at Experian is built on relationships, and good leaders should be able to establish trust and encourage their teams in a way that increases efficiency and innovation. Here are some ways you can start empowering your team members:
Exchange meaningful feedback between trusted colleagues
Humanize your team members; they have lives outside of work and that part is worth getting to know, too!
Focus on building relationships through intentional networking
Show your team members you have their backs, especially during rough times
Understand when you should delegate vs. when you should get your hands dirty.
As someone who has been an individual contributor before, leaders will naturally want to be as heavily involved as possible in the workplace. But being a leader now means having to trust your team to carry out the tasks you need them to. Distinguish the difference between delegating and asking yourself these questions:
Have I done a good enough job training my team to do the tasks I need them to?
Can my team take on this workload without me?
Is my direct involvement actually needed or am I just worried about missing out?
Don't ever let things fester or drag on.
Delegating means that sometime down the road, you'll have to deliver negative feedback to a member of your team. It's always awkward and uncomfortable to have to discuss the shortcomings of someone you highly respect, but these conversations should never be swept under the rug. The sooner you discuss this, the better! Keep these tips in mind the next time you find yourself in this situation:
Communication is the key to a good outcome; be direct, be precise and be honest
Remain supportive and express your commitment to your team member's growth and improvement
Do not let your impostor syndrome take over. 
Impostor syndrome is common, but that doesn't mean it should go ignored. Alpa, like many professionals, has dealt with this pesky syndrome and offers great advice:
Be aware of what impostor syndrome is so you can see when your situation is starting to get bad
Seek help from your support network—professional and personal
Recognize that this is not the reality and be confident that you are doing a good job
Self-awareness is a skill you can work on.
It takes a lot of humility to admit that you need help sometimes. Self-awareness is paramount to succeeding; here are a few measures you can take to ensure you're staying self-aware in the workplace:
Schedule one-on-one meetings with your peers to understand what you need to work on
Set goals and measure yourself to look out for improvements
Ask for help when you need it, but also remember to believe in yourself and your ability to make decisions
—
We were so happy to have the opportunity to chat with an accomplished and insightful woman such as Alpa.