Keys to Business Transformation & Launching Successful A.I. Strategies w/ Shervin Khodabandeh @BCG (Episode 106) #Datatalk
Download (or listen) to the podcast:

Every week, we talk about important data and analytics topics with data science leaders from around the world on Facebook Live.  You can subscribe to the DataTalk podcast on iTunes,  Google Play, Stitcher, SoundCloud, and Spotify.
DataTalk features data science leaders at MIT, Caltech, United Nations, Gartner, Twitter, Salesforce, Amazon, UBER, IBM, LinkedIn, Spotify, Dow Jones and dozens of other startups and top data companies.
In this week's #DataTalk, we chat with Shervin Khodabandeh from Boston Consulting Group about digital transformation and ways to effectively launch AI strategies in your organization.  In this episode, he shares:
Why it's vital to understand your core business problems and business drivers
Advice for leaders who want to lead business transformation
Why it's important to understand the interconnectedness of different business disciplines
Keys to getting stakeholder buy-in on AI projects
Why it's important to constantly challenge assumptions
Steps for making business decisions when you don't have enough data
Why it's important to find comfort in ambiguity
Career advice for data scientists who want to move into leadership roles
H.R. strategies for developing a career track for data scientists
Insights from his latest global executive study on AI at MIT Sloan Management Review
Make sure to check out his article: How to Win with Artificial Intelligence.
About Shervin Khodabandeh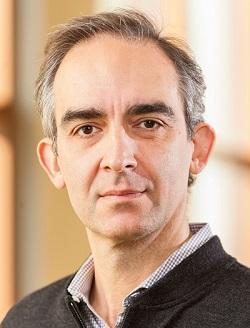 Shervin Khodabandeh co-leads Boston Consulting Group's AI business in North America. He helps clients get real impact from AI and analytics by working with them to articulate and drive a bold ambition and to build game-changing capabilities to transform their businesses.
Shervin has nearly 20 years of experience in driving business impact form AI and digital and analytics. He has worked with premier brands across the globe in consumer, retail, financial services, travel, energy, and health care.
Shervin is an expert in organization-wide analytics transformation. He has helped numerous companies devise their analytics strategy, drive growth and margin through analytics solutions, and build strong internal teams and capabilities.
Prior to joining BCG, Shervin helped co-found a pure play big data analytics firm, Opera Solutions, where he was the global head of consulting. He was also previously an engagement manager at Mitchel Madison Group, a global consultancy, and has been on the advisory board of several tech and startup firms.
Shervin earned his Ph.D. and M.S. in Chemical Engineering from Caltech and his B.S. in Chemical Engineering from U.C.L.A.
Check out all data science video chats