How to Escape Scary Debt
Is your debt haunting you? It's time to look it in the face and create a plan of action. This week's panelists have already escaped the grip of debt and they shared some great tips with the community.
Our panel included: Kelby Green– Financial Services Veteran and 'Chief Frugality Officer' at TheFRUGALennial.com, Melanie Lockert– Personal Finance Writer and Founder of DearDebt.com,  Rod Griffin– Director of Public Education at Experian, and Mike Delgado– Social Media Community Manager at Experian.
Click on the link to view the discussion on Blab.
Since this is special Halloween-inspired chat, we asked our community to share their favorite spooky songs. If you have more music suggestions, please tweet us so we can add to this playlist.
We'll be playing this Halloween music throughout the hour:
If you have ideas for future topics and guests, please tweet @Teena_LaRo or email Christina.Roman@experian.com.
Questions We Discussed:
Q1: Why is debt so frightening?
Q2: What debt zombies can linger in your credit report?
Q3: What nightmares can you encounter if you don't pay your debt?
Q4: How can credit cards put you into a debt spell?
Q5: What hair-raising debt can leave you screaming for help?
Q6: What should you do if debt collectors are haunting you?
Q7: What type of financial services are more tricks than they are treats?
Q8: How can you send debt to an early grave?
Q9: If your debt story was a horror movie, what would it be called?
View highlights from this chat on SlideShare:

How to Escape Scary Debt from Experian_US
Top Tips from This Chat: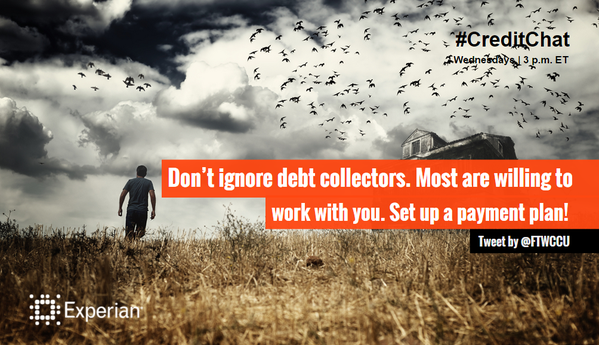 The Entire TweetChat on Storify:
Recent Chats on YouTube & Twitter