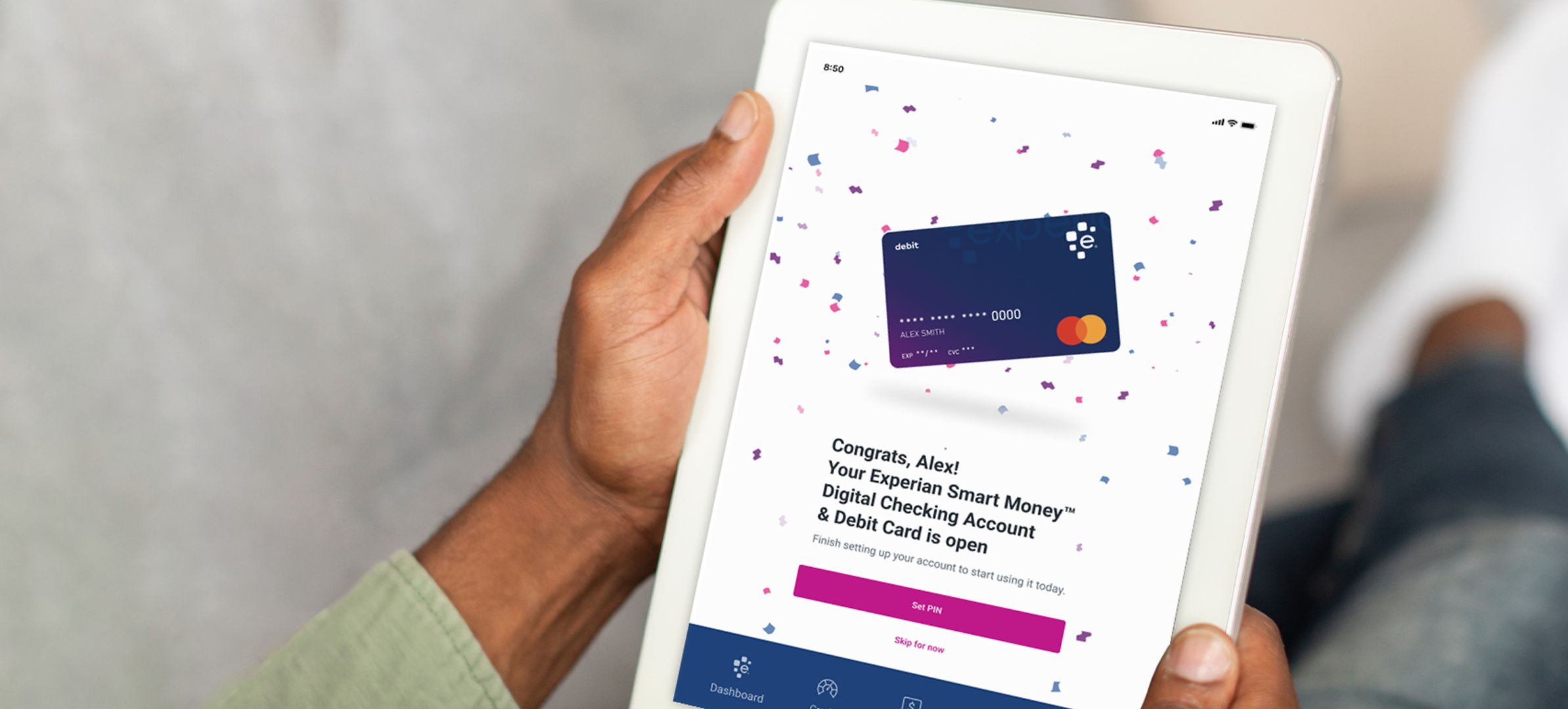 Our mission at Experian Consumer Services to achieve Financial Power for All™ drives our purpose and innovation. As part of this focus, we aim to help the more than 28 million1 consumers who are considered "credit invisible" with no or little credit history to gain fair and affordable access to credit. Continuing in our commitment to financially empower consumers, we are excited to announce today the launch of the Experian Smart Money™ Digital Checking Account & Debit Card2.
What makes the Experian Smart Money Account unique is that it takes one of our most successful features ever in Experian Boost®3 to a new level of ease by embedding the feature in our new digital checking account. Experian Boost is a free game-changing feature launched in 2019 that allows consumers to contribute positive payments for eligible bills such as utilities and residential rent to their Experian® credit reports to potentially increase their credit scores. More than 14 million consumers have already connected to Experian Boost – via their existing checking account or credit card – with an average FICO® Score 84 increase of 13 points, among those who saw an increase. Now, the Experian Smart Money Account will drive efficiencies for consumers by allowing them to build credit more easily without debt and manage their day-to-day finances in one place.
Helping consumers along their financial journey
We understand that every consumer has different needs when it comes to their finances. When consumers engage with Experian, they can tap into many resources such as Experian Go™, which allows consumers to directly establish an Experian credit file for the first time and take off on their credit journey. For consumers who already have a credit profile and are looking to build their credit history and potentially increase their credit scores, they can leverage Experian Boost to contribute eligible payment history to their Experian credit file. Now with the Experian Smart Money Account, Experian is building upon these innovations and creating an even more robust credit and financial hub beneficial for various life stages.
In fact, being credit visible and establishing a good credit score is essential for achieving many goals like moving into a new home, buying a car or securing employment. The positive impact we can have on consumers' financial lives is what motivates us every day to create products and tools like the Experian Smart Money Account.
Making 'smart' money moves
While Experian is entering a different category of services, offering a digital checking account is a natural next step for us to help consumers reach their financial goals. The Experian Smart Money Account could most benefit consumers who are looking to build their credit profile. So, we believe our credit-building power makes this offering a positive complement to other financial products and services in the market. The Experian Smart Money™ Account accelerates, supports, and enriches consumer choice to build credit responsibly, which has a direct impact on the growth of credit-eligible populations. It benefits both consumers and broader financial institutions, and we are dedicated to playing a special role in the financial ecosystem helping consumers leverage debit and credit to their advantage.
For more information about Experian Smart Money™ Account, visit www.experian.com/smartmoney.
---
1 Financial Inclusion and Access to Credit by Experian and Oliver Wyman, October 2021
2 The Experian Smart Money Debit Card™ is issued by Community Federal Savings Bank (CFSB), pursuant to a license from Mastercard International. Banking services provided by CFSB, Member FDIC. Experian is a Program Manager, not a bank.
3 Results will vary. Not all payments are boost-eligible. Some users may not receive an improved score or approval odds. Not all lenders use Experian credit files, and not all lenders use scores impacted by Experian Boost®. Learn more.
4 Credit score calculated based on FICO® Score 8 model. Your lender or insurer may use a different FICO® Score than FICO® Score 8, or another type of credit score altogether. Learn more.