We're thrilled to announce that Experian North America has been recognized as a Top Workplace by the Orange County Register for the 10thconsecutive year, with an additional "Excellence Award" for our work / life flexibility. This honor is a testament to our innovative employee culture, and keeping connected, engaged and energized as a hybrid workforce.
This Orange County Registerawardrecognitionis based on the results of confidential employee surveys that assess the performance of hundreds of successful companies throughout our community. We recognize that our employees are the driving force behind our decade-long achievement as a Top Workplace. Our talented team is dedicated to both their own growth and pushing us forward, and we're grateful for all they do to make Experian such a great place to work.
Employee collaboration from our hackathons and company-wide product overviews have sparked remarkable innovations, such as Experian Go and Experian Boost. These products are especially helpful to members of diverse backgrounds and low-income households. Our Mental Health First-Aiders program is another example of employees coming together to support each other.
Our commitment to creating a supportive, purpose-driven culture is reflected in multiple awards from authoritative sources such as Great Places to Work. Not only was Experian listed among the "Best Workplaces for Parents," we're also honored to be included on their list of "Best Workplaces for Millennials."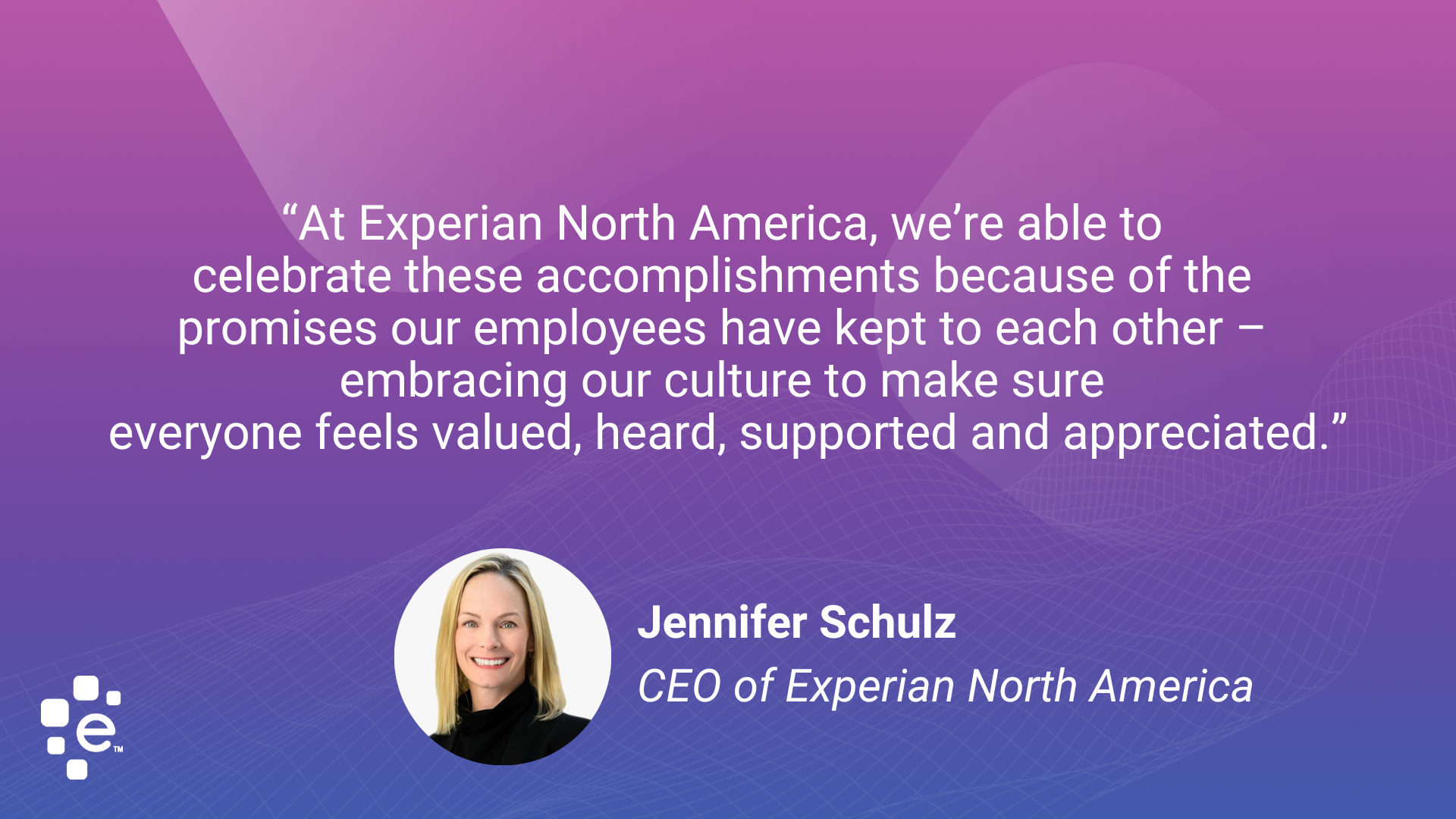 Additionally, we're passionate about giving back to the communities in which we work and live. We take pride in our company's numerous contributions to organizations focused on the well-being of people from a diverse array of backgrounds. From creating the Experian Volunteer Leadership Network to our financial support of community organizations such as Ascend, National Urban league, HomeFree-USA and the Pathways Forward Initiative, we're dedicated to helping people in need.
We believe all these factors have led to our success as a company and a desirable place for people to build thriving careers. We're honored that leading organizations like the Orange County Register and Great Places to Work recognize our efforts to make the world a better place.
We want to make sure that we continue to innovate; that our products and services are first-best-and-only in their respective industries; and that we take very good care of our constituents.