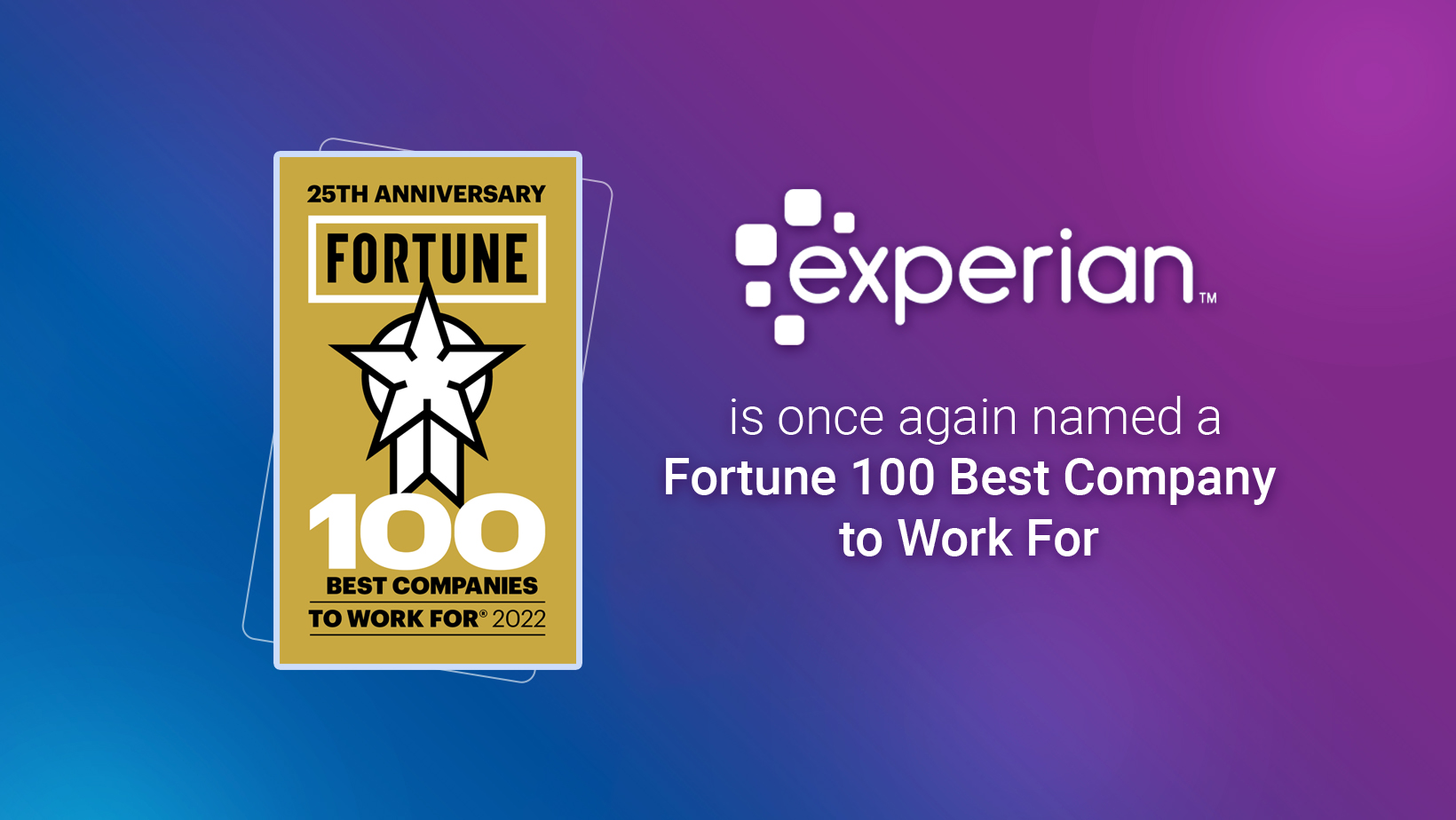 Last year, while still in the grip of the effects of the pandemic, Experian North America continued to reinforce our core purpose and People First approach through creating a workplace culture of belonging, employee wellness and personal and professional growth.
It's especially rewarding that this commitment, along with our financial planning and consumer education resources, were highlighted in this year's Fortune 100 Best Companies to Work For award recognition. For the third year in a row, Experian North America was named to the prestigious national list that honors the "100 Best companies that adapted to massive changes in the workplace by prioritizing employee well-being, inclusion, purpose, listening and care wherever their employees are."
To determine this year's 100 Best list, Great Place to Work®, America's largest ongoing annual workforce study, surveyed more than 870,000 employees and gathered data from companies representing more than 6.1 million employees. The survey enables employees to share confidential feedback about their organization's culture and the employee experience.
Great Place to Work cited that "Experian has expanded benefits to include fertility, surrogacy, and adoption coverage and enhanced its higher education financial planning resources. It's also tackling workplace equity from the very start of the hiring process with an in-house tool called Lingo that identifies gender-biased language in job descriptions." In addition, "Experian began to hold conferences for employees to discuss their personal struggles during the pandemic. Since then, the company has continued to improve wellness initiatives, while staying committed to flexibility around employee schedules."
"At Experian we're especially proud of our purpose-driven culture, where all our people play a role in making a positive impact in the day-to-day lives of the consumers, clients and communities we serve. This includes taking care of each other, celebrating our individual differences, and delivering on our purpose to create a better tomorrow for people everywhere," said Jennifer Schulz, Chief Executive Officer of Experian North America. "This recognition from Fortune reflects the very best Experian offers to all those we help, and I couldn't be prouder of our people and the work we're doing."
At Experian, we believe bringing together unique experiences, diverse backgrounds and individual differences creates a dynamic, innovative and inspiring workplace — one reflective of the clients and communities we serve around the globe. This is why it's such an honor to be recognized alongside other outstanding brands on the Best 100 list that prioritize their employees.
This recognition continues the momentum we've built in recent months with other industry accolades and awards. In February, Experian North America was named a "Best Place to Work for LGBTQ Equality" for the fourth year in a row in the Human Rights Campaign Foundation's Corporate Equality Index 2022, receiving a perfect score in the foundation's evaluation.
Last year, Experian North America was named to the Fortune Best Workplaces for Women™ 2021 among large organizations and 100 Best Large Workplaces for Millennials. In addition, we were ranked the #1 Top Workplace in 2021 by the Orange County Register for the second consecutive year.