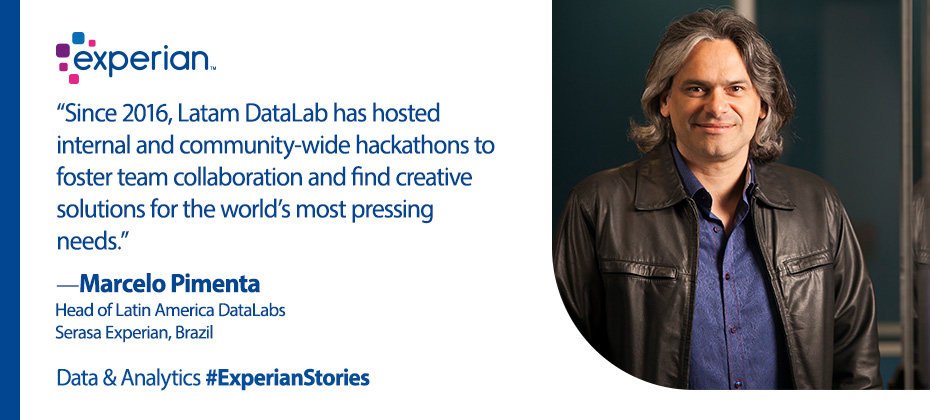 I'm the head of Serasa Experian's DataLab, where my colleagues and I focus on using data and artificial intelligence to solve complex challenges for our customers. Our team of data scientists and applied research practitioners use data analytics to create new products and services that address world needs. One successful product is RWA, a platform that analyzes the dynamics of cities to help businesses make informed decisions on their next site location.
Occasionally, however, we also discover innovative ways data can solve our own obstacles at Experian.
Last year, several departments within Experian were facing similar challenges. We realized the problem could be solved if each group got together to share their perspectives, brainstorm and then collaborate on a common solution. At the end of that project, our teams decided to find more ways to encourage cross-team collaboration within the DataLab network more often. That's when we decided to launch our first hackathon.
Hackathons are events where a large number of people are challenged to participate in collaborative computer programming projects. Various challenges are proposed and the goal is to optimize, reinvent or replace current solutions, providing the participants with the freedom to select their project and team.
For our inaugural hackathon, we challenged 80 programmers, designers and project managers to work together for more than 24 hours to create efficient authentication and retention processes to benefit customers. In our second hackathon, we asked participants to create a new Serasa Experian app that would improve relationships with consumers, along with new products that would utilize Experian's database.
The winning app solution ended up using positive registration data to improve personal credit scores for consumers. This app is now in the process of implementation.
For our most recent hackathon, held in 2017, we challenged 200 employees and external participants to develop solutions. One of the challenges was to develop solutions to improve the lives of visually disabled individuals. We invited three people with visual disabilities to share their experiences, giving the teams a personal perspective for how a new product could improve their daily lives.
For more than 40 hours, the teams worked tirelessly – utilizing data analysis, product design and business planning – to develop their innovative ideas.
Although we have only hosted three so far, I hope to continue bringing the culture of the hackathons into our day-to-day activities at Serasa Experian. By collaborating more with coworkers in the past couple of years, I have been inspired by their ability to approach problems in unique ways.
I am proud to foster such a collaborative environment and excited to see my coworkers prove a fundamental belief at Experian – hard work can also be fun when you work hard and play hard.