Amid a shortage of women pursuing STEM careers, organizations must be committed to helping women who have chosen to enter the tech industry and are poised for success in key areas such as collaboration, creativity, innovation, leadership, and transformation.
At Experian, we are an advocate for diversity, inclusion, and gender equality in technology functions and beyond.
Showcasing the impact women have in the tech community, the Advancing Women in Technology (AWT) organization recently honored several Experian women at its 16th Annual Scholarship event.
Keynote Presentation

Experian's president of partner solutions, Jennifer Leuer, was the featured keynote speaker. As part of her presentation, Leuer encouraged the audience to create a culture of confidence to advance women.
"This year's headlines marked a watershed year for women in the workplace. We need to keep that momentum going by creating a culture of confidence in the workplace, with our families and in our communities," said Leuer.
"One of the many ways we can do this is through mentoring. By providing more women with support and varied perspectives, we assist them with navigating new challenges with confidence."
AWT 2017 Outstanding Executives in Technology Award
The Outstanding Executives in Technology award was given to Faith Gaudino, Experian's senior vice president of corporate project management, for her successful career in technology.
For nearly 40 years, Gaudino has worked on Experian's strategic technology portfolios. Her work is key to maximizing Experian's investments in technology, business expansion, security and business transformation.
"What I enjoy most about my position is the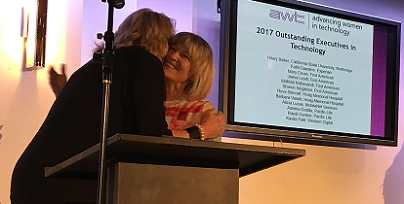 diversity of projects that I work on," said Gaudino. "My team gets involved in everything from acquisitions to rolling out the latest technology changes throughout the organization. This diversity allows me to constantly learn new things. I am proud to be recognized by the AWT and I hope to inspire other women to pursue and continue careers in technology."
AWT 2017 Rising Women in Technology Award

The Rising Women in Technology award recognizes women who have successfully established careers in a variety of technical positions such as engineering, software development, business analytics and management.
Five women from Experian were given this award:
Becky Clay, marketing automation campaign manager – Clay is responsible for increasing response and conversion rates for the company's enterprise marketing and internal communications campaigns.
Sirisha Koduri, web development lead – Koduri leads the development of Experian's global content management system.
Thy Phan, senior marketing analyst – Phan works on email marketing for the B2B businesses across the Experian enterprise.
Anjali Pipriya, software development expert – Pipriya helps develop and maintain the Experian lead capturing platform.
Amber Garcia, expert project manager – Garcia manages technology projects for Experian's online and mobile credit products.
"In the technology industry, women have a lot of opportunity to have a voice and be successful," said Garcia. "At Experian, I have gained confidence in my work, grown and found my voice. I feel this award is a milestone in my career that shows how far that I have come."
Experian puts significant effort in attracting a diverse workforce. We are one of 28 companies named to the Leadership Index of companies whose representation and development of women technologists is above the mean. We also participated in the 2017 Wonder Women Tech Diversity & Inclusion Conference and the Grace Hopper Celebration of Women in Technology Conference.