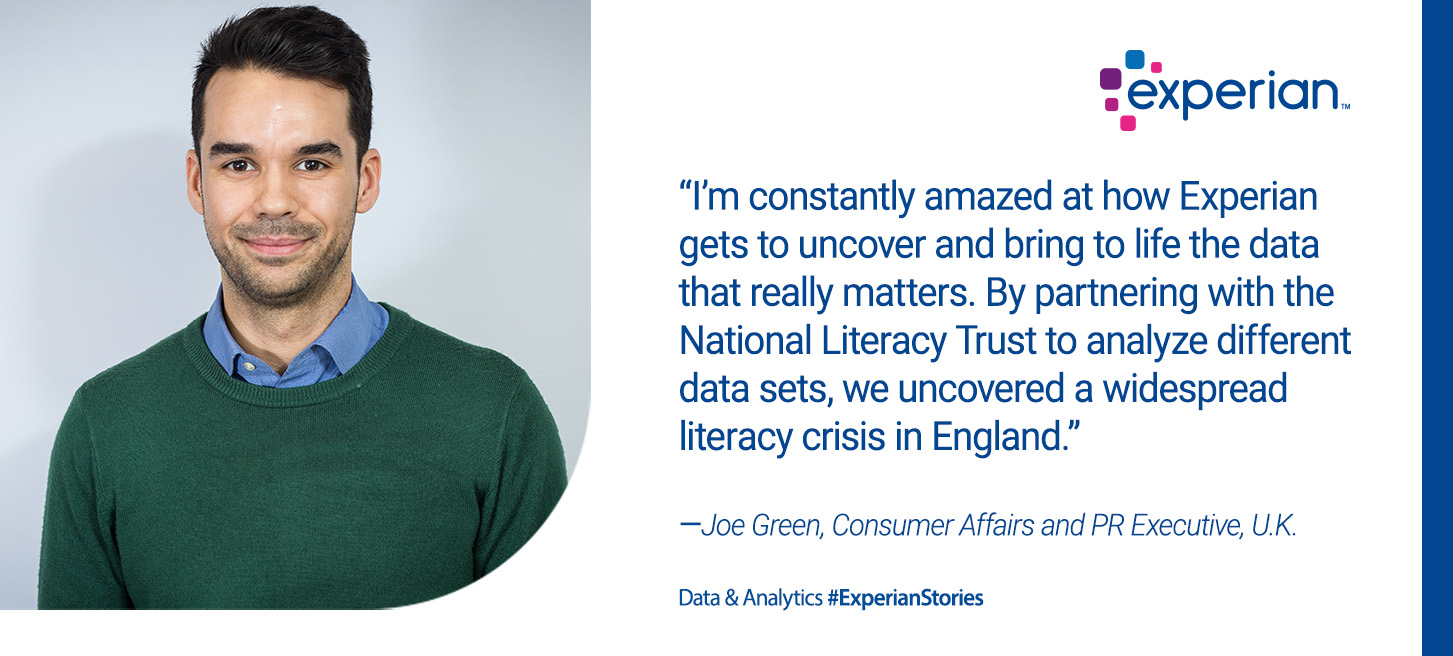 I'm constantly amazed at how Experian gets to uncover and bring to life the data that really matters. By partnering with the National Literacy Trust to analyze different data sets, we uncovered a widespread literacy crisis in England.
A while back, Experian was approached by the National Literacy Trust in England, asking us to collect information to help them better understand how far-reaching literacy problems are in England. Using data from Experian, the National Literacy Trust and the 2011 census, our data analytics team compared data sets against social factors that are closely associated with low literacy levels, such as education, income and unemployment rates.  Through this in-depth analysis, we were able to create a literacy vulnerability score for every single electoral ward and parliamentary constituency in England.
We found that 86 percent of all English constituencies have entrenched problems with literacy. What was most surprising was how far-reaching the problem was across the country. I guess I had assumed, as most would, that in the more affluent areas where there are good levels of education, higher incomes and higher employment rates, children would have a good relationship with books. We found, however, that it doesn't matter what community you live in, or how affluent or deprived the area is – literacy issues can affect all of us.
While the initial reaction by the public has been one of shock, I really think this study was something England needed to help the next generation avoid the same problems. Working alongside the National Literacy Trust, we're leveraging this data to raise awareness within the government. Early in February 2017, we supported an event for Members of Parliament (MPs) to highlight how the issue may affect their constituencies, using a ranking table that shows which areas are the most affected. You could say this literacy issue is a bit of a crisis, and MPs would now agree.
In my role at Experian, I frequently look at what we call "societal impact stories" that highlight how Experian is engaged in local communities. What I love about my job is getting to see how all the powerful information we have on hand is being used to lay the foundations for others to transform lives and local communities for the better.  While there is still much work to be done to solve the literacy issue in England, I'm constantly amazed at how we at Experian get to uncover and bring to life the data that really matters.