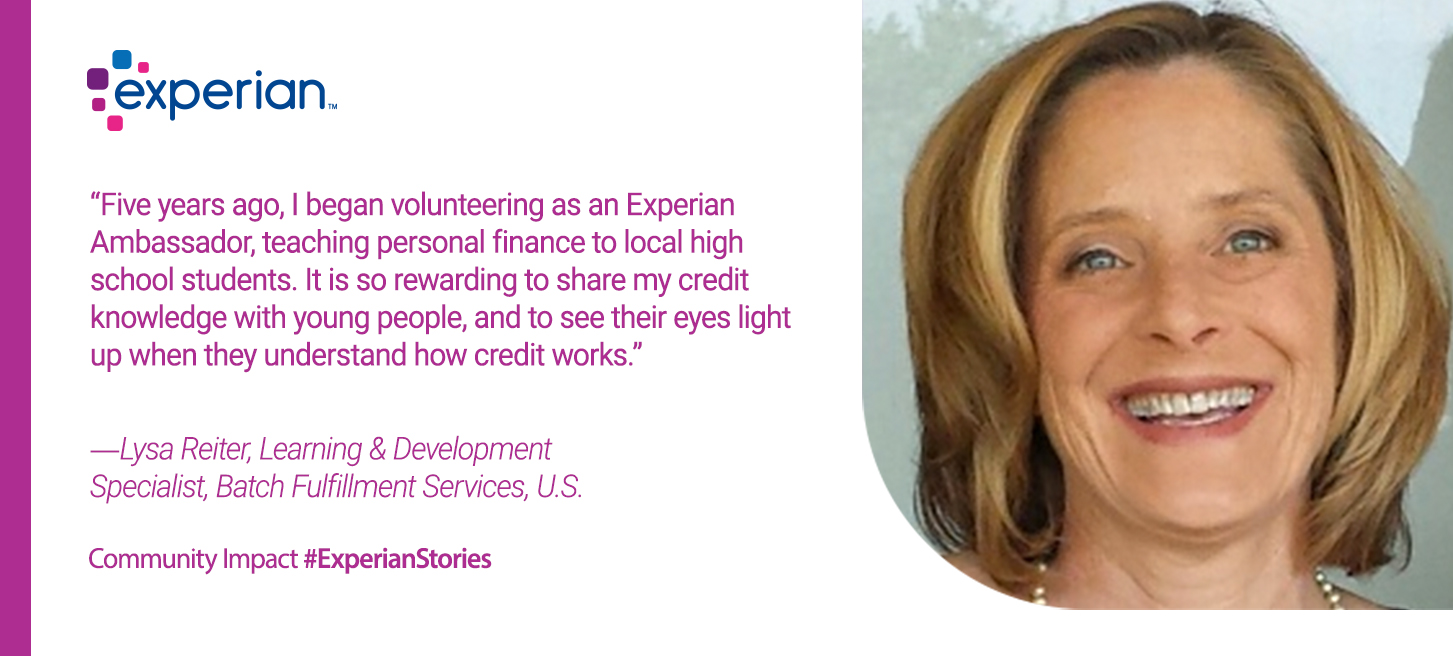 Five years ago, I began volunteering as an Experian Ambassador, teaching personal finance to local high school students. It is so rewarding to share my credit knowledge with young people, and to see their eyes light up when they understand how credit works.
I ended up starting my career at Experian 26 years ago because my passion for credit runs in my blood. I was raised in a household where reputation was everything to my father. The idea of having a good name, a good reputation and a good credit score was drilled into me.
So, when Experian created the Ambassador Program to promote financial literacy in local communities through employee volunteers, I jumped at the chance to participate. At the time, I was an Account Executive and knew that for most consumers, credit is an obscure subject. I thought this program would be a great opportunity to apply my expertise and educate people in my community about the importance of taking their financial reputation seriously.
As an Ambassador, I gave my first presentation on financial literacy to high school students, and the experience was so rewarding that I immediately contacted my son's high school to see if I could teach the same class to his classmates. The program has grown to where I now go to the school twice a year, teaching the entire student body of 4,000 students about how they can responsibly build their credit.
For each class, I share personal stories and anecdotal examples that are relatable to them. For example, to explain how credit scores affect consumers, I ask every student to think of number between 350 and 800. I then pick three volunteers to come to the stage – one who chose a number in the low range, one from the mid-range and third from the higher range. I then ask those three kids to agree on the dream car they would buy. Once they agree on the make and model, we talk about how the price of the car is the same for everyone, but that their credit score determines the loan financing. Someone with a higher credit score will pay much less over the life of a car loan than someone with a lower score. That's the moment my students' eyes light up, because they finally understand how credit works.
Over the years, I've had kids come up to me in grocery stores and thank me for teaching them about credit. One young man in particular came up to me at a local farmer's market, beaming. "I remember when you taught me about credit scores," he said. "Because of you, I was able to save money, get a secured card, build my credit and buy my first car." His pride was infectious.
Credit has an impact in everyone's life at some point. By speaking to students at a young age, in terms and language they understand, I've helped countless students successfully and safely build credit to help them reach their first financial milestones. I am proud of the opportunity I have been given at Experian to help young people to take control of their financial futures.