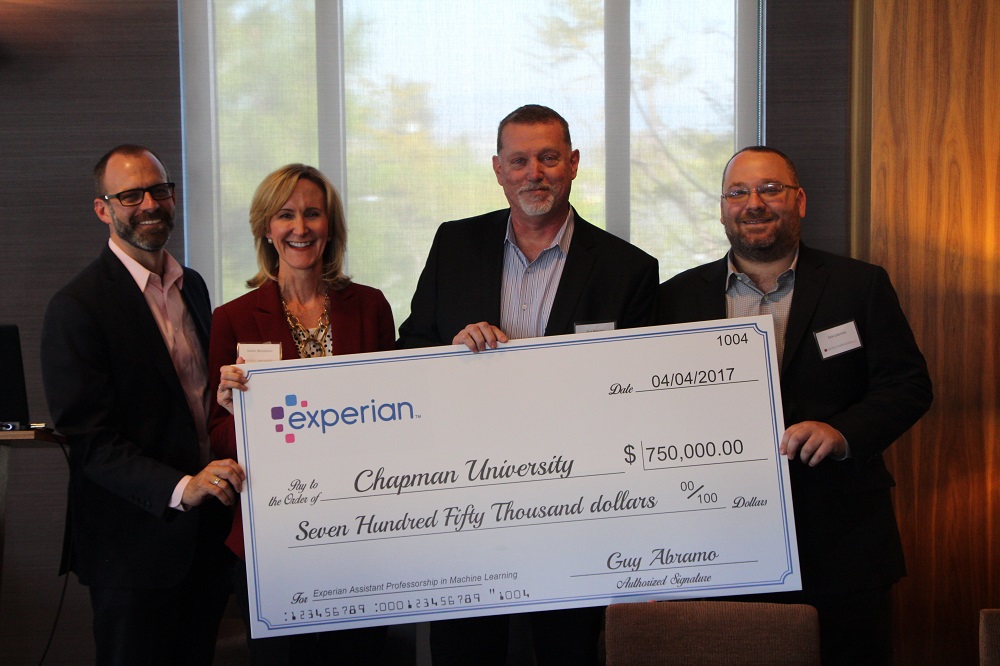 The field of data science is still in its infancy.  Every day, new advancements are helping to yield more exciting results. We're learning how data can allow cities to provide more effective services for residents, how it can help to solve vexing health riddles, and how companies can leverage data to better serve consumers.
But for advancements to be achieved, collaboration between research institutions and the private sector is essential. Even more essential is ensuring that the next generation of data scientists are equipped with the latest knowledge and resources to continue to advance the field.
That's why we are excited to announce Experian's $750,000 gift to create the Experian Assistant Professorship in Machine Learning at Chapman University, which will be used to expand machine learning opportunities at Chapman University's Machine Learning and Assistive Technology Lab (MLAT), where Chapman researchers use big data and technology to address challenges of social significance like autism. We believe this investment is a necessary step in an ongoing commitment to ensure our Southern California community continues to fuel economic growth by ensuring that businesses like Experian have the talent to advance field of information services.
The assistant professorship will be held by Erik Linstead, Ph.D., the director of the undergraduate computing programs in computer science, software engineering, and data analytics. Dr. Linstead, one of the nation's leading authorities on big data, is also the principal investigator MLAT.
Experian has learned the value of attracting data scientists with a wide degree of interests, backgrounds, and professional experiences to help assist our clients best serve consumers. Similarly, MLAT seeks to do the same. Projects that they take on range from bioinformatics and molecular biology to machine learning and artificial intelligence. Experian's gift will help MLAT to expand their data science-focused efforts into new fields.
This gift is the latest of a long series of collaborations between Chapman and Experian. Several years ago, Experian and Chapman began a partnership that involved placing graduate students training to become data scientists in internships within Experian to provide them real-world, hands on training. Since then, the partnership has blossomed to include embedding a Chapman faculty member within Experian to better ground the academic community on how data scientists work within the private sector to better shape their curriculum. We've also supported scholarships and programs at Chapman to ensure that the field of data science remains inclusive, diverse, and talented.
Data science will inevitably continue to have a growing impact on our lives. This gift is a commitment to the future of data science and the promise of a better tomorrow that it holds.
We wish a congratulations to Dr. Linstead, and look forward to a continued stream of talent emerging from Chapman to continue to advance the field and produce better outcomes for everyone.
Photo of the check presentation courtesy of Christopher Simonson. Pictured (L-R): Dean of Schmid College of Science and Technology Andrew Lyon, EVP of University Advancement Sheryl Bourgeois, President of Experian Consumer Services Guy Abramo and Principal Investigator of the MLAT Lab Erik Linstead.