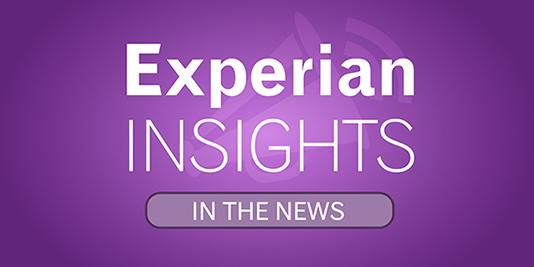 Experian is all about turning insights into action… using data for good.
Our commitment is to work with our clients, consumers, non-profits and other parties to help ensure that we, as a company and within society, continue to properly leverage big data for good.
As part of that effort, every other week we bring you Experian Insights – a round-up of news and resources highlighting how data is used for positive business, consumer and societal actions in many ways and across multiple sectors.
Experian Insights in the News
Data Scientists In Demand: Experian DataLab's Eric Haller Weighs In – Dataversity
Bloomberg BNA story highlights Experian's innovative approach of using social media as a form of data – Bloomberg BNA
How to land a high-paying data science job (even if you have the wrong background) – Inc.
The Effects of Dirty Email Data – Direct Marketing News
Putting big data to work for good causes – The Hub
Experian recognized as a finalist for Cloudera's 2015 Data Impact awards – Experian News blog
The science behind Big Data – Analytic Bridge
The science behind Big Data – Inside Big Data
Experian's data-first marketing suite – The Hub
Data is today's MarTech purchase driver – Direct Marketing News
How Experian is using Big Data -Information Management
How Experian is using Big Data – Data Science Central 
Smart cities of the future – The Hill
Q&A: Improving decision-making and increasing value using Big Data analytics –  Financier Worldwide Magazine
Overcome these three common data barriers for mobile marketing success – iMedia Connection
Still drowning in Big Data, and starving for insights –  Inc.
Big Data: The force that's good for consumers and society – Experian News blog
Why a single customer view is the foundation for marketing success – eMC
New O.C. program helps homeless people fix their credit – The Orange County Register
Focus on customers, not technology – Adexchanger
Device intelligence and Big Data linkage: guarding consumer access points from the fraudsters – Black Swan
Small business, job creation, and why we should lend to young companies – Forbes
Using data to manage the cost of healthcare – Experian News blog
What's Bigger than Big Data – AdExchanger
"It's not about the cloud; it's about the customer" Emad Georgy of  Experian Marketing Services [Retweet]
Mobile Payments: Innovative, but with Security Concerns – Mobile Payments Today
The Data Breach Resolution group releases study about payment card breaches addressing concerns over new payment technologies & security. [Retweet]
Everything You Need to Know to Protect Yourself from Identity Theft – His and Her Money
Whether you want to learn how to prevent identity theft from happening to you, or you want to learn what steps to take if it happens to you, take a listen. [Retweet]
Dealers Might Not See Much Green with Alternative Vehicles – Auto Remarketing
Insight into the different segments of the vehicle market allows consumers to paint a clearer picture of what options are most popular. [Retweet]
Experian Credit Tracker for iOS: Handsome, Intuitive, Secure- Mac Observer
Experian puts your credit data at your fingertips with its new app. [Retweet]
What is a Data Scientist? #DataTalk
To be a a data scientist (at least a good one), you need to follow the data. – Dr. Michael Wu [Retweet]