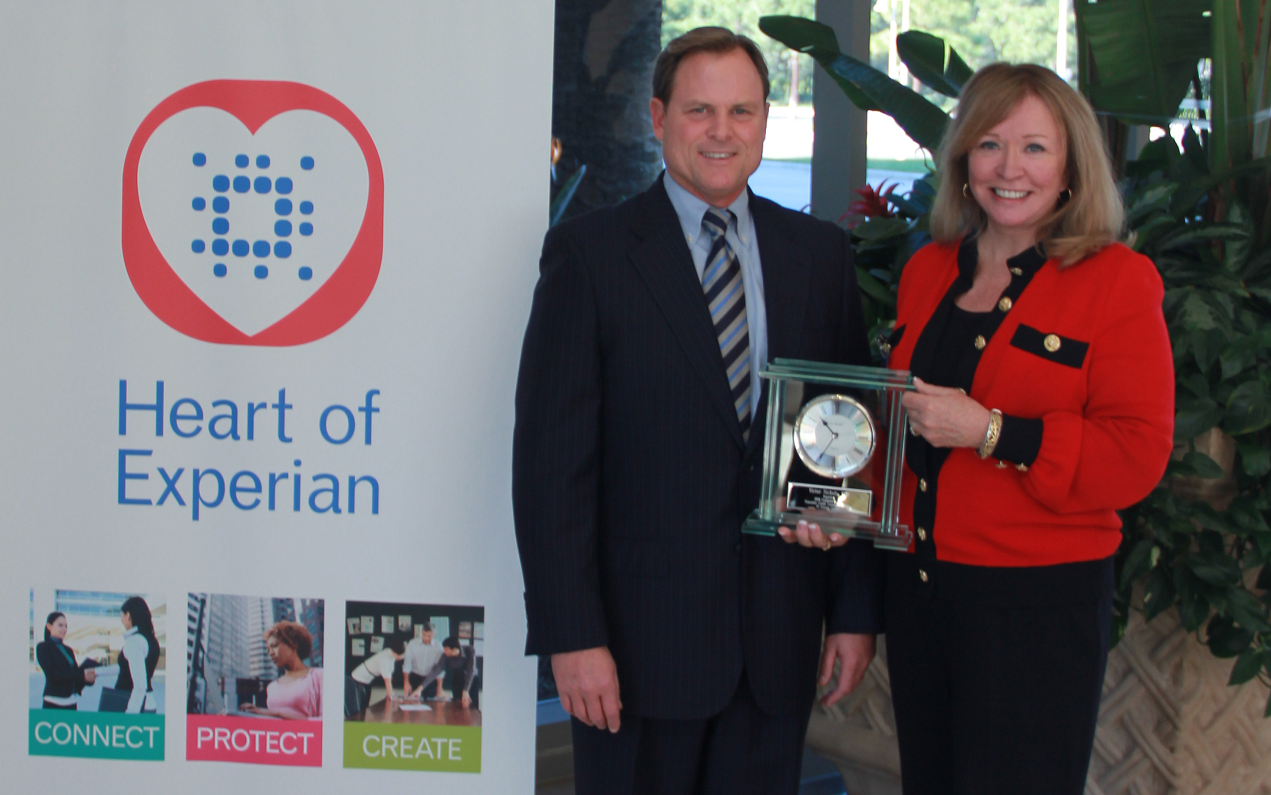 Experian North America CEO Victor Nichols recently was recognized by the Consumer Credit Counseling Services of Orange County, California, as its 2014 Community Hero of the Year for his commitment to consumer financial literacy.
Mr. Nichols and Experian are proud to have been honored with this award. Experian has long been committed to consumer financial literacy and removing the mystery surrounding credit reports and scores, and that commitment has not wavered.
More than 20 years ago, Experian became the first national credit reporting company to establish a dedicated consumer education team. Over the ensuing two decades the company has used creative outreach, combining traditional materials and online technology with powerful partnerships to reach consumers of all ages and economic circumstance with critical financial information, tools and resources.
Here are just a few examples of what Experian has done and continues to do to help people become more financially capable:
In 1995, Experian was a founding partner of the JumpStart Coalition for Financial Literacy, an organization that advocates for mandatory financial literacy coursework in our schools. Five years ago Experian provided a grant to JumpStart to launch the first national teacher's conference for financial educators and continues to sponsor this event annually.
In 1997, we launched Ask Experian, the industry's first online consumer credit advice column. Published continuously since, consumers submit on average more than 1,000 questions each month.
The company awards financial literacy grants in excess of $300,000 annually to support innovative consumer financial education programs conducted by non-profit organizations. Grants have facilitated programs that reach hundreds of thousands of consumers each year including high school and university students, military personnel, minority communities, the underbanked, and cities particularly hard hit by the recession. Our education partners include the National Foundation For Credit Counseling, the Center for Financial Services Innovation, the Credit Builders Alliance, the National Consumers League, the InCharge Institute, the Mission Asset Fund and Call For Action.
Recently, Experian established an Education Ambassador program to train its own employee volunteers so that they can support outreach programs in communities across the country.
Social media has further enabled us to talk directly with people about critical financial subjects. Our weekly #CreditChat is always a lively discussion and is open to anyone who would like to join in the conversation on Twitter every Wednesday and 12 p.m. Pacific time.
Learn more about Experian's commitment to consumers and find tips on how to live credit smart.