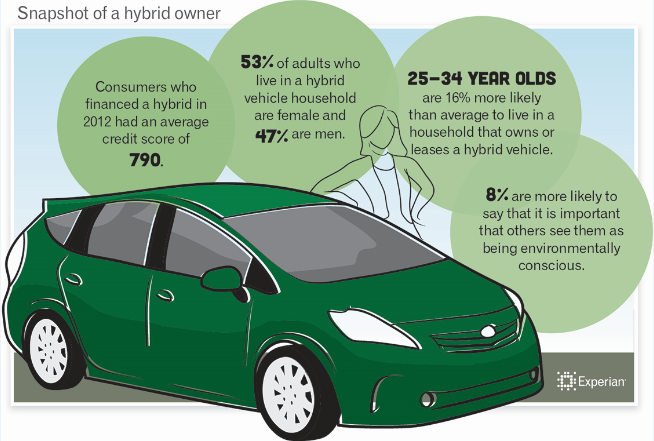 When Kermit the frog said, "It's not that easy being green," he may not have been referring to the automotive market, but he may have been on to something.
Hybrid/alternative power vehicles are one of the smallest segments in the U.S., and have only just recently achieved a little more than one percent of the total vehicles in operation. However, according to Experian Automotive's recently released Earth Day report, the segment has witnessed steady market share growth, increasing by 40.9 percent since 2011.
The report focused on some of the characteristics of a hybrid owner, as well as the financial attributes of hybrid vehicle loans. The infographic here provides a snapshot of a hybrid owner, highlighting that 53 percent are women and that 16 percent of hybrid owners are 25 to 34 years old.
Additionally, the report found that it's not just "green" consumers that purchase hybrids: only eight percent want to be viewed as environmentally conscious. The analysis, in fact, showed consumers purchasing a hybrid have significantly higher credit scores than those purchasing another type of new vehicle. For example, the average credit score for a loan on a new hybrid was 790 compared with the national average credit score of 755 for a loan on any new vehicle.
Other loan attributes in the analysis included the average amount financed, monthly payment, interest rate and loan terms of hybrid vehicles purchased in 2012.
The analysis also showed that Toyota hybrid vehicles made up more than 62 percent of the vehicles financed in 2012.
For more information on this report or other automotive-related insights, please visit ExperianAutomotive.com.