Marketers traditionally use income, net worth and income-producing assets to enhance their consumer targeting efforts. However, these data elements provide insight only into spending capacity, not how much is actually being spent. Consumers who appear nearly identical in terms of demographics may, in fact, vary widely when it comes to discretionary spending. Some are savers, some are spenders and some have more financial obligations than others.
Experian Marketing Services offers data-driven marketers a way to cut straight to the chase when targeting consumers by out-of-pocket expenditures with the Discretionary Spend Estimate. This estimate is available for direct marketing applications to enhance marketers' targeting efforts as well as an add-on to the Simmons National Consumer Study (NCS) providing marketers with the ability to evaluate discretionary spending against any of the 60,000 consumer variables measured in the study offered by Experian Simmons.
In the new 2011 Discretionary Spend Report, Experian Simmons presents a vivid profile of American households by the amount spent annually on nonessential goods and services, including things like entertainment, dining out, personal care, etc.
For starters, we report that an estimated 28% of Americans' annual household spending is on discretionary goods and services. Specifically:
 The typical U.S. household today shells out $12,800 annually on discretionary expenditures
Over half of households spend less than $10,000 on discretionary purchases each year, including just over a third that spend less than $7,000 annually
Only 5.8% of American households spend $30,000 or more per year on nonessential goods and services, including 2.2% that spend $40,000 or more annually
Distribution of U.S. households, by annual discretionary spending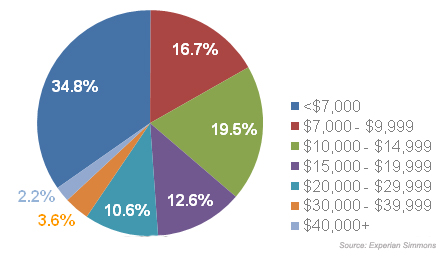 Furthermore, we estimate that, in aggregate, Americans spend $1.47 trillion annually on discretionary goods and services. Despite the fact that households spending less than $7,000 on nonessentials comprise over a third of all households, this segment of the population accounts for just 10.8% of total annual discretionary spending in the United States.
Combined, households spending less than $7,000 annually contribute $158.3 billion in discretionary spending to the economy at large
The top 2.2% of spenders (those households that spend $40,000 a year or more on nonessentials) account for fully 11.2% of the nation's total annual discretionary spending
Households spending between $20,000 and $29,999 annually on nonessential purchases account for the largest single share of the nation's spending: $305.1 billion
Proportion of nation's total annual discretionary spending, by spend segment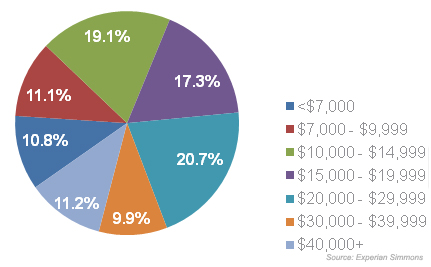 Total annual discretionary spend contribution, by spend segment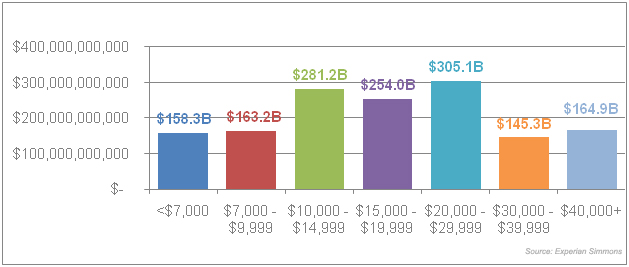 Understanding the pocketbooks of America's spenders is one thing, but understanding what's going on in their heads is another. Luckily, Experian Simmons delivers the mindset of the American consumers; below is a look at select attitudes that uncover real differences in personalities and lifestyles of Americans depending on their annual discretionary spending. Highlights include:
46% of high spenders say they often drink alcoholic beverages making them 77% more likely than the average U.S. adult to do so
High spenders like to drive faster than normal while low spenders like to drive alone for a sense of freedom
Low spenders say that "money is the best measure of success," but they also say they "don't want responsibility"
High spenders say they are often chosen to be the spokesperson of a group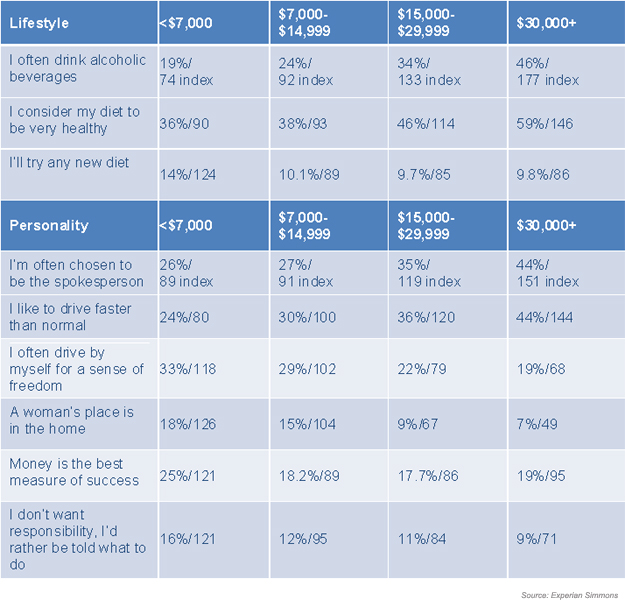 Check back here for more posts on America's discretionary spending habits and behaviors or download the full 2011 Discretionary Spend Report now.