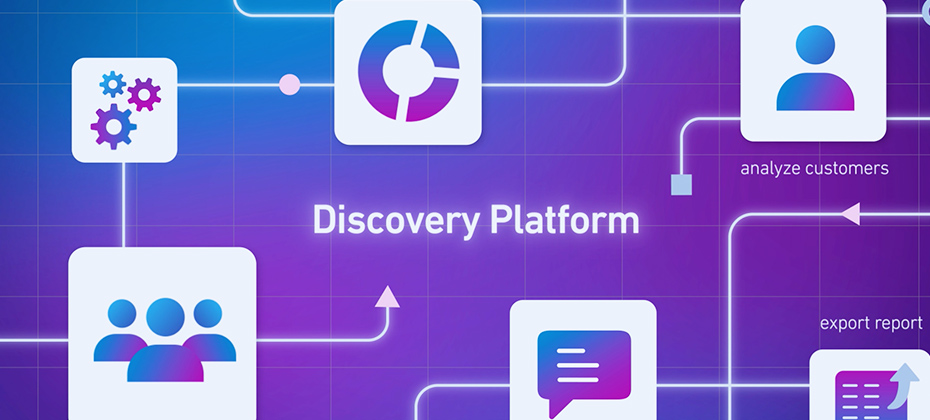 Imagine an experiential self-driving car of the future. You step inside, select where you want to go and the best experience within the vehicle for your journey. Within seconds, it safely sweeps you away and drives you to your destination.
If only marketing were that easy.
At the tap of a console, you are able to identify the best parachute to glide your ads to the right audience, on the right platform. Well, what seems like a distant dream is Experian Marketing Service's latest solution: Discovery Platform.
To introduce Discovery, we asked Sunaina Chaudhary, Director of Product and Innovation, to describe how the solution facilitates effective marketing strategies.
Discover more about your consumers.
What is Discovery? What marketing challenges does it address?
Anywhere you feel like you need to understand your customers, Discovery Platform can help. Whether you want to take your marketing to the next level or get on the road to recovery, Discovery is the solution.
We created the Discovery Platform to help our clients overcome today's advertising challenges, including gaps in data that impede identity linkage, limited internal resources and fragmented data.
Think about all the touchpoints surrounding a customer in real life: connected TV ads, social media, email, flyers, digital ads . . . You can probably think of at least 15 off the top of your head. Discovery brings all those touchpoints together into a unified view of your customer. It combines disparate data insights to help you better understand your customers' individual journeys and the most impactful touchpoints across offline, social and digital channels.
Speaking specifically to a use case, in the most simplistic words, marketers can use Discovery to identify the right consumer, plan to reach them through the most optimal channel and create a consistent, relevant and personalized message.
You can even leverage Discovery Platform's seamless integration with our Audience Engine solution to build and deploy custom audiences to a variety of social, digital, email and Connected TV partners. The sales and other customer data flowing back into Discovery, all ties together for the marketing team to inform the next marketing campaign or strategy.
Watch the Discovery Platform demo to learn more.
Which business verticals does it benefit?
Discovery Platform is apt for almost every vertical that I can think of – retail, agency, connected TV, publishers and financial institutions. Even though agencies don't typically own first-party data, they can still benefit from Discovery through a one-stop shop for their RFP needs and the ability to activate the same audience with a click of a button.
Clear cohorts you can activate—without privacy anxiety.
Do marketers need to worry about consumer data privacy in the Discovery platform?
No, when you're in Discovery, you're seeing the best and safest view of your customer cohorts. Marketers can rely on Experian to meet all compliance, governance and privacy standards. That's taken care of by the time you see the data.
Discovery is built on carefully curated and maintained data on 126 million households and 300 million individuals. You can leverage it for insights on over 2,000 consumer attributes such as demographics, home-owner status, shopping behaviors, media consumption habits and more. These are all tied to a unified identity made possible by our identity linkage. To do this, we help pull together your first-party data—along with whatever Experian datasets you license—to create a complete picture of your customer cohorts.
It's always-on, actionable insights you can subscribe to.
What most excites you about the Discovery platform?
We live in a world full of subscriptions—from TV streaming to food delivery. Data solutions of the past are transactional: you buy consumer data, leave it, and need to update it next week, month or quarter. Marketers have an ongoing need for more up-to-date data. That's why we built Discovery Platform.
World-class marketers need to be proactive when it comes to their customers and their business, which means having access to always-on actionable insights and analytics. Experian's Discovery platform is here to make recurring market insights safer to access, and easier to collect and put into action.
Here are 3 ways you can put Discovery to work for your marketing strategy:
Subscribe! You get data-backed insights when you need them to stay up to date on what's happening with your business, customers and campaigns. For example, through mobile location data you can see which geographic areas of your market are returning to stores or still shopping online, glimpse competitor market share and more.
Connect insights to your campaign. Discovery Platform is seamlessly integrated with Audience Engine to turn insights into action. This allows you to engage with your audiences via email, social, display, connected TV or whatever channels they prefer.
Request a report. Not ready to subscribe? You can still get valuable on-demand reports, whether you have one or 25 target markets. Tell us your audience selection criteria, pick datasets for rich insights and Experian Marketing Services will give you actionable marketing insights for your business.
Sign up for our newsletter to receive quarterly updates on what's new at Experian Marketing Services.