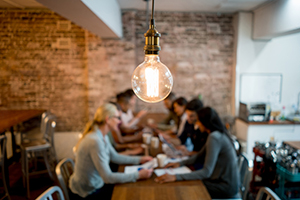 The end of the year is a time for many traditions; like celebrations, countdowns, and resolutions. Another trend we see at the end of the year is lists. Top songs, top news headlines, top celebrities, etc. We've decided to do our own Marketing Forward list – top 5 blog posts of 2018. Whether we are talking about the importance of data-driven advertising, identity resolution, advanced television, mobile or sharing important Experian news, the purpose of our blog is to help readers use data and insights to make the right marketing decisions and have more meaningful interactions with people. And we hope these top five did just that. Drumroll, please….
#5 – Customer Engagement is Critical to Marketing Success: Here's Why (published 6/22/2018)
Where it all starts, is where it all ends. Everything marketers are doing in today's environment all comes back to customer engagement. Companies are making the customer experience top priority and consumers are demanding more relevant and personalized experiences.
We take a look at a recent report on customer engagement from eMarketer, https://www.emarketer.com/content/understanding-customer-engagement, where Experian's head of strategy provided insight on the importance of custom segments to gain a full understanding of segment effectiveness, as opposed to using off-the-shelf segment models. Based on the report, some brands see customer engagement as a single-channel exercise, while others look at it as the sum of all touchpoints and interactions. The report also found that most brands cited lack of technology or tools, or complexity of tools, as the top challenge n measuring return on investment. Read the entire post
#4 – Addressable TV: The Ins and Outs [Q&A] (published 1/25/2018)
While digital advertising continues to rise, it has become harder for traditional advertising to break through the clutter. DVRs, smart TVs, digital apps, and cord-cutting devices have made it harder for advertisers to broadcast their messages using traditional TV. However addressable TV, which allows advertisers to select their audiences based on household behaviors and preferences, is growing at a rapid base. The fact that two neighbors can be watching the same exact program on the same network at the same time and see two different commercials isn't a concept that most are accustomed to. And marketers still perceive addressable TV as a complicated and lengthy process. Therefore, it makes sense that this post made our top five.
The post helps marketers better understand addressable advertising and how it can be part of their campaigns. Insight includes where to begin, what data is needed, measurement opportunities, relation with other channels, and what is the necessary budget. Read the entire post
 #3 – Lexer & Experian announce partnership to enrich and target 300M consumers (published, 8/2/2018)
In August, we announced that we extended our 2.5-year partnership with Lexer, the leading customer data platform, to now include ConsumerView℠. Now Lexer's clients have access to our data source of 300M consumers and 126M households right within the Lexer customer data platform. Lexer clients can easily segment, analyze target customers and prospects with personalized communications across mobile, online, social, email, direct mail & TV, all while having a comprehensive picture of each customer. Read the entire post
#2 – Customer Identity: What Is It, And Why Should I Care? (published, 5/2/2018)
Among the buzziest industry trends in 2018, the concept of identity resolution was likely to be one of our top blog posts. The ability to accurately know your customers and understand their behaviors has emerged as the pinnacle to any marketing campaign. Today's customer has offline and online footprints, and tends to seamlessly transition across various channels and devices – presenting a unique challenge to truly understand who they are. Identity resolution allows marketers to put the pieces together to provide more personalized and meaningful experiences.
The blog post looks at why marketers should prioritize identity, where to begin, and how technology vendors, such as Experian, play a role. Read the entire post
#1 – Two Keys to Digital Marketing (published, 1/26/2018)
It's no surprise that our number one blog post of 2018 deals directly with how to succeed in digital marketing. Digital marketing has completely changed our way of thinking and our way of communicating with our audiences. And while digital marketing has been a mainstay for some time, it continues to evolve, and therefore marketers still want to know how best to succeed.
The post helps marketers navigate the land of digital marketing including how to best select a target audience, justify data fees for targeting, send a consistent message and measure success. We take a deep dive into two key challenges that tend to be the most difficult to overcome and have the highest impact on a campaign's success: creating an accurate, data-driven audience and understanding the attribution process. Read the entire post
We hope you enjoyed our recap of the top five blog posts in 2018 and hope you continue reading our blog throughout the New Year as we explore the challenges that marketers are presented within today's environment. Together, we hope we can move Marketing Forward. Happy New Year, and cheers!