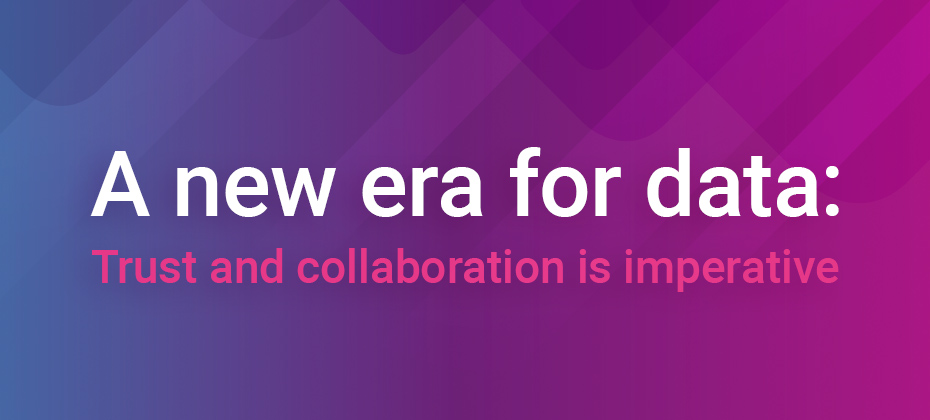 Identity is being constrained, forcing the industry to rethink the way it has operated for 27 years. Industry, regulatory, technology and data trends are leading to a fundamental shift in the way that data is permissioned, accessed, and used for marketing purposes.
How the industry defines digital identity moving forward, consumer trust and transparency need to be at the forefront. We, as an industry, have the opportunity to build a more effective advertising framework that puts consumers and data privacy at its core, a framework that won't rely on a single prevailing identifier.
That approach requires all of us to be upfront and transparent about our data practices and usage and make it easy for consumers to opt-out of the use of their information for advertising and marketing solicitations.
We, at Experian, also believe that there are a lot of ways to improve the experience for consumers, who are becoming more aware and apprehensive of giving away their data. We believe we can ease the minds of consumers and work within these new constraints by offering better controls and practices around the ways data is shared and utilized.  There will be new approaches that come to the market as well that include  modeled, non-identifiable information, cohorts, contextual and other non-identity-based yet addressable solutions.
Solutions like clean rooms however will allow marketers to see strong results when connected identity-based data sets in a privacy-friendly manner.
---
I'm Scott Kozub, VP of Product Management at Experian Marketing Services. I recently told the story of our newest product, Experian Sanctuary, at iAB Audience Connect. Here's a summary in case you missed it:
The industry's identity crisis begins with third-party cookie deprecation.
Third-party cookies have been around for as long as I can recall. The very notion of data-driven marketing that engages consumers and delivers personalized experiences is being challenged by the deprecation of third-party cookies and other changes to digital identifiers.
Restrictive privacy laws.
Browser and operating system restrictions on data collection.
Consumer adoption of privacy tools and behaviors.
The increased presence and closed-off nature of digital walled gardens.
First-party data is having a comeback.
As landscape and regulatory changes continue to unfold, there's been a rush back to first-party data and establishing, nurturing or rethinking direct-with-consumer relationships. First-party data is a gold standard and something every brand should utilize as completely as possible.
Brands and publishers alike are creating those connections and collecting information about the customer — not only identifiers but also attributes about what they like, behaviors, preferences and their actions.
We're also witnessing a rise in addressable devices and ways to collect data — from connected cars that know driver preferences from where they go, how they drive, what music they listen to, all the way to personal audio devices, wearables, and more.
Earning consumer trust and consent is an imperative.
Every brand should use their consumer data wisely.
Use the right consent management controls.
Respect consumer preference.
Create protocols around customer data.
With all the ways Brands can collect data and reach people, consumers are rightfully concerned about how their data is utilized. They want controls to manage the data a brand has on them.
Consumer controls can become less comprehensive and go away quickly if the consumer doesn't like the way the brand is using their data. As customers, we understand that brands want to use data to analyze patterns that help run their business, but they also want to create more personalized experiences with customers and potential customers (the consumer).
Brands really need to be aware of the data responsibility that they have as it relates to trust, and what consumer sentiment is about the collection and application of their (or our) data.
Even inside brand walls, marketers struggle to connect fragmented experiences back to customers.
Even inside of Brand walls, marketers are struggling to connect fragmented experiences back to customers. There are so many different touch points where and how we engage with a brand that it's become hard for Brands to follow all the breadcrumbs to the same individual.
As an example, no single brand has a full picture of me or my family.
We spread our engagement across too many different brands for one of them to have a complete perspective of who we are. Brands also need a way to continue to find their next customer. Prospecting has always been a big part of the advertising landscape.
To help identify new customers, brands want to work with other brands and publishers to fill in who the customer is so that they can better understand how to plan, engage with them, how to measure their programs, and how to fine tune their experience.
We see evidence of these conflicts in a new study.
If we look at recent findings from a new Forrester study, sponsored by Tapad, that evaluated the current state of customer data-driven marketing, it signals a number of these shifts.
More than 70% of study participants state that consumer data is the lifeblood of their marketing strategies
68% of marketers say changes to the collection of consumer data will require their company to re-evaluate its marketing strategy.
49% of brands and 42% of agencies use third-party persistent identifiers as a part of their marketing strategy today.
Marketers currently use an average of 8 identity solutions across at least 6 partners today; and they expect to require just as many in the future.
Combining first-party data is a definitive way to achieve scale and knowledge.
Brands can do that safely with a well-designed data clean room. But it needs to have the proper controls, which organizations understand.
With a clean room, you get:
Enhanced consumer/customer data
Minimal risk of PII exposure or misuse​
Active collaboration with fewer barriers​
Improved output and results
Experian has had clean-room-like solutions for years.
It started with companies who were comfortable allowing Experian to match PII to credit data for insights and decisions. In these early cases, Experian was doing the matching and providing the insights back to brands. This evolved as companies wanted more control over the data in a self-service model.
Here are some of the results they saw:
$7M revenue through better predictive models
Models and benchmarks 30% faster
$2.9M in prevented losses
60% efficiency gains and +$1.5M in economic benefits
171% of ROI in 2 years from Regulatory Analytics
The award winning Ascend Technology Platform really took off for clients in our financial services space. The platform offers unparalleled breadth, depth of financial data as well as best-in-class modelling and decisioning analytics.
The highly regulated environment of finance services meant it was imperative to help marketers control and product data in a privacy-forward manner. Guided by that experience, Experian strengthened and adapted our strategies into a solution for the new era of data collaboration.
Introducing Experian Sanctuary
Sanctuary is a permissioned data collaboration workspace optimized for advanced analytics and audience activation.
It is a secure environment that allows independent parties to share data assets in a safe way to generate insights, create marketing campaigns, and measure program effectiveness.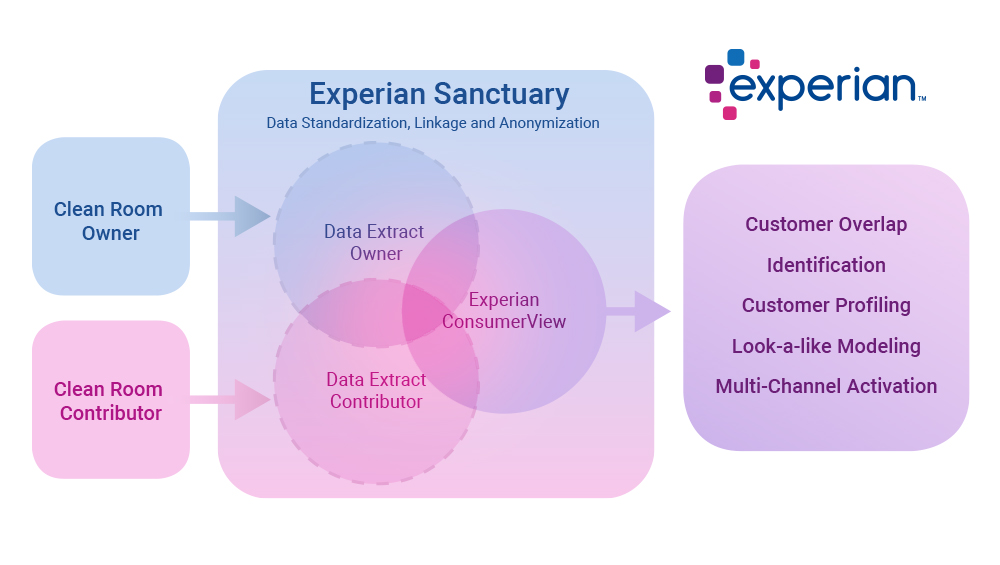 Here's what you'll find in Experian Sanctuary:
Industry-leading identity resolution
Unique, synthetic IDs to link and protect consumer data
Permissioned data collaboration
Marketer and Data Scientist workspaces
Embedded ConsumerView attributes
Advanced modeling capabilities
Activation destinations
Measurement analytics workspace
Collect, use and collaborate responsibly.
Data that marketers and publishers now collect is increasingly tied to real people. The controls we put around data, how we combine it with other datasets, and how we help brands unlock value inside of safe environments will keep accelerating.
Clean rooms are critical for an era of privacy-friendly data management. Solutions like Sanctuary will be here to serve this critical function in our future industry.