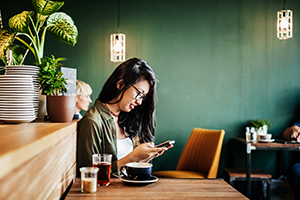 As the pandemic took hold of the country and stay-at-home orders were put in place, one of the consumer categories that was most adversely affected was the restaurant industry. But while sit-down restaurants were forced to pivot to curbside delivery and other inventive means to make ends meet, quick-service restaurants (QSRs) that already had a solid delivery program or drive-through in place saw a surge in new guests. "Dinner and a movie" took on a different meaning as people either picked up or ordered in to make date night happen, and QSRs rose to the occasion like never before.
With some states beginning phased re-openings of non-essential businesses, some restaurants are now allowed to open so long as they follow social distancing rules or allow for outdoor dining areas. But that doesn't mean consumers will be ready to race out and participate in this new dining experience. Many may remain apprehensive about safety and continue to "dine at a distance" until they're confident that they can remain healthy, or until a successful vaccine goes into use.
Even as states begin their phased re-opening plans, many continue to work from home—which has greatly affected both dine-in and QSR venues. Those who saw a robust lunchtime crowd probably saw a drop-off while business-based locals shifted their office plans. However, new opportunities have emerged for restaurants to reach out to their regular lunch crowd to offer delivery or attract a whole new lunch crowd who may not have thought to order from them before.
Between the challenges of a post-pandemic world, a shifting of diner priority, and an uncertain future facing the restaurant world, it's now more important than ever before to leverage an intelligent, data-driven marketing strategy to ensure your campaigns reach the right consumers, and also attract new customers to expand your customer base over time. All of this can be done using the power of data, but having the right data is key to making the most of your marketing efforts.
As you're crafting your current marketing plans, it's important to look at all the variables you need to address to create more targeted messaging, thus helping you zero in on your most desired consumer base. The first thing to consider is, how well do you know your guests, and what do you know about them? If you have no insight into their dining habits or preferences, it will be challenging to come up with messaging that will speak to them. But with the right data, you can discover if they frequent your competitor's locations (and if so, how often), which apps they're using to order food, which days of the week, and even which meals they are most likely to order.  You can also use this information to better understand how often you factor into your customer's dining plans by understanding if they are beginning to commute again, or continuing to work from home, and if the latter, do they live near one of your locations.   
Data can also help you discover more about who they are, so you can even further tailor your messaging to their needs. Let's say your target customer is married with children. Addressing their busy life as a professional and a parent, and sharing how you can ease the burden of dinnertime to make life easier for them, may be exactly the kind of message of support they need to encourage them to reach out to you. Using data based on demographics, lifestyle, behavior, attitudinal and mobile location data can help you cook up a marketing strategy with precision and success, resulting in more diners knocking on your door (or at least, calling for take-out).
Another key component to consider is the use of mobile location data, which Zeta Global cites1 as being the most important data chain restaurants can use for their marketing plans.  Not only can this data be used to better understand share of wallet and potential up-sell opportunities, but it can also be leveraged to reach out directly to potential new customers that have historically frequented your top competitors.  You can also use mobile location data to connect with consumers who may be more drawn to your restaurant because of your delivery or curbside pick-up options, and craft outreach based on that information that will encourage them to order with you.
As Hospitality Tech pointed out2, building trust in a post-pandemic world is key for QSRs who want to continue to encourage loyalty with current guests, and entice new ones to place orders.   The key to making that happen is data. By deploying marketing messages that resonate, activating them on the channels your guests use most, then measuring the impact of your campaigns, QSRs can create more opportunities for success and customer connection that can translate into real, long-term results. Plus, the right data can help you increase store traffic with high value guests, reactivate guests who haven't visited in a while and find new individuals who live nearby that closely resemble your current high value guests.
Experian has decades of experience in helping organizations better communicate with their customers across all marketing channels. How can we help you? Find out more about our restaurant marketing solutions.
---
1https://zetaglobal.com/blog/chain-restaurants-need-customer-data/
2https://hospitalitytech.com/new-marketing-communications-playbook-during-covid-19