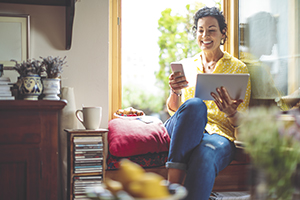 Retailers have always known that building a loyal customer base is the key to success. But whether they'd successfully done so or were still working towards their customer loyalty goals in Q1 of 2020, the global pandemic changed everything. With shoppers shifting purchasing habits almost solely online, retailers with an established online presence were able to navigate stay-at-home orders and other business restrictions. As of June 9, 2020, according to Experian's Consumer Sentiment Index, half of Americans (47%) are buying more online than they did in the past. So those who previously relied on their brick and mortar business may have had difficulty staying afloat.
Undeniably, the landscape has shifted dramatically, and it's about to do so again as stay-at-home orders are lifted and retailers are being given the green light to re-open, albeit with guidelines and restrictions they've never faced before. With so many different messages that need to be shared, and the need to stand out among thousands of other retailers working to grab the attention of the same audience, mobile location data is an important tool in a retail marketer's arsenal.
For example, so much of the in-store experience moved online at the start of the pandemic. As a result, a lot of consumers have gotten comfortable with that format and may be apprehensive about the in-store experience, especially with all the changes required for re-opening. Using mobile location data, retailers can identify audiences that are more likely to return to in-store visits, and tailor messaging to address their questions and concerns to encourage their patronage. They can effectively communicate information surrounding the rules for in-store shopping, including face masks, social distancing, how they plan to protect their clientele, and more.
If, after sharing their re-opening information, retailers find customers aren't coming to them but are instead visiting competitors, mobile location data can help them determine consumer patterns based on competitor shopping to gain a greater understanding of why they're shopping elsewhere. Using this information, retailers can adjust their outreach to better speak to their target customer and their needs, and encourage their visit with more relevant messaging. And of course, there will still be some customers who feel more comfortable continuing with online shopping. Mobile location data can also assist brands in identifying those audiences so that they can adjust their communications strategies and messages accordingly.
Meanwhile, many retailers have shifted from a buy online pick up in store (BOPIS) model to buy online pick up at curbside (BOPAC), both for convenience and safety. As restrictions lift, some will soon be shifting back to BOPIS. Mobile location data can help you determine if this is a more preferred method of shopping by analyzing consumer behavior. If customers aren't ready for an in-store visit but still have needs that could be met by a particular retailer, that brand can create messaging that supports their desire to do their shopping online and pick up their purchase—whether they come inside or opt for curbside pickup. The more retailers know about their customer's habits, behaviors and interests, the more they can address their needs and concerns with personalized messaging that can make an impact.
Additionally, because so much of life moved online during the pandemic, consumer data may be even more fragmented than before, with their attention spread across multiple devices and channels. Using mobile location data—in combination with demographic and psychographic data—retailers can learn more about consumer behavior, including stores visited, shopping preference insights, hobbies, and more.
While the retail industry is facing incredible challenges in the wake of unprecedented change, the right data can help them bridge the gap between where they were, and where they want to be—especially when it comes to nurturing consumer connections. And as retail marketers work on new messaging that shares their unique plans for re-opening and emerging post-pandemic, how that communication is delivered, and who it's delivered to, could make all the difference in a successful re-opening plan.
Contact us today to find out how more about Experian's retail marketing solutions. And be sure to check out our other retail blog posts as well.