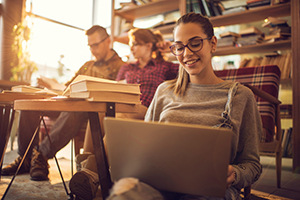 Over the past two decades, marketers were consumed with the Millennial generation. Those individuals born between 1980 and 1995 represented a new set of consumers to the market with very different attitudes, behaviors and purchase decision styles than had previously been seen. Marketers invested significant capital to learn about Millennials and transformed their marketing strategy to better reach and attract them. Those that did this successfully were able to grow their business and extend their footprint to a new group of consumers.
Now, as we enter a new decade, another generation of individuals is entering into the market and represents the future customer for marketers. Understanding who these consumers are, how to best reach them, and how they make purchase decisions will help marketers reach this new audience and grow their business more effectively.
1. Who is Generation Z?
While definitions have varied from different publications, Generation Z is generally defined as consumers born between mid-1990s through early 2010s. Here, we define generations as the following:
According to Kasasa, this group represents about 74 million consumers, which is similar in size to other generations.[i] Information on Generation Z is limited since many are still considered minors. However, resources such as syndicated surveys have provided some thoughts about their general attitudes that can begin to provide insight.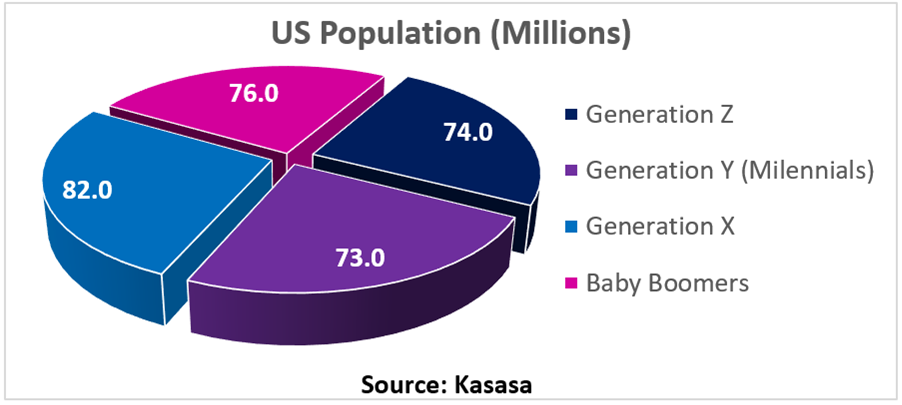 Key Takeaway: Get to know Generation Z. They are big, they are coming, and they will likely be the future consumer you will need to attract.
2. How is Generation Z Influenced by Technology?
Very much so. Generation Z individuals received their first mobile phone at age 10.3 years and spend an average of 3 hours each day on their device.[ii] They have no real understanding of what life was like before the internet. They are active users of smart phones, apps, and social media, and frequently use technology before making decisions.
The internet is very important to Generation Z – they meet people, share information about themselves, get their entertainment, relax, and enjoy going online in their free time. Generation Z respondents were more likely than other generations to agree with the following statements:
"I like to keep my personal Internet pages updated with information about my life."
"The internet is a good way to meet new people."
"The internet is a main source of entertainment for me."
"Going online is one of my favorite things to do with my free time."
Additionally, the mobile internet, which includes accessing social media and apps through a hand-held device, is even more meaningful to the Generation Z consumer. Generation Z respondents list the following as what the Mobile Internet means to them:
"Pure entertainment"
"A good escape"
"Relaxes me"
"Puts me in a good mood"
"Keeps me up-to-date with the latest styles and trends"

One result of this is how much more connected Generation Z feels with each other, and with celebrities. They actively follow and interact with their friends or celebrities through YouTube, TikTok, Twitter, Instagram, Snapchat or other social media tools. As a result, they are much more influenced by celebrities than other generations.
Key Takeaway: Generation Z will be a heavy user of technology and are influence by each other and celebrities. They will expect your products to be accessible through mobile devices.
3. What media channels are best for reaching Generation Z, and what are their decision-making characteristics?
To improve marketing effectiveness, marketers must know how to reach their consumers. Two significant dimensions of reach are (1) the preferred channel the consumer uses to gain awareness about a product; and (2) the decision-making style the consumer employs. Using Experian's TrueTouchSM, marketers can learn this and develop a marketing communication strategy for improved reach.
Generation Z is much more engaged through digital media. More than 3 out 4 Generation Z respondents listed the following as their preferred engagement channel:
Streaming TV
Digital Display
Radio (including streaming radio)
Digital Video
Mobile SMS
More traditional channels such as email, direct mail and traditional newspaper were ranked very low, indicating that reaching Generation Z will require marketers to move away from more traditional media channels to influence these consumers.
Decision-making styles were also different for Generation Z. The most frequent Experian TrueTouch Decision-Making Styles among Generation Z respondents were: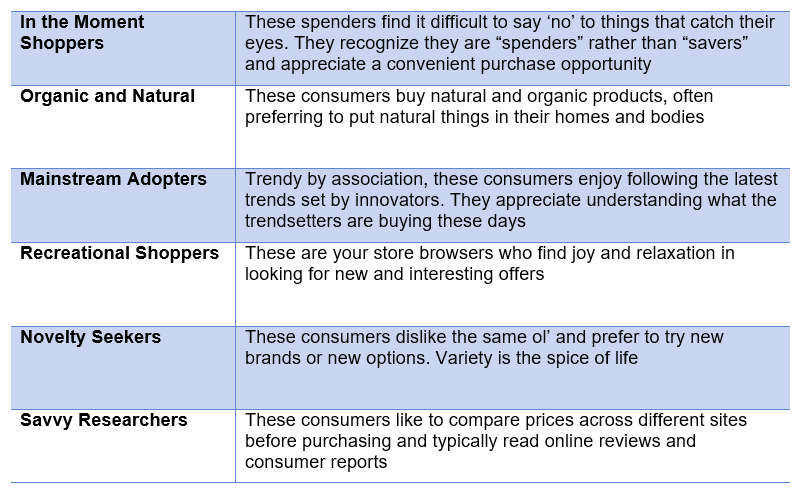 Brand loyalty was the least frequent response among Generation Z. This indicates that Generation Z may not have an automatic affinity to a brand, and that marketers may have to demonstrate its value to influence these emerging consumers.
Key Takeaway: Digital media will be a key for reaching Generation Z, and marketers will have to adapt away from traditional media to influence these consumers. While recreational and "In the Moment," Generation Z does not have loyalty to specific brands, considers what goes into products, and researches different websites and online reviews before making a purchase.
In summary, Generation Z is an emerging group of consumers that will challenge marketers to think beyond traditionally successful marketing tactics. These consumers were born into a digital age, and are heavily influenced by social media, whether it's recommendations from friends, or celebrities that endorse a certain product. This influence requires marketers to communicate more digitally, and less from traditional media like direct mail, email and newspapers. Finally, marketers will need to be aware these consumers will make purchase decisions based on research from other websites and online reviews, look for new things particularly those made with natural ingredients, and are not necessarily loyal to established brands.
Knowing this will help marketers develop strategies and make the necessary investments to reach this group more effectively.

---
[i] "Boomers, Gen X, Gen Y, and Gen Z Explained," Kasasa, July 29, 2019. https://www.kasasa.com/articles/generations/gen-x-gen-y-gen-z