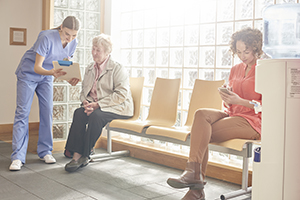 The world of healthcare is often left to the doctors, surgeons and scientists. They examine our bodies, organs and genetics, determining if we are healthy and advising accordingly if we are not. This trust is well-warranted, as they spend years studying and practicing to ensure their patients receive the best care possible. However, individual health status is far more complicated than that, and cannot only be restricted to biology and chemistry. There are other factors that impact our well-being that must be accounted for in order to form a comprehensive picture of our necessary healthcare.
Social Determinants of Health (or SDOH) are the conditions in which people are born, grow, live, work and age that shape our everyday health. They include socioeconomic factors such as education, neighborhood and housing, employment, social support networks and accessible transportation, among others. While not directly related to our clinical health, they still account for, and influence, many of our health outcomes.
Take an elderly man proudly living alone in small town USA. Managing his diabetes is increasingly challenging. He had to give up his car eight months ago, so getting to his regular medical check-ups is a struggle. Without ongoing preventative care and maintenance, this gentleman will end up in the ER with possibly life-threatening conditions. If his physician can detect the change in his access to transportation, they can connect this patient to an eldercare transportation provider, enabling ongoing preventative care and thus avoiding costly emergency visits to the hospital.
Access to transportation, healthier food, higher education and even parks can be a lifesaving factor in certain scenarios. This means that healthcare companies cannot rely solely on clinical or claims data if they wish to provide the best and most impactful care planning for their patients. They must take everything into account, from education to lifestyle to neighborhood.
By looking at all available data, healthcare providers are able to get a more holistic view of the consumer and drive care plans that deliver better outcomes. Unfortunately, much of this data is fragmented and scattered, making it difficult to compare data points and group patients together in meaningful and efficient ways.
Experian's robust data and analytics is used to create more than risk scores – provide the right amount of intelligence in a digestible way to the care teams and clinicians that work with these patients every day. It provides relevant actionable insight into what drives a non-clinical cap in care, allowing healthcare organizations to make unprecedented, personalized adjustments to how they engage with patients' in a privacy and HIPAA compliant manner.
To learn how your healthcare organization can improve health outcomes and patient engagement using Experian data, visit https://www.experian.com/healthcare/solutions/patient-care-management-solutions/social-determinants-health.