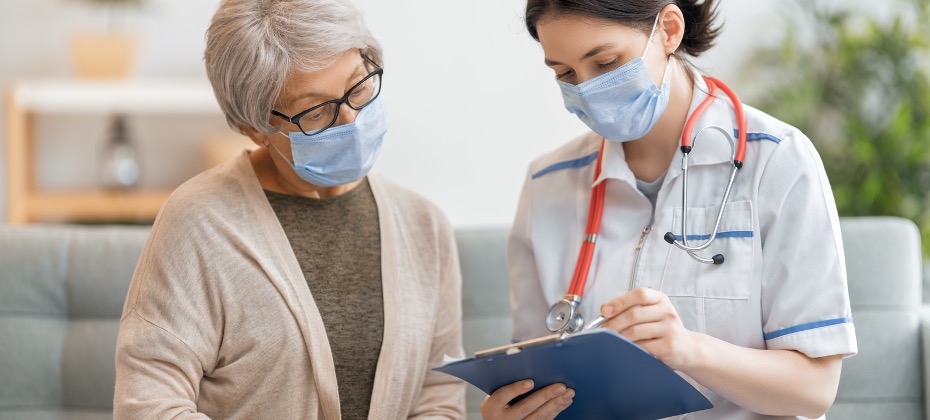 This is the fifth in a series of blog posts that will highlight how the patient journey has evolved since the onset of COVID-19. This series will take you through the changes that impacted every step of the patient journey and provide strategic recommendations to move forward. In this post, explore the fifth step—treatment, and how social determinants of health can help your organization get a more holistic picture of your patients. To read the full white paper, download it here.
How does a virus that does not discriminate produce such different healthcare outcomes across population groups?
COVID-19 exposed population care challenges within the healthcare system. For example, data from the Centers for Disease Control and Prevention (CDC) consistently shows that American Indian and Alaska Native (AIAN), Black, and Hispanic people have a higher risk of COVID-19 infection, hospitalization, and death than their white counterparts. The AIAN community is 3.4 times more likely to be hospitalized due to the virus. An analysis shows that health disparities like these result in approximately $93 billion in excess medical costs and $42 billion in lost productivity per year.
These differences in the health status of various population groups are socially influenced, unequal in distribution, and, most crucially, often avoidable.
Arming clinicians with patient-level "Social determinants of health" insights can help
When it comes to health outcomes and patient engagement, health providers can look beyond the immediate medical needs of a patient to understand non-medical factors that commonly act as barriers to accessing good healthcare and inhibit successful treatment. These can be things that influence a patient's social networks, socioeconomic situation, cultural and environmental conditions, as well as how they live from a health perspective. They are collectively known as social determinates of health (SDOH), and they account for up to 80 percent of health outcomes.
Examples of social determinants of health include:
Access to nutritious foods and opportunities for physical activity
Access to transportation
Education, job opportunities, and income
Housing stability
Language barriers and poor literacy skills
Pollution and [lack of] access to clean water
Racism, discrimination, and violence
For example, a patient that suffers from a language barrier may have problems booking an appointment and understanding the steps for proper care. This can result in inconsistent treatment and poor treatment outcomes.
A patient's income can also play a part. Some patients may lose their jobs, move homes, lose access to cars, and more – resulting in food insecurity, housing instability loss of access to care and medication. According to a Gallup survey, 25% of patients defer treatment because it's perceived to be unaffordable. It's vital for healthcare providers to create a plan that includes touchpoints that screen for SDOH updates. Providers will need to actively educate their patients about alternative payment plans and other financial aid programs, to show their patients that care is accessible through a variety of resources.
The benefits of addressing SDOH using digital solutions: to reduce health inequity and improve patient engagement
Research found that integrating SDOH data into patients' electronic health records and care plan considerations offered the potential for improved care and health. Adding this useful data allowed for a better understanding of patients' social influences, as well as better collaboration between healthcare providers and community services – enabling patients to be treated and engaged from a holistic standpoint.
When providers take SDOH into account and adjust patient engagement in care planning  accordingly, can alleviate:
Readmissions
Unnecessary emergency department visits
Poor care quality ratings
When employing an SDOH solution, providers can use data to develop new strategies that can target vulnerable populations. For example, SDOH research during the pandemic, conducted by the National Center for Biotechnology Information, revealed that school closures increased food insecurity for children, which led to greater rates of malnutrition. This led to lower immune system responses and increased the risk of infectious disease transmissions When trying to increase COVID-19 vaccination rates among populations living in low-income areas, healthcare providers can utilize SDOH data to develop ways to make care more accessible. Social determinants of health insights on access to care, medication, housing, and food barriers can also proactively identify patients with health inequity.
Understanding differentiating drivers of individual SDOH profiles can help healthcare programs meet patients' unique needs – ones that are hindering an equal playing field for their own health.
Social determinants of health can help providers discover new opportunities
Healthcare providers can also use this data to devise strategies to communicate more effectively with their patients, especially via the patient's preferred channels. Technology and communication barriers that are typically overlooked should be examined as a part of SDOH. For example, a patient that prefers direct mail over email may ignore communications that they're not receptive to. Meeting a patient where they are and through the channels they prefer is crucial to making a connection.
Once they understand a patient's SDOH, providers can connect patients to relevant outreach or community programs that assist in removing some of the barriers to a patient's optimum care.  For example, if a hospital learns that their patient base has higher food insecurity, as opposed to access to care risk, they can work to prioritize partnerships with a local food bank or meal delivery programs. This allows providers to proactively help their patients make it easier to comply with their care plans when otherwise, a meal on the table would've taken priority over a wellness check. combining SDOH solutions with patient scheduling software, providers can automate proactive outreach for more and frequent follow-ups to encourage patient engagement.
By utilizing social determinants of health (SDOH) insights, every patient visit becomes an opportunity to verify and address the non-medical factors that may be affecting the patient's health and make better use of your organization's community network. SDOH can help providers build robust patient profiles to display information that wouldn't be visible in the clinical data. With Experian Health's SDOH solution, providers can create robust profiles that can determine a patient's readmission SDOH risk, and provide factors that are driving these risks. This solution can also provide recommended strategies that care team members can use to align appropriate resources and be proactive about their health outcomes.
The healthcare system is designed to help patients during illness or injury.  However, delivering care equity is best achieved by also accounting for the non-clinical conditions that influence health. By looking at a patient holistically and combining clinical data with SDOH, providers can identify the unique challenges patients face and then tailor care to a patients' individual needs.
As providers adapt to life in the shadow of COVID-19 and move beyond crisis mode, it's more crucial than ever to enrich patient identity management with SDOH, and close the gaps in care when the virus subsides.
Download the white paper
Missed the other blogs in the series? Check them out: