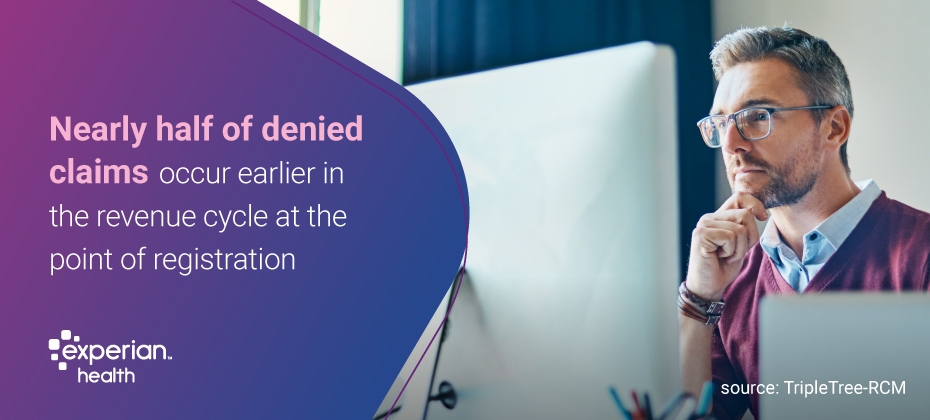 Recently I had the opportunity to present at a regional chapter of the National Association of Healthcare Access Management about the growing need for business intelligence to improve patient access functions, as well as revenue. In speaking with attendees, it became clear that automating the patient access workflow with real-time data can create a more efficient and accurate process.
Here's how.
As the responsibility for paying healthcare bills increasingly falls to patients themselves, patient access can make or break the revenue cycle. From registration and verifying insurance details, to scheduling appointments and collecting cash payments—this is the front line for the financial side of the patient experience.
When you consider that half of denied claims occur earlier in the revenue cycle at the point of registration, improving those early-stage patient access processes is the obvious place for providers to look when seeking to minimize lost revenue.
Revenue loss in patient access is mostly due to errors in patient identification, inadequate data analytics and inefficient workflows. If front and back office teams were better connected and able to work together quickly to communicate and resolve issues, many of these errors could be prevented. Without reliable tools and workflows to support this, those teams often must resort to manual fixes for any errors that arise. Unfortunately, this takes time and effort, blocking opportunities to find new ways to improve decision making and business performance.
Healthcare is becoming more competitive. Providers must work to leverage the right data in the right way to safeguard profits and offer a better patient experience. That said, where should you start?
Doing more with less requires the right data insights
There are two sides to the solution: first, you need to be sure your data is accurate from the start. Around a third of denied claims are caused by inaccurate patient identification, while 12% of patient records are duplicates. Cleaning up your data with high-quality demographic data can help eliminate preventable denials.
Secondly, you need to be able to draw insights from your data to help make smarter decisions in the future. Let's say you notice a spike in late payments from a certain population. Why is that? Looking at historical data on patient and payer behavior can point to emerging trends and help you figure out where to focus your efforts in response. Or perhaps you've recently added a new function to your patient portal. Analytics can help you see if and how patients are using it and evaluate its overall performance.
Once you have your data and analytics in place, you can start to use it to make improvements. Automating the patient access workflow with real-time data can create a more efficient and accurate process. It will also help link front and back office staff with shared systems that minimize errors and wasted staff time.
3 ways to use data analytics to streamline patient access
For providers looking to streamline their early revenue cycle processes using the power of data, three areas to focus on are:
Creating a better patient experience
Increasing numbers of self-pay patients means patient loyalty is a growing priority for providers. Creating a positive, straightforward patient financial experience is essential for hospitals and health systems looking to reduce the stress and anxiety many patients feel when dealing with healthcare bills. Using data insights to identify the sticky parts in your patient access processes can help you spot opportunities to improve the consumer experience. For example, are patients receiving duplicate communications because the system is failing to update demographic information? Are there bottlenecks or backlogs that are creating stressful delays for patients?
A business intelligence tool such as Revenue Cycle Analytics can help you pinpoint the root cause of delays and errors so you can work to fix them—and level-up your patient experience.
When Martin Luther King Jr. Community Hospital (MLKCH) realized patient registration in their busy Emergency Room was a bottleneck and source for claim denials, they implemented an automated platform to streamline their registration process and improve the data being captured at the point of registration. Lori Westman, patient access manager at MLKCH says:
"We get fewer denials because we're getting true verification data, and our patient volumes continue to increase. So the fact that we can take off two to three minutes, at least, on half of our registrations is speeding up the work for the team, and the turnaround time is much better for the patients."
Uncovering potential revenue loss
Analytics can show you exactly where your revenue cycle is losing money. Using appropriate benchmarks and custom KPIs, you can analyze accounts across the entire cycle to make sure your existing revenue cycle solutions are performing optimally and identify new opportunities for improvement.
By gathering together multiple data streams into a single dashboard, you'll get an at-a-glance view of your revenue cycle performance, so you can drill down to the root cause of denials. This also helps link up your front and back office staff. Rather than working retrospectively to address issues as they happen, your back office team can use insights from whole systemdata reporting and analyticsto give front office staff immediate feedback on where denials are occurring.
Monitoring payer rules and performance
With American hospitals footing the bill for more than $620 billion in uncompensated care over the last two decades, it's vital to verify a patient's insurance options as soon as they set foot in the hospital. With up to date information on payer rules and a robust process for finding missing coverage, you can avoid protracted negotiations with payers and focus on denials, rejections and exceptions.
A payer dashboard can also help you assess how payers are performing against one another, so your discussions around timely payments will be based in fact. By analyzing performance around pre-service, point of service and post-service, you'll be better placed to work more closely with payers to minimize the risk of both late payments and denied claims.
Learn more about how data analytics and an automated patient access workflow can help eliminate costly denied claims, boost revenue cycle performance and improve the patient financial experience.
Steven Thiltgen is Director of Analytics Consulting for Experian Health