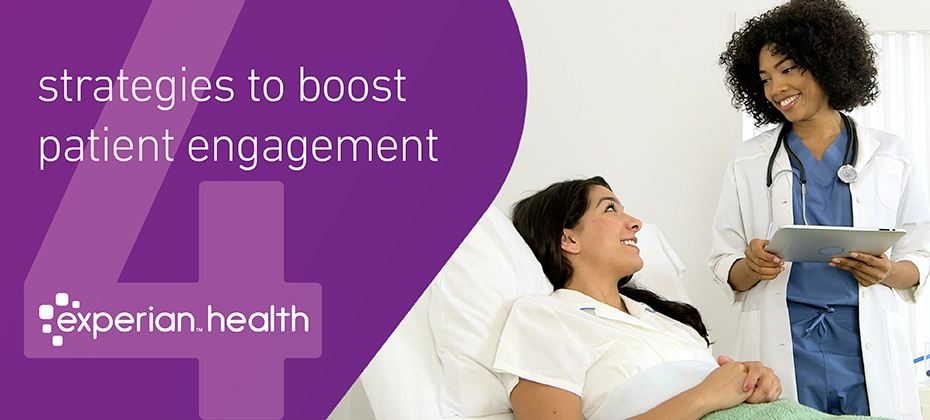 When it comes to value-based care, there's really just one measure that matters: patient satisfaction.
As CMS incentivizes providers to help patients find better care, improve population health and lower healthcare costs, more top health systems are seeing patient engagement as the path to value-over-volume success. Patients are finding themselves footing more of the bill for medical expenses, so elevating the patient experience is essential. If they're not satisfied, they'll simply take their dollars elsewhere – not what your CFO wants to hear.
Helping patients feel more engaged in their health creates a more satisfactory experience, and in turn, boosts patient loyalty. And what's more, by giving them opportunity to make informed decisions about their care, you can also reduce preventable admissions, avoid no-shows and fix the revenue leaks in patient collections. It's beneficial for everyone.
Here are four strategies to help you boost patient engagement and create a more consumer-friendly experience in your organization.
4 ways to boost patient engagement
1. Use segmentation and customization
The first route to consumer-friendly care is about treating each patient as an individual. With advances in data analytics, it's now possible to group your patients according to risk (whether that's risk of a particular disease, exposure to a social determinant of health, or likelihood of non-attendance at follow-up). This allows you to be more targeted in your marketing efforts, provide patients with information that's more relevant to them, and help each patient move to the next stage of their healthcare journey.
Stanford Medical School sees this data transformation as central to its vision of "'Precision Health' – a more preventive, predictive, personalized and precise" approach to healthcare. Analytics give you a wealth of insights about the clinical, financial, behavioral and social factors affecting your patients, so you can personalize your patient engagement strategy to each member's specific preferences and needs.
As noted in research undertaken by Frost and Sullivan on behalf of Experian Health:
"Analytics help us select patients who will respond to engagement strategies and de-select patients who won't respond are needed. Not everyone responds to engagement in the same way."
By prioritizing precision marketing, you can create a culture of precision care.
2. Help patients take ownership of their health journey
Value-based care is an opportunity to empower patients to be active players in their health. Greater transparency into the billing process, access to healthcare data and consumer-friendly tech can all help patients see what's happening at each stage of the process. When they're more informed, they're more likely to adhere to care plans, turn up to appointments and successfully navigate payments.
Your patient portal is a good place to start. Research shows that use of portals enhances patient engagement, satisfaction and health outcomes. Patients can access their records, view test results, schedule appointments at a time that suits and sort out bills with less of the stress. It helps patients ask the right questions and builds a trusting patient-provider relationship.
3. Improve the patient financial experience
When two-thirds of Americansare worried about being able to cover unexpected medical bills, any way you can make the payment process more transparent is a big plus.
Help your patient navigate the financial side of their healthcare experience with clear, real-time information about their coverage status, estimated co-pay calculations and appropriate payment plans based on their specific circumstances. Putting them at ease will help them meet their financial obligations without leaving a bad taste. In this way, you can build consumer trust and optimize your revenue cycle at the same time.
4. Use SDOH data for proactive outreach
Research shows that medical tests and treatments alone are not enough to determine the outcome of a patient's healthcare journey. We should be paying more attention to the social and economic factors that can get in the way of care. Because when patients struggle to access care, it's harder for them to follow treatment plans or show up to important follow-up appointments. In a value-based world, tackling social needs is a growing priority for providers seeking to improve population health.
When you have a more complete grasp of each patient's motivations, support networks and personal circumstances, you can create a more efficient patient engagement plan. You'll avoid wasting resources on patients who aren't in a position to respond and instead can adopt outreach strategies to help those patients access the care they need. This might include offering alternative payment plans, signposting to logistical support such as childcare or transport, or referring to local community services, such as cooking classes or social clubs.
To do this, you need reliable, relevant and accurate consumer data and the capability to draw actionable insights. Experian Health's unrivaled consumer marketing data can help you better understand your patient population so you can communicate with them and support them in the most effective way.
Consumer-friendly care is the new currency in value-based accounting – and the key to positive patient engagement. Find out more about how Experian Health can help your organization lift your patient engagement strategies for greater patient satisfaction, better health outcomes, and a healthier