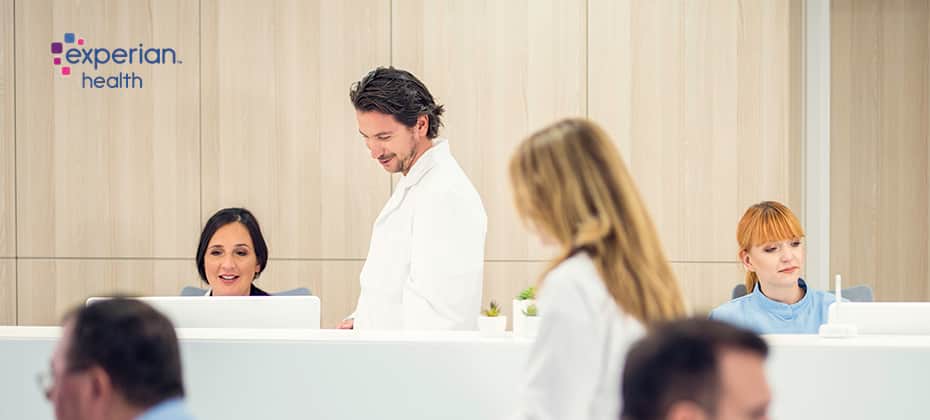 The United States' health system has become the most expensive in the developed world, and high administrative costs are a big factor. They account for more than 25 percent of spending on hospital care, making American healthcare administrative costs higher than any other country.
Much of the problem comes from the complexities of payment. With public health programs, private insurers, and patients themselves all splitting the bill, it's difficult for hospital administrators to determine who pays what in each situation. Especially during patient registration, they are bogged down by the time-consuming process of verifying patients' eligibility for insurance and other programs.
For these reasons, Martin Luther King, Jr. Community Hospital decided to focus on improving its patient registration process. The private nonprofit safety net hospital in South Los Angeles serves a high-need community and sees about 300 patients per day. Manually checking in all those people meant that MLKCH's administrative team had an overwhelming workload. The hospital needed an integrated solution.
Automation simplifies hospital patient registration
The hospital's staff was spending a significant amount of time checking different payer websites and making phone calls to determine each patient's eligibility for insurance and various programs. Then, the benefits information had to be copied and pasted into the hospital's non-integrated platform, which was another slow process that often resulted in inaccuracies. Quality assurance to find and correct those errors was a manual process, too, taking up more of the administrative team's bandwidth.
To free up resources and reduce errors, the hospital wanted to automate its verification processes, streamlining its registration, quality review, and more. MLKCH also needed its hospital patient registration software to work well with the Cerner system it already used. It decided to implement Experian Health's eCare NEXT® platform.
"We decided to use Experian Health's software within Cerner versus a couple of the products we were looking at, at the same time, because it truly integrated within Cerner," said Lori Westman, patient access manager at MLKCH. "When we presented this to our CFO, he liked the fact that it was integrated within Cerner; he didn't want us to have to go out to another third-party payer to pull information back. It's all about time and the time we can save on our registrations. That was the biggest selling point — the integration within Cerner and its seamless registrar on the back end. To the team, it's just another program they're working with in Cerner."
The software from Experian Health automates registration and financial clearance, among other patient access processes, which account for up to 80 percent of manual preregistration tasks. The system assesses patients quickly, replacing the information-gathering that staff has traditionally done.
For MLKCH, which sees many returning patients, if a patient is already in the system at check-in, eCare NEXT pulls up his or her eligibility automatically when an administrator accesses the account. This saves several minutes, making it a notable patient registration process improvement.
The system also eliminates a large portion of redundant tasks. When using the platform to check eligibility with one plan, eCare NEXT also searches for other applicable plans. For example, MLKCH treats a large Medicaid and managed care population, so checking a patient's eligibility required visits to both the state's and the health plan's websites. But eCare NEXT will verify both automatically.
Additionally, the fact that eCare NEXT integrated seamlessly with Cerner has improved the hospital's patient registration process. Because the two platforms work together, patient data has become more accurate and the quality assurance process is less cumbersome. MLKCH was able to implement new QA standards after staff became familiar with the automation tool. The team also found that the enhanced data from eCare NEXT can shape user education and pinpoint areas for further improvements.
And while there were some concerns that a new platform would take a long time to adopt, the rollout of the patient registration system was smoother than expected. The administrative team got a robust solution with exceptional support to ensure users have every resource they need.
Ultimately, implementing an automation tool eliminated MLKCH's most time-consuming registration tasks, allowing staff members to focus only on the tasks that needed their attention. This made their jobs easier and more efficient while also reducing training needs and improving compliance. The registration process became much faster.
Automating preregistration tasks and eligibility verifications has also ensured MLKCH's administrators have more accurate eligibility information. This integrates with Cerner to increase the quality of patient records.
But the most important benefit of improving the patient registration process has been how it affects patients. These time savings get passed on to them in the form of quicker registration and less hassle proving eligibility. Using eCare NEXT has not only helped the hospital's administrators, but it has also allowed MLKCH to enhance patient service.
Westman adds: "We get fewer denials because we're getting true verification data, and our patient volumes continue to increase. So the fact that we can take off two to three minutes, at least, on half of our registrations is speeding up the work for the team, and the turnaround time is much better for the patients."
Need to streamline your patient access department? Learn more or schedule a demo with us today.