Since Medicare's inception in 1966, private healthcare insurers have processed medical claims for Medicare beneficiaries. Originally these entities were known as Part A Fiscal Intermediaries (FI) and Part B carriers.
In 2003 the Centers for Medicare & Medicaid Services (CMS) was directed via Section 911 of the Medicare Prescription Drug Improvement, and Modernization Act (MMA) of 2003 to replace the Part A FIs and Part B carriers with A/B Medicare Administrative Contractors (MACs) in accordance with the Federal Acquisition Regulation (FAR).
A Medicare Administrative Contractor (MAC) is a private healthcare insurer that has been awarded a geographic jurisdiction to process Medicare Part A and Part B (A/B) medical claims or Durable Medical Equipment (DME) claims for Medicare Fee-For-Service (FFS) beneficiaries.
CMS relies on a network of MACs to serve as the primary operational contact between the Medicare FFS program and the health care providers enrolled in the program.
MACs are multi-state, regional contractors responsible for administering both Medicare Part A and Medicare Part B claims. MACs perform many activities including:
Process Medicare FFS claims
Make and account for Medicare FFS payments
Enroll providers in the Medicare FFS program
Handle provider reimbursement services and audit institutional provider cost reports
Handle redetermination requests (1st stage appeals process)
Respond to provider inquiries
Educate providers about Medicare FFS billing requirements
Establish local coverage determinations (LCD's)
Review medical records for selected claims
Coordinate with CMS and other FFS contractors
Currently there are 12 A/B MACs and 4 DME MACs in the program that process Medicare FFS claims for nearly 70% of the total Medicare beneficiary population, or 37.5 million Medicare FFS beneficiaries. The MACs serve more than 1.5 million health care providers enrolled in the Medicare FFS program.
Collectively, the MACs process more than 1.2 billion Medicare FFS claims annually, 210 million Part A claims and more than 1 billion Part B claims, and paid $367 billion in Medicare benefits.
MAC A/B Jurisdiction Map (March 2023):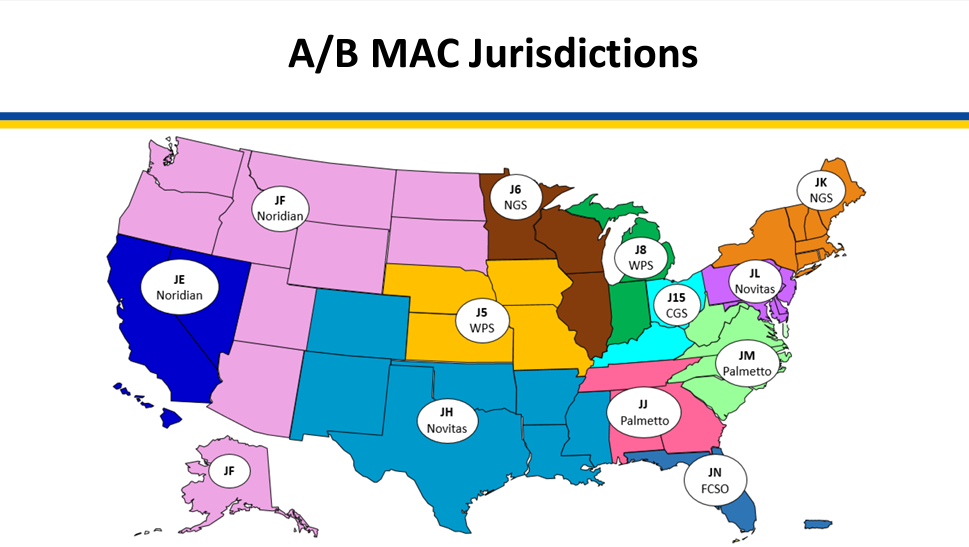 Source: www.cms.gov