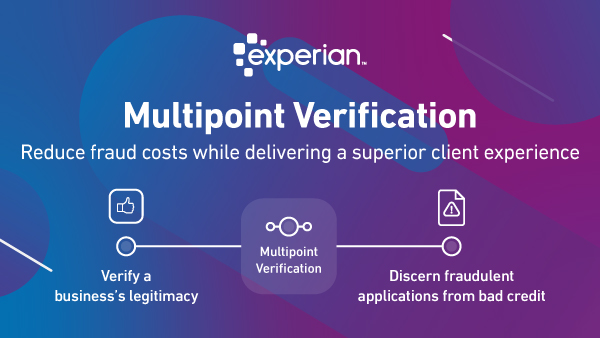 Experian is very excited to unleash game-changing commercial fraud detection capabilities with Multipoint Verification, a key component in our commercial fraud suite.
Innovations in digital consumer experiences mean your commercial customers have new expectations. They want personalized, digital, secure faceless experiences, and fast decisions. But faster digital experiences without proper checks can often open the door to commercial fraud.  Manual application reviews can slow things down, and cut into your bottom line.
Experian can help you control costs and protect you from the high price of commercial fraud, and labor-intensive manual review processes.
Multipoint Verification facilitates fraud detection at the point of application, so your lower-risk good customers can continue to enjoy a frictionless experience while you mitigate fraudulent applications.
Introducing Experian Multipoint Verification
Multipoint Verification helps you verify a business's legitimacy. In addition, it enables you to discern fraudulent applications from bad credit through comprehensive data sets.
Single-sourced verification products can be limited in their capability and often prone to false positives. Multipoint Verification arms you with practical intelligence, so you can confirm the linkage between the applicant and claimed business, state filings, email issuance, or identify potential corporate linkage to other entities at the point of application.
Experian is transforming the commercial fraud screening landscape, let's start a conversation.