Holiday Spending: Ways to Spend Less & Reduce Stress This Season
Join our weekly #CreditChat on Periscope, Twitter, YouTube Live, and Snapchat every Wednesday at 3 p.m. ET.  This week, we talked about reducing stress and our spending this holiday season.
The panel included: Leah Ingram: Author and money expert; Sandra Bernardo: Manager of Consumer Education at Experian; Rod Griffin: Director of Public Education at Experian and Mike Delgado: Director of Social Media at Experian.
We're also featuring financial tips all week on Snapchat.
Questions We Discussed:
Q1: What common items lead to stress and increased spending during the holidays?
Q2: How can people plan ahead to ensure that they have a stress-free holiday season?
Q3: What items should people factor into their holiday budget?
Q4: What credit mistakes do people make during the holidays?
Q5: What are simple ways to bring in extra money to help with holiday spending?
Q6: How can people can save on holiday gifts for their extended family?
Q7: What are some fun and frugal gifts for kids?
Q8: What are some inexpensive last-minute gifts someone can grab on the go?
Q9: How can you gift your time or talents this holiday season?
Q10: Any final tips for someone stressing about their holiday spending?
View the Complete Tweetchat on Storify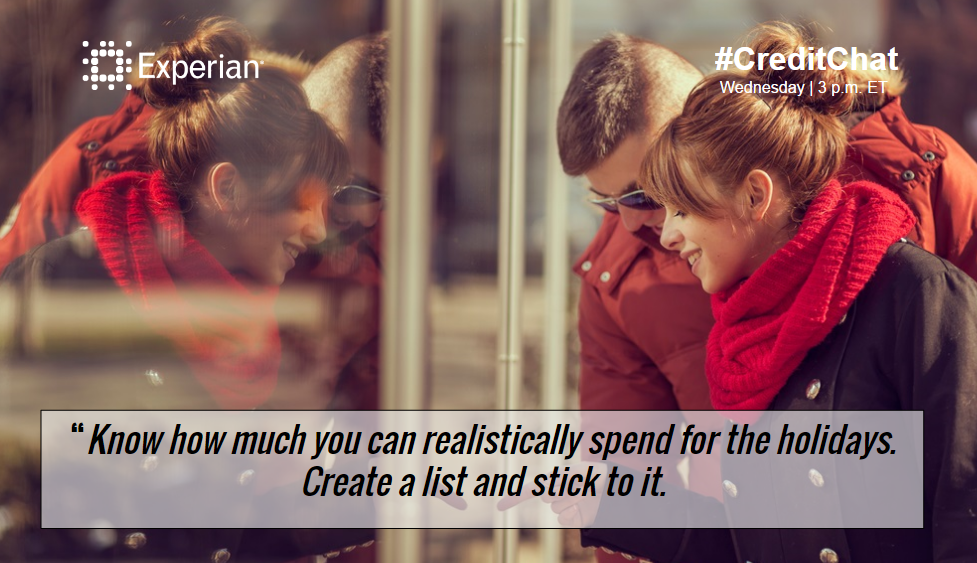 If you've never heard about #CreditChat, here is a brief overview:
Relevant chats on YouTube:
Relevant Articles: