Experian Insights Video Series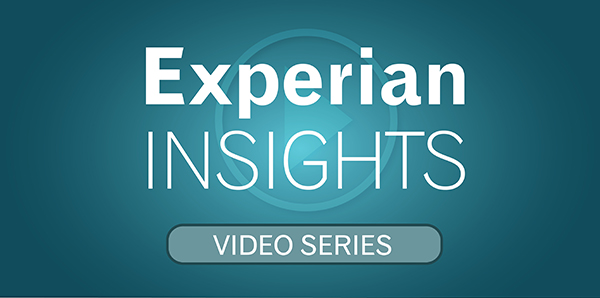 Welcome to Experian Insights. Here you can view short videos that will introduce you to Experian and the many ways we use data and insights to help consumers and businesses. Experian Insights give a close-up look at Experian's business, how we manage and analyze Big Data, valuable advice for consumers on how to manage credit and the latest business trends in a variety of industry segments.
Every quarter we will bring you new and interesting episodes that include segments on:
Credit Science – Get to know the science behind our analytics through Experian DataLabs
Analyze This – Insights on consumer and business trends
Consumer Counsel – Advice and programs that help people better understand and manage their credit and protect their identity
Conversations with Craig – Experian North America CEO Craig Boundy shares his perspective on Experian's business, the marketplace around data and analytics and our role in helping consumers
The Business of Small Business – Insights on small business
Healthcare Data Doctors – Experian's role in helping hospitals, medical groups and consumers navigate today's world of healthcare
Automotive Analytics – Insights impacting consumers and the automotive industry
Mortgage Matters – Mortgage and real estate trends and insights
Fraud Fighters – How Experian, its analytics and its experts are fighting fraud
Public Sector Perspective – How Experian is working with the public sector to help consumers and government agencies
Making Marketing Work – The latest insights and trends from the world of marketing
We hope you find these videos insightful and helpful, and we welcome you to join in the conversation about the topics with your comments and posts.
Fraud Fighters: How to Survive a Data Breach 

Check out the other videos in this series:

Conversations with Craig: Big Data is Good
Craig Boundy, CEO of Experian North America, discusses how big data is good for our economy, good for consumers and good for society.

Analyze This: A Glimpse Into the Credit Profile of a Millennial
Michele Raneri, Experian's Vice President of Analytics and Business Development, shares the latest findings on millennials and how they are faring when it comes to credit management and how they compare to the rest of the population

Using Data to Manage the Cost of Healthcare
Dan Johnson, Experian's Executive Vice President of Healthcare Strategy, discusses how big data can help the health care industry.

Healthcare Data Explosion: Need for Data Analytics
Experian Data Breach Resolution discuss the importance of protecting patient records, and how data plays a role.

Analyze This: A Close-Up Look at Student Loan Debt
Michele Raneri, Experian's Vice President of Analytics, provides insight on the current state of student lending and talks about what this increasing debt means for students and the economy as a whole.

Credit Science: Meet Experian's Chief Data Scientist
Dr. Shanji Xiong, Chief Scientist for Experian's Global DataLabs, shares his fascinating journey from growing up in Communist China to his current status as one of the world's premiere data scientists.

Consumer Counsel: Volunteers Helping People Manage Credit
Experian employees are volunteering to help people better manage their credit. In this segment, we are introduced to the Experian Ambassadors program.

Business of Small Business: Big Data Helps Business in Big Ways
The exchange of goods and services for business large and small is what our society is built on. Hiq Lee, president of Experian's Business Information Services explains how big data is actually a driving force in commerce.

Gaining Insight into the Impact on Brand Loyalty
Brad Smith, Experian Automotive's director of market statistics, explores the impact that length of vehicle ownership has on the likelihood a consumer returns to market to purchase a vehicle of the same brand.

Automotive Analytics: Why are Green Car Sales Flat?
Melinda Zabritski, Experian's senior director of automotive finance, discusses findings from a recent analysis exploring trends in the alternative-powered vehicle market, and explains what the data means for the industry.

Analyze This: Analyzing the Data Behind Women Owned Businesses
Peter Bolin, Experian's director of consulting and analytics, examines findings from an analysis that compares the credit attributes and industry preferences of male- and female-owned businesses, and discusses how those characteristics can impact a small business owner's ability to receive funding.

Insights to Help Find the Pockets of the Automotive Industry
Brad Smith, Experian Automotive's director of market statistics, examines findings from an analysis that shows consumers in major metropolitan areas tend to lease vehicles, while consumers in smaller markets tend to buy used.

Consumer Counsel: Keeping Your Finances in Good Shape
Your credit report is one of your most important financial tools. It serves as your financial reference and helps you get approved for credit. Rod Griffin discusses the tools and resources that can help you proactively manage, build and improve your credit.

Beating the Fraudsters without Alienating Customers
Talk to any company about fraud and they'll tell you the challenge is how to fight the criminals without angering – or worse, losing – valued customers. Experian's Charles Chung and specialists from 41st Parameter discuss the issue in this important segment.

Fraud Fighters: Experian and 41st Parameter are Fraudsters Worst Enemy
When Experian acquired 41st Parameter in 2013, it was because the two
entities make a formidable foil against fraud criminals.

Fraud Fighters: Catch Me If You Can
Frank Abignale, one of the world's most respected authorities on the subject of forgery, discusses how data analytics can help organizations deal with today's cybercrime. Abignale's life story provided the inspiration for the feature film Catch Me If You Can.