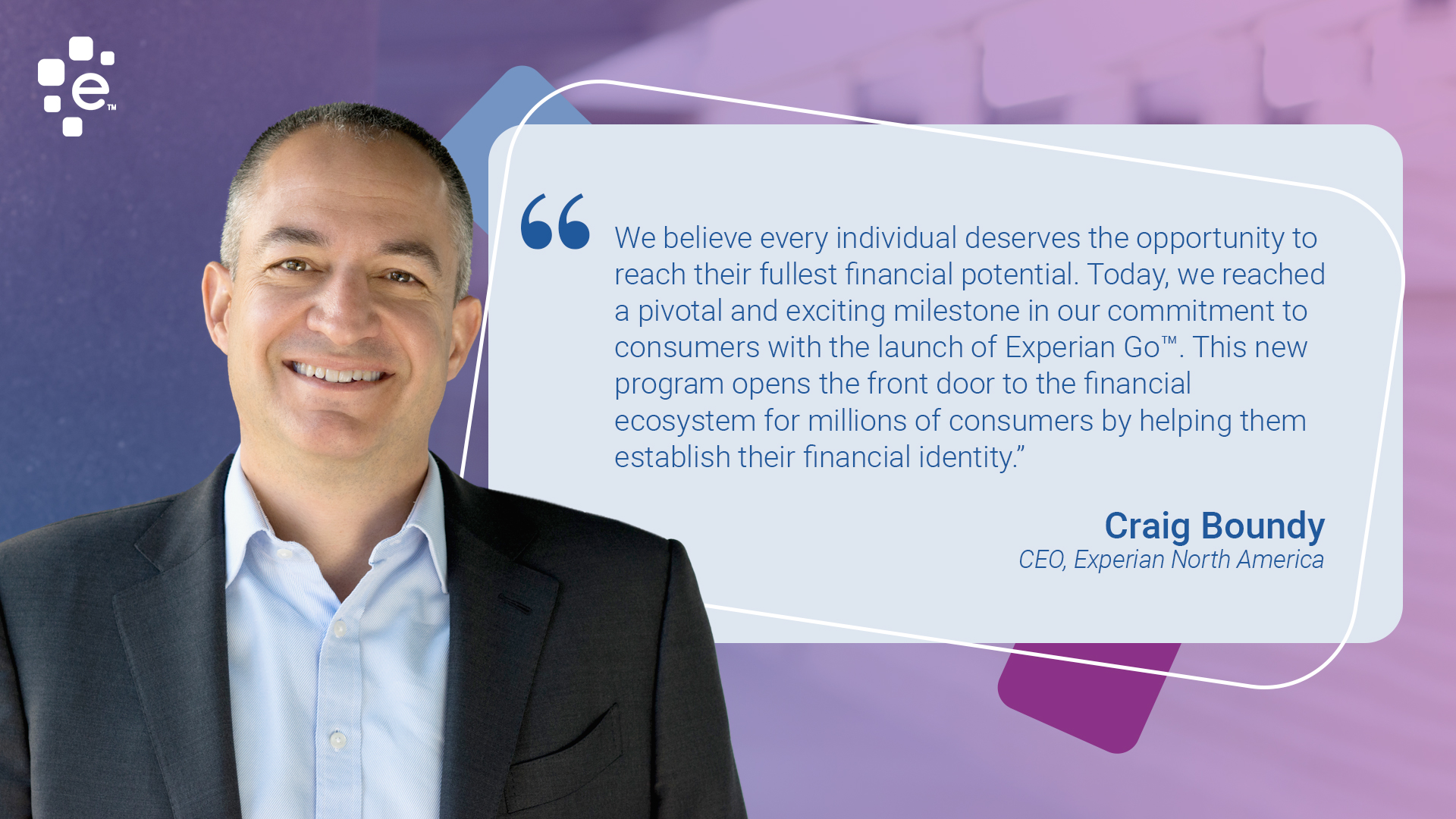 For the past several years, we've been on a journey to improve financial access for millions of people around the world. We've made it our job to help consumers get the best financial outcomes. This focus on consumers defines us and informs everything we do.
In 2019, we reshaped how consumers access credit with Experian Boost™. Since then, nearly 9 million consumers have connected to the product.
While we are proud of what we have and continue to accomplish with Experian Boost, we know there is more to be done to ensure more consumers can access fair and affordable credit.
Improving outcomes for underserved consumers
When credit is used responsibly, it can create new opportunities from getting a college degree, buying a car or home and starting or expanding a business. These are milestones that help people establish careers, build wealth and ultimately achieve greater financial freedom. 
Yet, there are millions of consumers who are unable to participate in the mainstream financial ecosystem today because they don't have a financial identity. In fact, our recent research shows there are at least 28 million credit invisibles in the U.S. with an additional 21 million consumers who are unscoreable by the credit score models most used by lenders today.
Without an established credit history, these consumers struggle to qualify for everything from an auto loan to a mortgage and even an apartment or employment. This problem more frequently impacts communities of color with 28 percent of all Black and 26 percent of all Hispanic consumers currently unscoreable or credit invisible.
Increasing financial inclusion depends on creating opportunities for underrepresented consumers to succeed. And this starts with ensuring all consumers have a financial identity.
Bringing financial power to all with Experian Go
The challenge is many consumers who are not in the credit ecosystem today are unsure where to start. Today, we reached a pivotal and exciting milestone in our commitment to consumers with the launch of Experian Go™.
This new program opens the front door to the financial ecosystem for millions of consumers by helping them establish their financial identity and move from credit invisible to scoreable.
Within minutes, credit invisibles can have an authenticated Experian credit report, tradelines and a credit history by using Experian Boost™[1], and instant access to financial offers through Experian Go. In fact, early analysis shows 91 percent of consumers with no credit history who connect to Experian Boost, a free feature that allows users to contribute their on-time cell phone, video streaming service, internet, and utility payments directly to their Experian credit report, can become scoreable in minutes with an average starting near-prime FICO® Score of 665[2].
Throughout the experience, we'll provide ongoing credit education and access to tools like Experian Boost™ to make it easy for consumers to learn how to use and responsibly grow their credit histories.
Until now, our industry has struggled to verify the identity of credit invisibles. Over the last several years, we've introduced new identity verification technologies to our toolbox. With Experian Go, we're leveraging these technologies to verify a credit invisible's identity and get them in the front door to start building credit. No other credit bureau or organization is doing this today.
During our pilot, we helped more than 15,000 consumers establish their credit history. This is a great start.  Now that Experian Go has launched, I look forward to helping millions more consumers get the credit they deserve.
To learn more about Experian Go, visit www.experian.com/go.
[1] Results may vary. Some may not see improved scores or approval odds. Not all lenders use Experian credit files, and not all lenders use scores impacted by Experian Boost.
[2] Experian analysis based on an anonymized and statistically relevant sample of consumer credit reports with only Experian Boost tradelines included and FICO® Scores. December 2021.