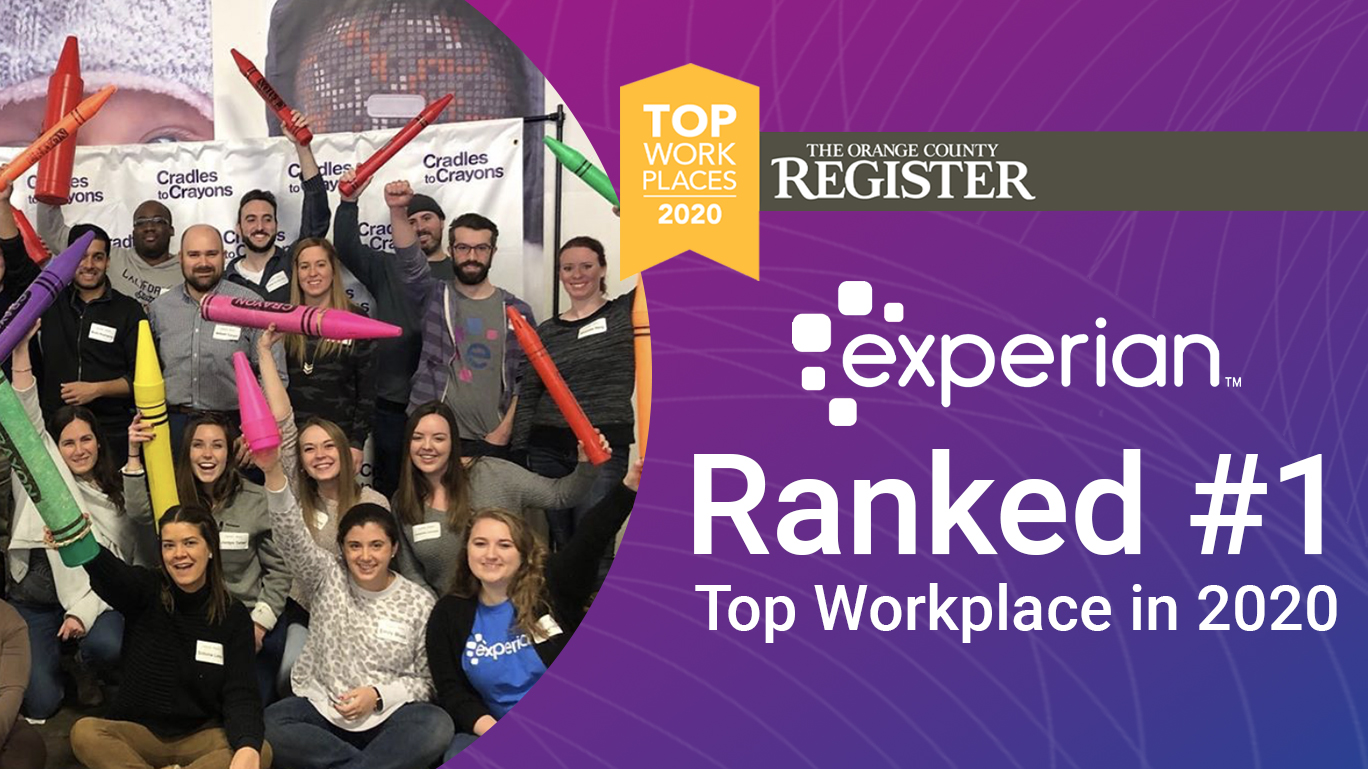 For the eighth consecutive year, the Orange County Register has named Experian as one of the Top Workplaces, with the company securing the #1 ranking for the second time in three years. The award, which is based on employee feedback in a survey of hundreds of leading companies in Orange County, recognizes our company's culture of innovation and inclusion, and our commitment to employees and communities during the pandemic.
For more than 40 years, Orange County has been at the heart of our North America operations, and as we persevere through these challenging times, we are especially honored to be recognized for our dedication to maintaining a healthy, collaborative work environment and achieving higher performance while giving back. This award demonstrates the resilience, talent and compassion of all the people who work here at Experian.
Since the start of the pandemic, we have further expanded our dedication to social good by creating new opportunities to support employees and the broader community. Because we are founded on a culture of innovating through bringing together technology and data, we were able to quickly respond to COVID-19 and honor our commitment to using data for good.
Maintaining company culture
All our decisions are driven by our desire to lead with empathy, and ensuring our employees feel valued and protected, while simultaneously mobilizing our resources to positively impact society, creating greater levels of financial and social inclusion.
Although we had technology in place to easily initiate working remotely, we supported the transition to remote working by launching initiatives dedicated to mental and physical well-being, including a COVID-19 Resource Center, enhanced sick-leave policies, increased opportunities to ensure continuity of professional development, as well as an ASPIRE to be Well guide, in partnership with our Employee Resource Groups (ERGs).
Giving back
Throughout the pandemic, our employees have felt compelled to help clients who were facing unprecedented and unforeseen challenges. Different groups and employees of all levels began working together to develop new products and services to help clients, customers and communities persevere. This included free credit reports for small business, adding video streaming service payments to Experian Boost, hosting #CreditChat on social media, the Experian CORE heatmap, COVID-19 U.S. Business Risk Index , Experian® Health Payer Policy Alerts and updated fraud protections through the Business Resources Website.
As part of our United for Financial Health initiative, we also launched two new partnerships with non-profit organizations to empower vulnerable consumers and those marginalized by the pandemic. In collaboration with Operation HOPE, we are helping vulnerable communities improve financial health with its data, analytics, products and services. Most recently, we partnered with NAACP Empowerment Programs to offer Home Preservation Grants to African Americans at risk of losing their homes.
Although COVID-19 has been a source of stress and anxiety for businesses and individuals alike, we remain committed to helping employees reach their full potential and demonstrating that values and purpose do not change in a crisis.
We are honored that the Orange County Register is recognizing our tireless efforts to make a difference in the communities in which we live and work.