For each of the past six years, Experian's position on the Orange County Register's list of Top Workplaces has continued to rise, and it's cause for real celebration across our workforce. This marks a special year for us, as Experian North America was awarded the #1 spot on the list.
"Our team members bring their own backgrounds, perspectives, and approaches to work, which together helps us make smarter decisions, develop better products and ultimately deliver more value to consumers," according to Craig Boundy, CEO of Experian North America.
"This #1 ranking validates our commitment to embracing a truly inclusive culture where everyone has a real sense of belonging, knowing they can show up every day and be who they are, professionally and personally."
The Power of YOU
As part of this commitment, we've created an environment where everyone is comfortable bringing their whole self to work, regardless of differences or backgrounds. It's about advancing a culture that not only respects differences, but actively celebrates them. We call this The Power of YOU.
We celebrate our diversity through a range of fun and engaging cultural events, social clubs and volunteer opportunities with nonprofit organizations.
As an example, this year we launched a variety of Employee Resource Groups (ERGs), including:
Military Veterans and Patriots group
African American group, Asian American group
Hispanic and Latino group
Namaste (Indian) group
Experian Pride Network group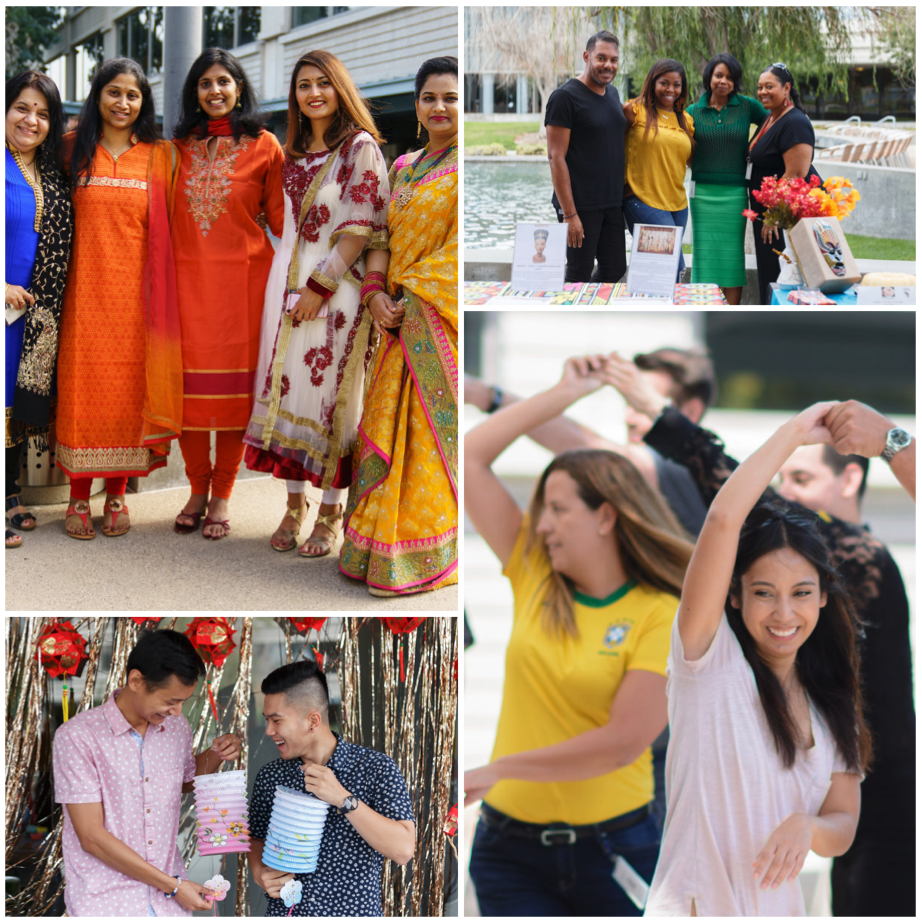 Pictures of employees at various ERG events
The Power of YOU initiative builds on the Women in Experian (WiE) group, which was formed two years ago and is focused on improving gender balance across all levels of the organization. Spearheaded by a global team of female leaders from across the business, the group focuses on helping women achieve their ambitions and build successful careers. Each month, employees meet to plan initiatives ranging from guest speakers and lunch-and-learn events to job shadowing and mentorship programs to International Women's Day activities.
Humans of Experian
Another exciting initiative is Humans of Experian. This video series highlights the personal stories of employees across the organization. Each story shares an employee's unique experiences and perspectives and illustrates what it means to be a part of our organization that values and celebrates inclusion and diversity. You can see their stories here:
Innovation and Business Success
Our culture of diversity and inclusion has enabled Experian to grow and evolve while remaining at the forefront of innovation.
For more than 40 years, Orange County has been the heart of our North America operations. We've remained focused on developing a culture that achieves and sustains higher performance while giving back to the community, and we've strengthened the business across every front.
As a result, we continue to have a positive impact on consumers, businesses and the economy with our products, technology and innovations, from finding breakthroughs around better utilizing data to identifying ways we can make access to credit faster and simpler for millions around the world. This is the driving force behind Experian being named to Forbes' prestigious World's Most Innovative Companies list for the last several years as well.
We're very proud to be ranked as the #1 Top Workplace by the Orange County Register for our positive workplace culture, which attracts and retains top talent in Orange County as well as our other locations across North America.
Our employees are committed to helping to create better tomorrows in our communities through technology and innovation, social responsibility, and our everyday work and business purpose.