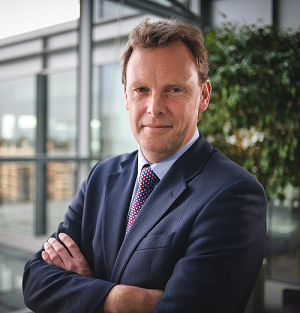 I am delighted to be able to share the exciting news of Experian's intended acquisition of ClearScore. By combining the experience and strength of our global organisation with those of a successful and rapidly scaling business, it's our aim to create the most compelling destinations for consumer finances in the UK. Today's announcement is the first step in delivering a pipeline of future products and services that will further improve consumer choice and access to credit in the UK and beyond.
Consumer digital behaviour is rapidly changing the way we all access financial services. At Experian, we're introducing a range of new services that meet the demands of this changing marketplace, helping people to manage their finances in a simpler, faster and more affordable way. Whichever device people prefer, at any given time, they will be able compare offers on credit cards, loans and mortgages to see which product best suits them, helping them to plan and better manage their financial lives.
Like us, ClearScore is a leader in digital finances. It's an incredibly dynamic organisation, with a large, enthusiastic and engaged group of users. Since its launch in 2014 the business has grown rapidly to more than six million users across the UK and South Africa access to a free credit report and scores.
It is our intention to maintain the two brands alongside each other – both ClearScore and Experian. We want to offer services that appeal to the widest possible range of people, and each of these successful identities has a role to play in doing that. At the same time, by bringing ClearScore into the Experian family, we'll be able to combine our skills and expertise to better enhance the consumer experience. Together we'll accelerate the development of new, innovative products and services for both brands, leading to a better choice for people across the UK and beyond.
Justin Basini, co-founder and CEO of ClearScore, has reiterated the importance of the acquisition:
ClearScore is excited to join Experian in due course and to begin a new stage in our incredible journey. We will catalyse positive change for consumers as we combine the businesses and build a global business. It allows ClearScore to deliver on our mission – to help people sort their money – even more effectively. We will be better able to scale, more efficiently, with more resources at our disposal and this will allow us to deliver more for the people who matter most to us – our users. Experian is the world's biggest credit information company, operating in 37 countries around the world, giving us a much bigger stage upon which to build ClearScore.
As is common in a deal such as this, the agreement is subject to regulatory approval. Once that's concluded, we'll be able to talk in more detail about how and why this combination will help both Experian and ClearScore to achieve our shared goals. Namely, providing more choice and greater convenience to individuals who want to access personal financial products at the best prices, while also making it easier for businesses to connect with the right customers. In the meantime, it's business as usual for both companies.
We are immensely excited by the opportunities the acquisition of ClearScore brings, and look forward to welcoming the ClearScore team to Experian in due course.