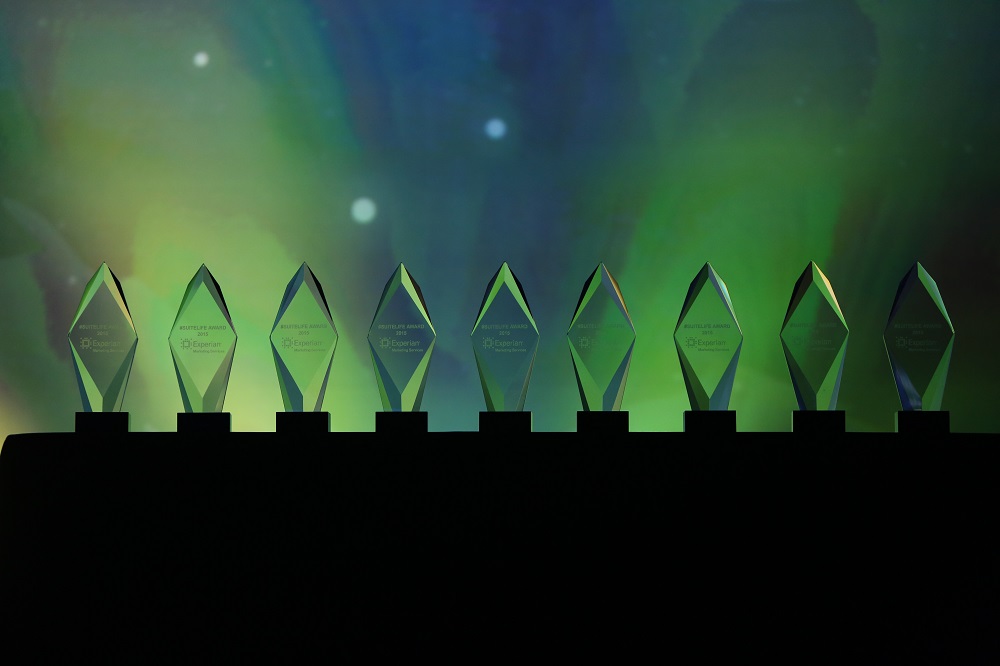 As the veil was lifted off the second annual #SuiteLife Awards, Experian Marketing Services, the recognized leader in data-driven marketing and cloud-based marketing technology, acknowledged several of the world's premier brands for exceptional marketing campaigns. The second annual #SuiteLife Awards recognized brands that embody the idea of improving the customer experience through data and analytics while driving results for the business.
"Consumers should always be at the forefront as brands develop and implement marketing campaigns. Each program should be able to answer the question: How can I add value to my customers and improve their experience?" said Matt Seeley, president, Global Experian Marketing Suite. "We are proud to recognize these brands as #SuiteLife Award winners and to work with them on a daily basis, because they exemplify what it means to create exceptional customer experiences."
Winners were announced during Experian Marketing Services' 2016 Client Summit in Las Vegas, Nev. During the ceremony, the audience was asked to cast their vote for their favorite campaign. The People's Choice Award went to American Eagle Outfitters, a leading global specialty retailer.
2016 #SuiteLife Awards winners include:
Hilton Worldwide — Best Real-Time Contextual Marketing Campaign
Hilton Worldwide developed a distinctive email marketing program that enabled the organization to provide highly personalized email messages to a large number of its HHonors members, while maintaining a reasonable level of effort and management of email resources.
Pet Supplies Plus — Best Acquisition Campaign
In an effort to increase sales and acquire new customers in underperforming locations, Pet Supplies Plus created a coupon incentive program that helped increase awareness of the brand. Throughout the customer acquisition campaign, Pet Supplies Plus was able to increase store sales by more than 10 percent, and it retained a significant number of customers post-promotional campaign.
Finish Line — Best Cross-Channel Campaign
Finish Line developed a thoughtful, creative cross-channel marketing campaign that engaged customers across various marketing channels, including ecommerce sites, display advertising, paid search, social channels and email, among others. Leveraging email interaction data from Experian Marketing Services, Finish Line retargeted customers and evolved its interaction through email channels and its mobile app. The campaign helped drive significant traffic, conversion, revenue and brand recognition.
 The Bon-Ton Stores Inc. — Best Mobile Campaign
As part of the Very Merry Gift Guide campaign, The Bon-Ton Stores Inc. developed an innovative, unique and engaging experience for its most loyal customers. Using Experian Marketing Services, the company developed a mobile strategy that offered customers the opportunity to receive daily SMS/MMS mobile message reminders about its curated and personality-drive holiday gift guides. The mobile campaign exposed a breadth of products and allowed Bon-Ton to provide an added value to customers by helping to find the perfect gift for everyone on their list, through an interactive experience.
MAC Cosmetics — Best Creative Campaign
MAC Cosmetics created a unique, forward-thinking Halloween email marketing campaign that included animated video. Consistent with its focus on artistry and individuality, the email campaign series featured detailed instructional make-up videos, as well as product recommendations to help customers recreate the videos' unique looks.
Neiman Marcus — Best Innovation Campaign
Neiman Marcus was recognized for its in-store technology, the MemoryMirror that bridged the gap between stores and online while simplifying the customer's shopping experience. The technology enables customers to take a 360-degree video of an outfit, allowing the customer to see the item from all angles. By enabling email and social sharing of the video, Neiman Marcus customers can share the look on social media and through email.
GODIVA Chocolatier — Best "Insight to Interaction" Campaign
With the goal of engaging its inactive population, Godiva leveraged Experian's Email Insights to intelligently target the most likely customers to engage without sacrificing brand reputation. The marketing campaign helped grow regular campaign targeting by more than 10 percent.
 American Eagle Outfitters — Best "Data for Good" Campaign
As a socially conscientious brand, American Eagle Outfitters has leveraged its email marketing program to support various social topics. The company's lingerie and apparel brand, Aerie, created a campaign that shed light on self-acceptance and body-positivity. Since the marketing campaign was initiated, the brand has been recognized as a strong proponent in the social space and giving back to the community.
"In order to stay ahead of the competition and adapt in today's ever changing environment, brands need to provide customers with a meaningful journey and memorable experience," said Jeffrey Wilks, executive vice president and general Manager, Experian Marketing Suite. "These brands are at the forefront of delivering on that ideology. Through their commitment to innovation and use of data and technology, these brands are able to intelligently interact with their customers and better serve their needs."
More than 1,000 marketers came together for Experian Marketing Services' 2016 Client Summit, where they were able to network and attend breakout sessions to help them take their marketing campaigns to the next level.
Featured speakers included:
Ashley Graham, model, body activist and entrepreneur
Adam Grant, author of Originals: How Non-Conformists Move the World and Give and Take: Why Helping Others Drives Our Success
Barry Schwartz, author of Why We Work and The Paradox of Choice: Why More Is Less
Richard Sherman, All-Pro cornerback for the Seattle Seahawks
Lisa Leslie, former WNBA center and Olympian
Kim Lewis, vice president of omnichannel marketing for Golfsmith
Jim Murphy, executive director of marketing technology and operations for Hearst Magazines
Sal Tripi, AVP of digital operations and compliance for Publishers Clearing House