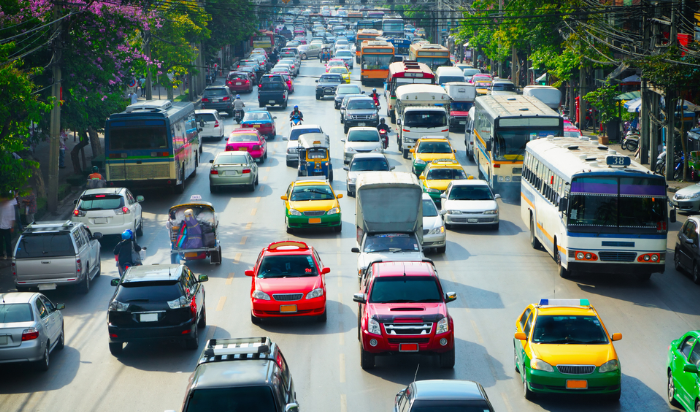 Experian Automotive today announced that there were 17.3 million more light-duty vehicles seven years and older on the road in the United States than there were three years ago.
According to its Q1 2012 Vehicles in Operation (VIO) market analysis, Experian Automotive also found that there were more than 245 million vehicles on U.S. roads, and that the age of vehicles increased when compared to Q1 2011, up 1.9 percent to an average age of 11 years.
"An increase of later-model vehicles on the road is a positive sign for the industry because it creates growth opportunities in the important aftermarket sector," said Jeffrey Anderson, director of consulting and analytics for Experian Automotive. "With lower scrappage rates, historically large sales of older-model vehicles and an increase in incentives for maintaining vehicle ownership, aftermarket part manufacturers and retailers will see an influx of shoppers looking to extend the life of their vehicle."
Additional data from the report showed Ford as the most prevalent make on the road in Q1, followed by Chevrolet, Toyota and Honda for both Canada and the United States. At the model level, the U.S. analysis showed that the Ford F-150 had the largest volume on the road, followed by the Honda Accord, Toyota Camry and Chevrolet Silverado.
Other findings from the analysis showed that light trucks in the United States continue to grow and maintain a higher percentage of the total VIO than passenger cars.
Light trucks made up 50.8 percent of the total U.S. VIO in Q1 2012, compared with 49.2 percent of passenger cars. Full-sized pickups make up the greatest percentage of VIO, at 14.6 percent overall, with General Motors, Ford, Chrysler and Toyota making up the greatest majority (98.7 percent) of those vehicles.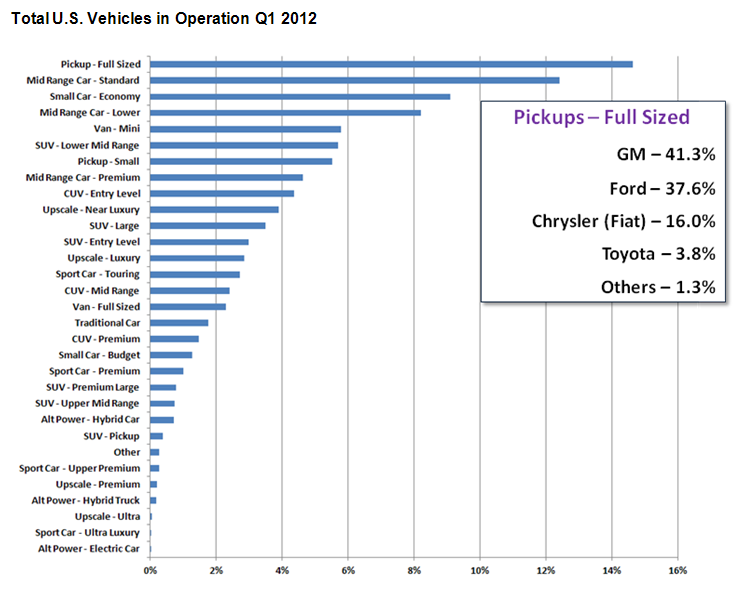 Additional Q1 2012 findings for the United States include:
Hybrid/Electric vehicles represent 0.9 percent of VIO in the United States
78.5 percent of all light-duty vehicles in the United States are 15 years old or newer
The top five vehicle segments in the United States make up 50.1 percent of the VIO market
Findings from the Canadian Q1 2012 VIO analysis include:
More than 22 million vehicles were registered, up from 21.5 million in Q1 2011
The average age of all light-duty vehicles was 9.6 years
The largest volume models were Honda Civic, Ford F-150, Toyota Corolla and Dodge Grand Caravan
Passenger cars made up the greatest majority of VIO at 53.2 percent, and light trucks only encompassed 46.8 percent
Small-economy cars were favored over full-sized pickups, with small cars encompassing 17 percent of the total VIO
Hybrid/Electric vehicles represented only 0.4 percent of VIO
85.3 percent of all light-duty vehicles are 15 years old or newer
The top five vehicle segments (small economy car, full-sized pickup, lower midrange car, standard midrange car and minivan) made up 60 percent of the Canadian market
Photo: Shutterstock