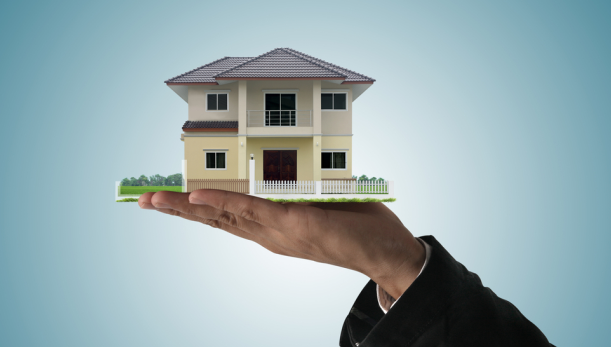 As more Americans emerge from the economic depths of the recession, they're reminded by one significant fact: not all consumers reduced their debt burdens during 2011.
Super-prime VantageScore® consumers — those with scores of 901 to 990 — actually increased debt by $100 billion from Q4 of 2010, notably in new mortgage, bankcard and auto debt.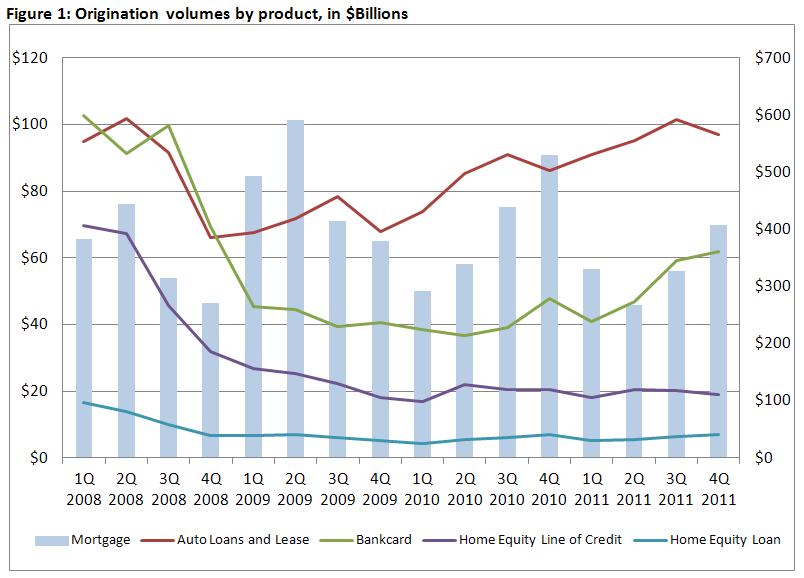 Mortgage lending activity quickens
At the close of 2011, automotive loans and bankcard originations showed the biggest upticks. While new mortgage lending remained weak, the origination volumes of $407 billion in Q4 represent both an increase from the previous three quarters in the year and a heavy weighting toward refinance activity.
In fact:
More than 75 percent of dollars originated for single-family home purchases in Q4 of 2011 were refinance volumes.
As interest rates remain low during the first half of 2012, additional refinancing activity is expected, providing a silver lining to the persistently slow activity in this sector.
The latest wave of refinance activity indicates that many homeowners are still striving to stay in their homes and smooth out their cash flow through refinancing.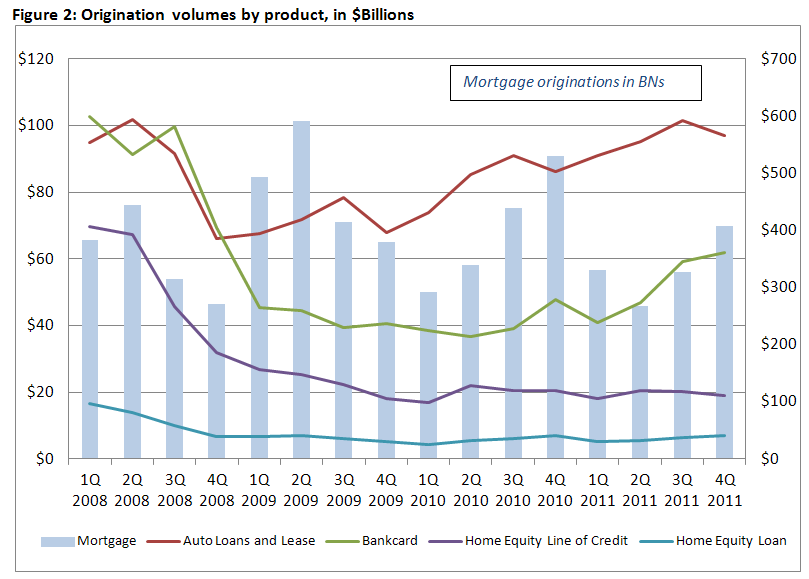 Housing will continue to struggle through 2012
Mortgage-lending volumes remain at extremely low levels, despite record low interest rates. A new round of declining home prices in key markets in Q4 2011 compounded housing sector troubles. The national home price index fell by 4 percent from a year ago, with many major markets seeing further price declines in excess of 10 percent from a year earlier.
Through all of this, mortgage delinquency exposure remains high, but 30-plus DPD balances have decreased for 10 consecutive quarters, falling to $565 billion in Q4 of 2011. Regionally, mortgage delinquencies represent 6 percent to 8 percent of all mortgage debt, except in California and Florida, which were especially hard hit by the credit crunch and recession and continue to see such delinquencies representing at least 10 percent of mortgage loan outstanding balances.
Further economic gains anticipated
Until housing rebounds, the nation's unemployment rate is expected to stay relatively flat from its March 2012 level of 8.2 percent. The increase in gross domestic product will continue to contribute to increased private-sector hiring, which will slowly have a notable effect on the overall number.