Twenty years ago this week, the first mobile text message, or SMS, was sent by British engineer Neil Papworth. Today, Americans are texting more than ever and among young adults, many of whom were not yet born when the first message was sent, texting is almost as common a mobile activity as talking. And why wouldn't it be? According to the latest Simmons National Consumer Study, 48% of adults ages 18-to-24 say that a conversation via text message is just as meaningful as a telephone call. A similar share of adults ages 25-to-34 feel the same way.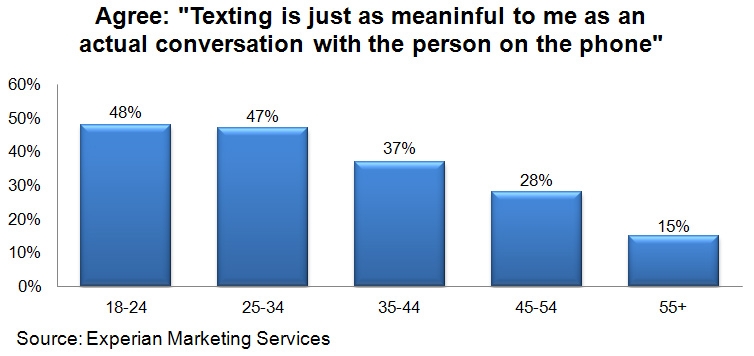 Regardless of age, texting is still, technically, the second most common activity that Americans engage in on their cell phone after talking. During a typical week, 95% of mobile adults talk on their mobile phone, while 59% text. Among adults ages 18-to-24, however, 89% talk on their phone and 85% text. Despite the increasing availability of mobile chat or instant message applications, texting remains the dominant means for exchanging short messages. Only 8% of all mobile adults use their phone to IM or chat.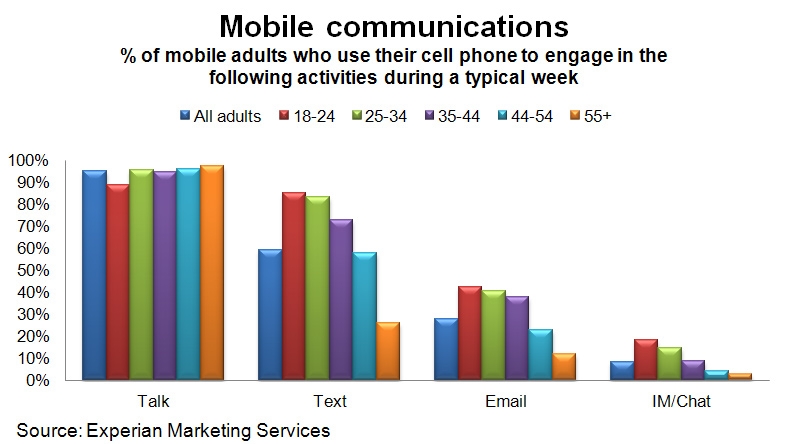 The fastest thumbs
To get a more in-depth understanding of the texting habits of adults today, we leveraged data from the Simmons Connect mobile panel of 1,485 U.S. smartphone owners. Hands down, young adults text more than any age other age group. During a typical month, in fact, smartphone-owners ages 18-to-24 send 2,022 mobile text messages and receive another 1,831 for a combined total of 3,852 texts sent and received. With every age bracket we move up, the number of mobile texts drops by roughly 40%. For instance, smartphone owners ages 25-to-34 send, on average, 1,110 text messages a month and receive another 1,130 for a combined total of 2,240 messages.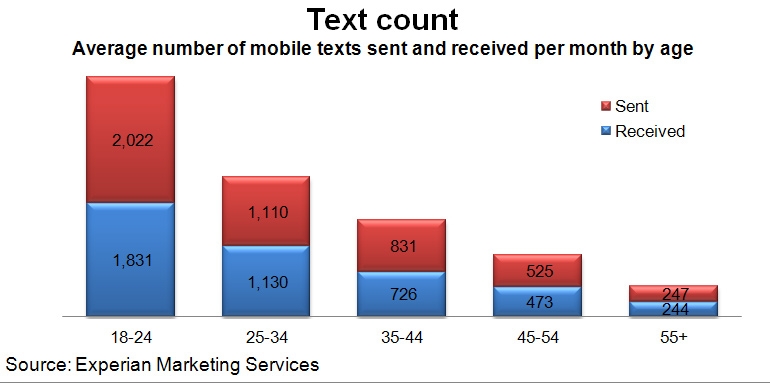 We are also able to leverage the Simmons Connect smartphone panel to understand mobile calling behaviors. The data shows that while young adults hold the record for the most text messages sent and received, they actually make and receive few calls, by comparison. During a typical month, smartphone owners ages 18-to-24 make 119 calls on their mobile phone and answer another 64 calls. Adults ages 35-to-44 make and receive the most calls on their mobile phones in a given month. (Call counts do not include inbound and outbound calls that go unanswered.)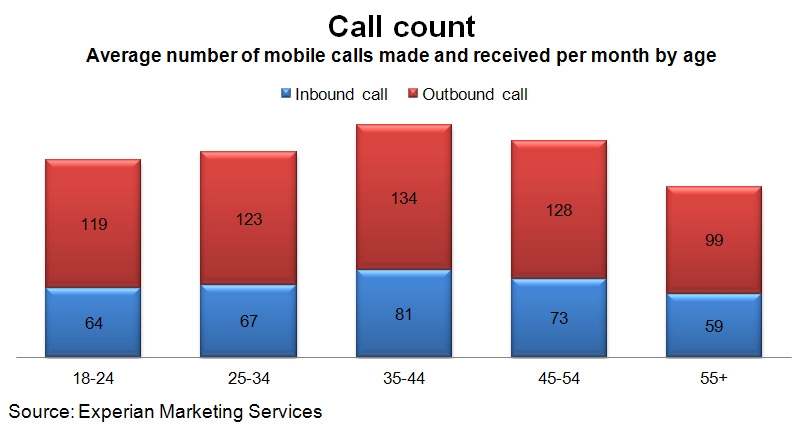 Text around the clock
Unlike television and radio, which have peak hours for reaching consumers, mobile text messages reach Americans throughout the day, providing advertisers with a medium to connect with consumers any time they want or need.
No surprise, young adults are the most likely to send and receive mobile text messages throughout the day. The smartphone panel data shows that during every hour between 8:00 A.M. and midnight, more than half of young smartphone owners are both sending and receiving mobile text messages. Even when most of us are asleep, young adults' smartphones continue buzzing from inbound texts. In fact, 37% of 18-to-24 year-old smartphone owners receive texts at 4:00 in the morning. By comparison, just 20% of smartphone-owners ages 25-to-34 years-old receive texts at this late (or early) hour as do 17% of those 35-to-44, 15% of those 45-to-54 and 10% of those ages 55 and older.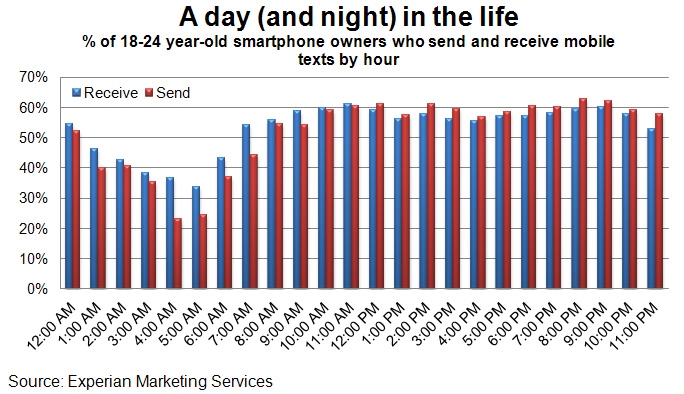 Better to send or to receive?
During overnight hours, the share of young smartphone owners who send texts surpasses the share who receives them. However, by 8:00 A.M., the difference between those two figures narrows to the point that they are nearly equal. In fact, from noon until 11:00 P.M., young adults are more likely to send mobile text messages than they are to receive them.
Call or text?
While texting is still a secondary use of mobile phones after calling, that's not the case all day, especially among young adults. In fact, while smartphone owners ages 18-to-24 are more likely to make an outbound call than they are to send a text from their phone between 7:00 A.M. and 10:00 P.M., they are more likely to send a text between 11:00 P.M. and 6:00 A.M., during hours when they might understandably wake the recipient. That should help us all sleep a little better.