With the New Year upon us, many Americans have turned to the Internet to help with their 2013 resolution of losing weight. According to Experian Marketing Services' data, the most searched for diet was the "Paleo diet" for the week ending January 5, 2013. Searches for diets are one of the more predictable patterns on the Internet, with the high point always being the first of the year, and the low-point being around Thanksgiving week. Marketers can benefit from this trend by understanding and planning around the seasonality of this interest.
Other top 10 searches that contained the term diet for last week included popular diets such as the Atkins diet, Gluten Free diet, and the 8-hour diet. Additional top 2013 diet searches included the Cabbage Soup diet, South Beach diet, Shred diet and the HCG diet. The Paleo diet, Gluten Free diet and Shred diet are all new to the top 10 list. Looking back at the same week in 2012 the Dash diet owned the #1 spot, and in 2011 the HCG diet was #1.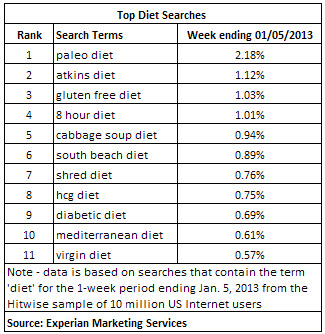 The actual top overall search term this past week was Paula Deen diet, as she announced that she lost more than 30 pounds after revealing she had diabetes earlier in 2012. Interestingly enough, the term diabetic diet made the top 10 searches for the second straight year. Other trends we noticed include the continued popularity of low carb diets with the Paleo, Atkins, South Beach diets all taking top place in search term data. We're also seeing the return of a religion based diet (the Jesus diet was popular in 2010) with the Daniel's diet among the top 20 searches in 2013. Many fad diets pop-up this time year usually with a time period attached – 2-day, 17-day or 3-day diets.
So who is doing all the searching? Females accounted for 58% of diet searches this past week and households who earn between $30K-60K a year made up the majority of searches with 33%. The states with highest index of diet searches include: Delaware, North Dakota, Wyoming, Wisconsin and Nebraska.
For more insights like this please follow us on twitter @ExperianMKT.
Learn more about the author, Matt Tatham