Whether it's a result of the sky rocketing costs of razor blades, the increasing popularity of Movember or a general trend among Hollywood's leading men to sport some scruff, it seems that facial hair hasn't been this en vogue since the mid-70s. Whether you love it or hate it, shaving is big business and any rise in beardedness can shave significant revenue from the bottom lines of companies catering to men's grooming products. As proof, CPG giant Proctor & Gamble recently announced that its second-quarter earnings were negatively impacted due to the growing preference among men for mustaches and beards.
For years, Experian Marketing Services has been measuring the grooming habits of men for marketers via our trusted Simmons National Consumer Study and a recent analysis of the data shows a slight, yet clear, decline in the use of shaving products and an increase in the percent of men sporting facial hair in recent years, especially among the younger demographic. According to our estimates, 17 percent of all men and 35 percent of young men ages 18 to 24 have facial hair today, up from 14 percent and 31 percent, respectively, since 2009. That said, most men with facial hair at least occasionally use shaving products, like shaving cream, disposable razors, razor blades or electric shavers. In fact, the vast majority of all guys (94 percent) still use at least some shaving products, and that number has remained virtually unchanged in recent years.
There is, however, a sizable and growing share of young men who are going all wooly mammoth and steering clear of shaving products all together. Specifically, 15 percent of men ages 18 to 24 today say they don't use any shaving products up from 13 percent in 2009. As younger men's beards fill in and they move into more professional occupations, most are likely to throw in the (hot) towel and pick up a razor, as evidenced by the fact that only 5 percent of men in the next-oldest age bracket (25 to 34) don't shave. But the growing bearded trend among young men is hair raising nonetheless.
Another trend worth monitoring is the declining frequency of use of shaving products overall, which clearly reflects the increasing popularity of the two-, three- or five-day beard. Among the 67 percent of all men who use shaving cream, for instance, less than a third (29 percent) say they use it seven times a week or more often (the equivalent of a daily shave). On average, men today use shaving cream only 4.3 times per week down from 4.5 times per week in 2009. Young men use shaving cream only 3.3 times a week on average, down from 3.6 times in 2009. Frequency of use is also down among the 36 percent of men who use an electric razor, a popular grooming tool for bearded men who wish to keep things a bit more tame. In fact, just 27 percent of men in the electric razor set say they use it seven or more times a week. On average men use an electric razor 3.7 times per week, down from 4.0 times per week in 2009.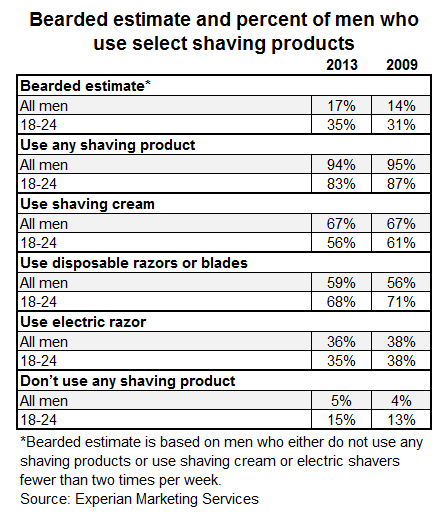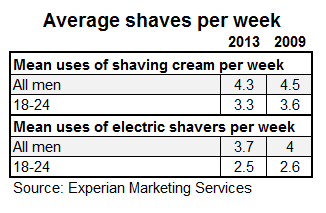 On the bright side, Proctor & Gamble, in their latest earnings report, said that despite bad news for their facial hair business, they see potential to offset losses with the increasing popularity of body-shaving by men. And they may have a point. Based on 52-week trend data from our Hitwise online search intelligence tool, searches for "manscaping," a modern term used to refer to the shaving or trimming of excess body hair, are up a relative 14 percent in the past year.