As marketers, we all want to better leverage data to understand our customer and provide them with the best possible experience. It not only better serves our clients, but is ultimately more profitable for the company. But most of us struggle with large volumes of data, with no idea how to best use it.
There are many factors that play into this problem. For most organizations, data is spread out across multiple systems with no consistent data management strategy. That means that as marketers, when we get the data, it comes in a wide variety of forms. The standardization could be different, customers could be missing certain record fields, purchase history could be divided into different accounts…you get the picture.
This disparity makes it difficult for us to get any sort of insight from the information. How can we leverage data if it is inaccurate, incomplete and not accessible?
Experian Data Quality recently completed a survey of over 250 chief information officers (CIOs) and found that they too are struggling to leverage data. Four out of five see data as a valuable asset that is not being fully utilized within the organization.
In speaking with the CIOs, some of the biggest challenges aren't just about technology, but rather organizational structure and company culture. Sixty-eight percent of CIOs struggle to find stakeholders who take anything other than a siloed view of data management. In addition, 70 percent of respondents say they struggle to implement data-driven decision making because no one seems to own the process.
To improve data insight, organizations need to improve the structure around data management. This is where the chief data officer (CDO) comes into play.
The chief data officer is a growing c-suite position that is getting more and more popular. Most of the CIOs we spoke with that had a CDO said the role had only been created in the last six months.
The reasons companies are looking to put a CDO in place are all related to improving access and insight from data. CDOs are there to:
Reduce risk around data-driven projects
Curb costs from poor quality data
Handle increasing data governance pressures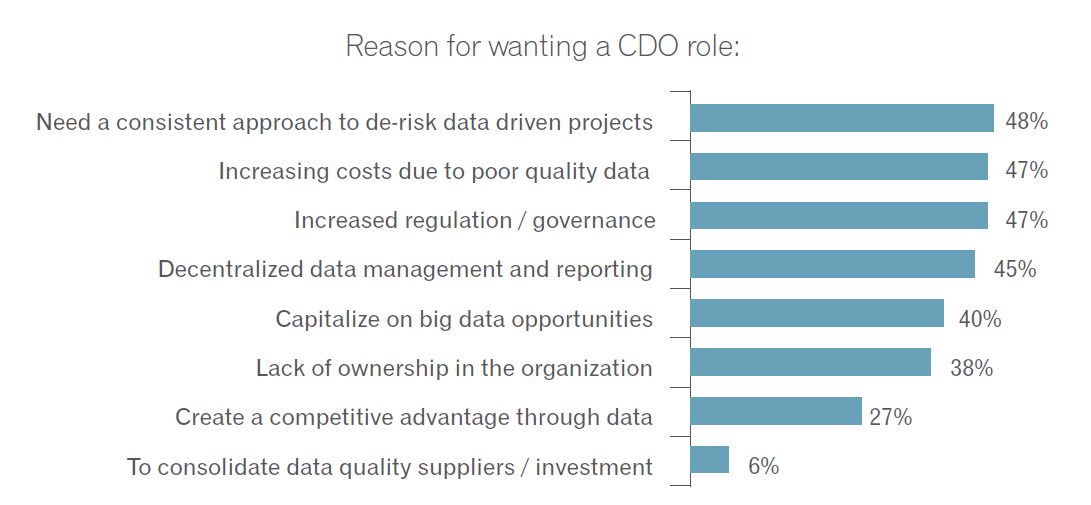 As this role continues to grow, it is going to have a big impact not only on marketing, but also the organization as a whole.
With that in mind, join us for a webinar on Tuesday, August 18th at 2 PM EST to talk about the emergence of the chief data officer. We'll discuss data as an untapped resource, how the role is changing organizations and how to ensure your organization is ready for the shift that this new role brings. Register today!