With the busy holiday marketing season in full swing, Experian Marketing Services has released its online retail round-up for the week ending December 8.
The online traffic to the top 500 retail sites increased 5% for the period of December 2 – 8, compared to the same week in 2011.
Additionally, Amazon remained the top visited site among retailers, followed by Walmart and Target.   The chart below includes the top 10 results: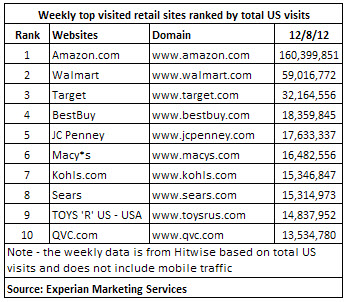 Experian Marketing Services also tracks top product searches.  Listed below are the top 5 product searches for the week ending December 8:
Uggs
iPad mini
iPad
Beats by dre
Ipod touch
We will continue to publish weekly retail site data and insights through this holiday season.  Please leave us a comment below if you have any specific questions along the way.
Learn more about the author, Matt Tatham