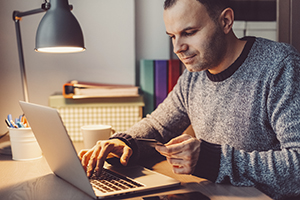 For decades, financial institutions relied on direct mail marketing and mass media for credit card offers and invitations to apply (ITA) for loans. Today however, credit marketing is going digital. In fact, according to Statista, financial services ranks 3rd in total digital ad spend this year. Lenders need to deliver relevant credit offers to consumers in the spaces and platforms where they interact. Below are three best practices to help financial services marketers make the most of their digital budgets and strategies.
1. Test new acquisition channels
Consumers are no longer just in one place. They are constantly moving around and business strategies need to encompass that. Today's consumers have multiple devices – a mobile phone, a TV, a laptop, a smartwatch, etc. and each of these devices uses a different tactic to attract consumers. Marketers need to reach their audience across all the channels with which they are engaging. To maximize performance and profitability, lenders need to leverage multiple channels to target and re-target their intended audience. They need to expand the reach of tailored prescreen ad campaigns by adding email, digital display ads, or other online channels to the traditional direct mail channel. This will help increase response rates, decrease length of time to conversation, and provide insight on consumer behaviors and preferences that cannot be achieved with a direct mail offer alone.
2. Target an audience that is right for you.
Through a streamlined credit criteria selection process, and Experian's expertise in audience creation, you now have the power to target the best consumers for your business needs in a fully customized approach. Financial services marketers should isolate appropriate populations – enabling you to make unique offers for different consumer segments and target them in the channels they leverage. In addition, you need to ensure your data is accurate and compliant. Fresh, accurate data enables you to pre-select the best prospects for your business need—right when they are most motivated to respond—and avoid making preapproved offers to nonqualified consumers. Also critical is that while we are able to use regulated data sets to reach consumers, we need to do so with extra caution while meeting FCRA guidelines. It is imperative to honor consumer opt-outs across all channels and ensure you have audit rights with media publishers.
The Experian Ascend Technology Platform gives financial institutions the power to integrate client data, industry-specific data feeds and the power of Experian's unique capabilities in data, analytics, machine learning and advanced AI  to deliver enhanced opportunities throughout the customer lifecycle, including lending offers to acquire new customers and cross-sell to existing ones.
3. Test and adjust your campaigns
Before the world of digital, it was difficult for financial institutions to track campaign impact on audiences. By employing online promotions, lenders can see how much interaction consumers are having with their promotional media. Financial services marketers should take processes and campaigns that have worked in the past and perform small, iterative tests using different channels. We believe that by adding a digital touch to a client's direct mail prescreen campaign, there is the potential to experience a lift above direct mail response rates; decreased length of time to conversion, and we can provide insight on consumer behaviors and preferences that cannot be achieved with a direct mail offer alone.  It is important to test and optimize accordingly.
Experian is also at the forefront of the digital credit revolution with Amplified Prospecting™. Experian's Amplified Prospecting empowers lenders to deliver relevant firm offers of credit to prescreened consumers via multiple digital channels, including email, online display advertising and social media. Simply put, it allows you to timely engage the most desirable consumers where they're increasingly consuming information and media today – improving your response rates and return on marketing investment.
Experian is a leader in the credit revolution, offering more ways for consumers to secure credit including the industry-first Text for Credit™, which allows users to initiate and complete the credit application process within minutes with a simple text message. In addition, Experian recently introduced Experian Boost, a revolutionary new online tool that can instantly improve your credit scores and help the 100 million Americans that don't have access to credit today, either because their credit scores are too low, or because they don't have enough credit history.
With faster, more efficient data integration and processing you can more accurately target leads, achieve better response rates, and optimize your marketing spend.
To learn more about Experian's Financial Services solutions, contact us at (877) 902-4849 or experianmarketingsolutions@experian.com to learn more!