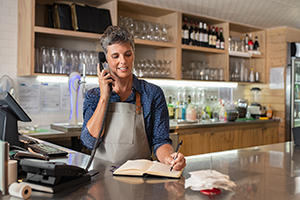 QSRs have emerged as superheroes during the pandemic, creating an entirely different consumer experience in record time by offering contactless delivery, curbside pick-up, and other innovations that have allowed them to stay open and operational when so many other businesses have shuttered. But as many states are still moving through their phased re-opening plans and more options become available to consumers, QSRs are challenged with keeping their momentum going. How can they continue to build on their success? The key is activation. Advertising on the right channels at the right time.
The more QSRs can offer experiences that leverage the power of data to better speak to their customers and address their unique needs, the better chance they have of continuing to succeed in these unwieldy times. As we move into the fall and winter, and as more and more people look to QSR's to help with their meal plans, consider the following:
1. Use data to create a more robust loyalty program.
There's no question consumers have plenty of QSRs to choose from and using a loyalty program is an excellent way to ensure they continue to view you as a preferred dining destination. But you might be surprised to learn how much of a difference it can make to your bottom line. PYMNTS reported that in 2019, Starbucks President and CEO Kevin Johnson shared how the company's active mobile app rewards membership grew to 16.8 million users, which comprised 41% of sales in U.S. stores. The PYMNTS Restaurant Readiness Index also shows that 79.5% of QSR customers and 47.5% of QSR managers see loyalty programs as a feature that is important to a restaurant's success. Now is a great time to review your loyalty program (or create a new one) and see if you can expand it to offer more perks, thereby enticing more customer interaction. A strong loyalty program should include a combination of your own customer data, enriched with third-party data for deeper customer insights, such as behavior, lifestyle and interests.
2. Make it easy for customers to order, purchase and pick-up with mobile ordering.
Mobile ordering is no longer the wave of the future—it's part of the new now. PYMNTS reported that Dunkin' Brands CEO Dave Hoffmann noted on-the-go ordering experienced an average weekly sales increase of 25% year over year—and this growth was especially key in locations without a drive-through. For customers who want an easy option that allows them to order, pay and pick-up at curbside, mobile ordering is the ultimate in simplicity, and your data can help you determine who is most primed to take advantage of this option so you can push it directly to them.
3. Offer demographic and location-specific promos.
The power of data can help you know a lot about your customers, from age and occupation to whether or not they have a family, how they spend their time, and how much of that time is spent at your competitor's restaurant. This data can help you craft promotions that can speak directly to your consumer, ensure you're advertising on the channels they prefer and frequent and get them in your door.
When you know you cater to parents who are tired of a long day of homeschooling and work Zoom meetings, you can tailor and execute a promo campaign that speaks directly to their needs and deliver it to their preferred channel, encouraging them to skip cooking and order from you instead. Or maybe you have locations that are close to college campuses, allowing you to entice students with a two-for-one deal they just can't pass up. And as offices start the slow process of opening back up, there's an opportunity to welcome workers back to the neighborhood with a special curbside or delivery pick-up deal.
4. Ensure your customer knows your brand values.
More and more, consumers are becoming conscious of who they spend their money with and why. As Longitude Design points out, this is something Ben & Jerry's does exceptionally well, and their value message is spread across everything the brand does, from their scoop shops to their store-bought pints to their company-branded events. This is your opportunity to share what you value as a company and a brand, and how it aligns with your consumer's lifestyle. Is your food sustainably sourced? Is your packaging environmentally friendly? Be transparent about your supply chain, share how you care for your employees, give some insight into the prep process behind your food, as these insights will help your consumer gain trust in you, which in turn creates loyalty. Social media is a great way to get the word out about your value-based operational initiatives.
To learn more about how you can use data to build on and enhance the new customer QSR experience, visit our Restaurant Marketing Solutions page.