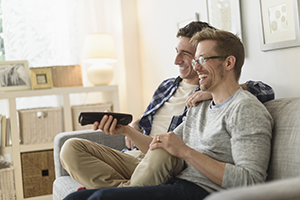 As the nation slowly works its way up to full speed, it's undeniable that the landscape has changed dramatically for every brand—especially when it comes to marketing and advertising. Many are looking for new ways to better connect with customers to meet their needs and encourage their continued patronage and loyalty, while others are attempting to reach out to a whole new audience who may not have known about them pre-pandemic.
But even as brands are eager to get back to normal—whatever the new normal is—much like consumers, they're faced with an uncertain future that may be affected by new financial restraints. For marketers looking to make a big impact on their bottom line, now is the time to consider pivoting advertising efforts to advanced TV (Connected TV/OTT and addressable TV).
While traditionally cost prohibitive for many brands, the pandemic has greatly changed the availability of TV advertising. TV advertising is now more affordable than ever, opening up opportunities to brands who may not have had the ability to include it in their previous marketing plans. Whether it was due to the cancellation of live events or the delay of basketball season, or just general skittishness that's keeping other brands from spending money on TV advertising, their pivot is to your benefit.
There's no question that consumers' attitudes toward brands will have changed during the pandemic, which means they might need to be reminded of your brand and what it has to offer. There may be some who are seeing your brand for the first time, or for the first time in a long time. The good news is, people are watching TV now more than ever before. According to Experian's Consumer Sentiment Index, television consumption is up 41% from mid-May to mid-June. Cable TV viewership has seen a 22% increase over the same period of time, showing that consumers are still connected to traditional TV viewership.
Another reason why now is a great time to make advanced TV part of your marketing plan. While many states are still rolling out their re-opening plans, many consumers are still working from home, and the job landscape is still firming up. That means your customers will still be passing the time at home as the landscape continues to shift and change, and their attention will likely be directed toward their TVs. Plus, with consumer spending starting to rebound, you can benefit from this directed attention in a new medium.
And consumers aren't just watching TV on their televisions. Smartphone use is up 41% over last month, as is desktop/laptop use at 38%, and tablet use at 21%. And, when they're not watching their favorite show on their phones, computers or tablets, they're visiting advertiser websites and using apps more heavily. This means that brands can supplement their TV advertising with an omnichannel approach to ensure their consumer can connect with them through any device they're using.
All of this may sound intimidating to brands who haven't previously advertised on TV or executed an omnichannel campaign, but rest assured that the power of data can help make the experience fairly seamless. A data-driven marketing strategy can help brands better understand their audience, including demographics, lifestyle, behavior and attitudes—as well as their preferred engagement channels. This helps ensure that your message resonates and is seen on the devices and channels your audience frequents most.
With Experian's 50+ years of experience with consumer data, you can rely on us to help you execute a data-driven advanced TV campaign that targets the right audience with your message. And we collaborate with all TV operators and have connections with many industry media partners, so you can choose exactly where you want your outreach to go.
Find out more about how Experian's Advanced TV capabilities can help you have more meaningful interactions with people:
https://www.experian.com/marketing-services/television-advertising.