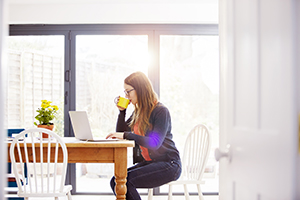 The effect COVID-19 has had on lives around the globe is unprecedented. It's fundamentally shifted our day-to-day routines, as well as many of our priorities. And yet, the fact remains, the situation for many Americans is still very fluid. How and when people will be impacted will vary, and how people respond to the pandemic will depend on circumstance. So, how do retailers and other businesses address their customers' challenges and help them through this difficult time?
First, you need to be empathetic. You need to understand how people are feeling in the current environment. What matters most to them? What challenges are they facing? How can you help?
We surveyed the general population to provide retailers and other businesses insight into consumer sentiment during COVID-19. The survey is updated daily and highlights the shifts among different regions and generations. As of May 5, 2020:
50 percent of Americans are buying more online than in the past
42 percent of Americans are spending less or trying to cut back on spending; among those in urban regions, the percentage is 32 percent
Groceries (46 percent) and books, video games and music (8 percent) are the categories that see the highest increase in spending over last month
Those in Generation Z have increase spending across many categories compared to last month, including groceries; food delivery/takeout; books, video games, music; alcohol, beauty and wellness; clothing
Usage of television and smartphone has increased by more than 50 percent each compared to last month
As expected, the priorities for people across different regions and age demographics differ, but it's important to note, these will continue to shift over the coming months. You need to be thoughtful with communications you deliver and understand when people will be in-market for your services. To accomplish this, many of the same ad principles apply—beginning with identity resolution.
People are more than just the interactions they have with your brand. Like all of us, your customers engage multiple companies, as well as jump from device to device to consume information and research products and services. You need to deepen your understanding of customers' needs whose lives you impact by connecting these digital touchpoints together as well as their preferred communication channels. If done correctly, you can create specific audience segments, better assess the appropriate time to reach out to your customers and connect with them through appropriate messages.
With so many lives upended, it's important for retailers and other businesses to provide communications and resources when customers need it the most. The more you can help your customers address their most pressing needs and make them feel heard, particularly during this difficult time, the stronger relationship you will build. All of our circumstances and situations are unique to us, so it's important to communicate with our customers, be there for them and address their specific needs.
Download the Understanding and Serving Consumer Needs During COVID-19 and Beyond whitepaper to find out how your organization can pivot to accommodate ever-changing consumer needs and concerns.