There is much to be said about the differences between college-age consumers (19- to 21-year-olds) today and their counterparts five years ago. As many marketers recognize, young-adult consumers cannot be targeted based solely on generalizations and assumptions. To accurately and respectfully capitalize on this segment's buying power, marketers need to understand how their spending patterns have changed in recent years and how to earn a slice of the group's spend.
Accounting for inflation, 19- to 21-year-olds are making more money than young adults did five years ago.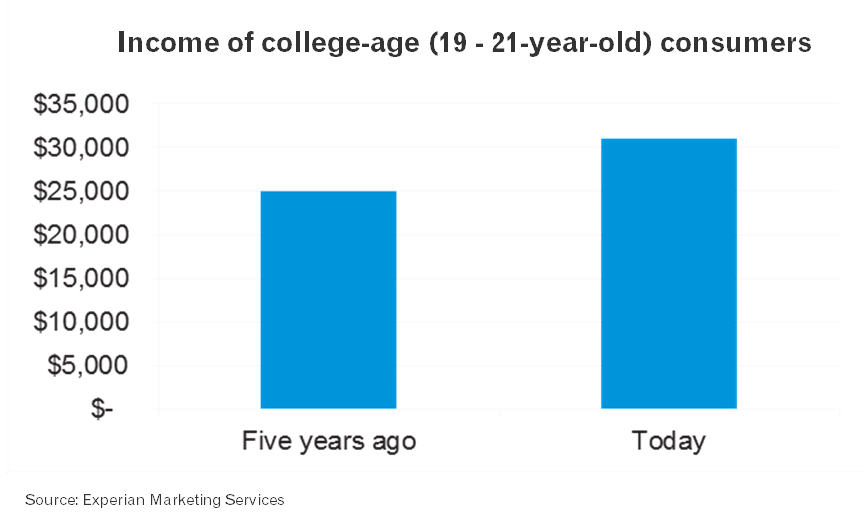 Their pay has increased by 20 percent, and, interestingly, their spending has increased by 30 percent. So where are they spending this money?
1. Dressing for success
According to Census Area Projected Estimates (CAPE) of expenditure data from Experian Marketing Services, both men and women in this age group are filling their closets with about 35 percent more professional attire — shoes included. This has brought 2015's average spend up to $22,859 per year per household for college-age women and $11,196 per household for college-age men. This rise in spending on professional wardrobe could be attributed to more professional entry-level job expectations or a possible shift in technical trade positions to business professional positions.  CAPE data also reveals a 70 percent increase in memberships to networking and recreational clubs. This increasingly professional outlook among college age consumers requires confidence and the right ensemble to proclaim success.

Key takeaway: Position products and services to appeal to this career-minded consumer who is aiming to look the part.
2. "Go with the flow"
What kinds of messages resonate with these individuals? According to TrueTouchSM data from Experian, college-age consumers can be best engaged when marketers appeal to them using a "Go with the flow" marketing message.
"Go with the flow" has consistently ranked as the top motivating marketing message for college-age individuals in the study.  The second and third most resonating marketing messages for this market are "Never show up empty handed" and "Work hard, play hard."
"Go with the flow" means this market has a live-and-let-live outlook on life. Brands who employ a similar outlook, don't take themselves too seriously and extend no-risk offers may have a better chance to engage this cohort.
Key takeaway: If marketers tailor messages around these motivating philosophies, they may have a better chance of earning this market's business.
3. Offline entertainment
For marketers in the retail industry, particularly those with clothing or supplies fit for the outdoors, be aware that this cohort of 19-21 year olds are visiting outdoor apparel and supplies sections more often than they did five years ago. In fact, they are spending 37 percent more on luggage and travel than the same age group 5 years ago. According to the same Experian CAPE study, renting RV's and increasing spend on camping and winter sports equipment are expenditures getting more attention from college-age consumers this year.

Key takeaway:   Despite being pegged as a technology-first generation, this cohort also enjoys going "off the grid." Even if you aren't selling outdoorsy equipment, be aware that there is more to this age group than smartphones and Netflix. Combine the "go with the flow" attitude with their sense of adventure to better cater your messages to these consumers.
A lot has changed in five years. Marketers trying to engage college-age consumers need to understand how spending habits (and motivations) are changing in order to provide the most relevant brand experiences and capture this hard-to-pin-down market.
To see how Experian Marketing Services' rich consumer data can help you profile your best customers, visit our website.