According to Experian Marketing Services' 2014 Digital Marketer: Benchmark and Trend Report, social media Websites are playing an increasingly important role in driving traffic to other Websites, including retail sites and even other social networking sites, at the expense of search engines and portal pages.
For instance, as of March 2014, social media sites account for 7.72 percent of all traffic to retail Websites, up from 6.59 percent in March 2013. Further, Pinterest, more than Facebook or YouTube, is supplying the greatest percentage of downstream traffic to retail sites. According to the Digital Marketer Report, more retailers are directing their customers to social media within their email campaigns. In fact, 96 percent of marketers now promote social media in their emails, and it shows. In 2013, for instance, email Websites generated 18 percent more clicks to social networking pages than the year prior.
Social drives more traffic to other social Websites
Social media Websites are driving more and more traffic to other social sites. In 2013, 15.1 percent of clicks to social networking and forum sites came from other social networking sites, up from a 12.5 percent click share reported in 2012. Despite driving the greatest share of traffic to social networking sites with 39.1 percent of clicks, search engines' share of upstream traffic to social declined a relative 13 percent year-over-year. Among the other top referring industries to social, only the portal front pages industry — which includes sites like Yahoo!, MSN and AOL and is closely affiliated with search engines — showed a drop in upstream click share providing further evidence that increasingly all (or most) roads lead to social.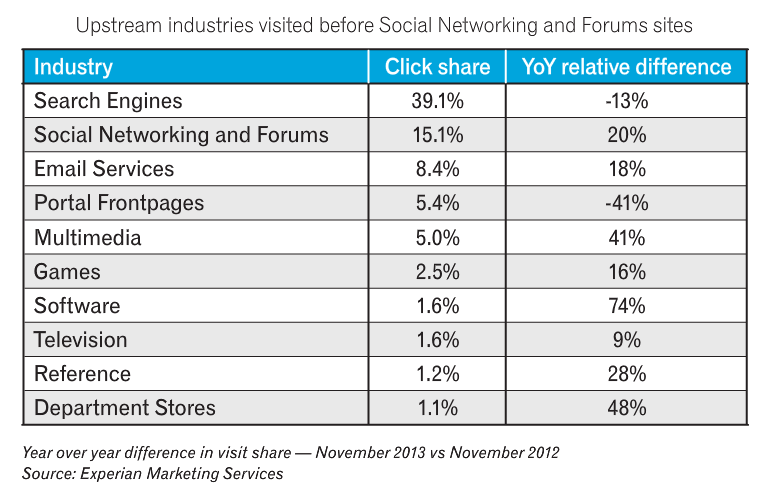 To learn more about key trends in social media traffic, including downstream traffic from social sites and the share of consumers accessing social media across multiple channels, download the free 2014 Digital Marketer: Benchmark and Trend Report.