A few months ago, during a conversation with the Simmons team at Experian Marketing Services, we started talking about how Hispanics are influencing the mainstream.  Someone threw out the "salsa outsells ketchup" anecdote we've all heard, and we realized that it was time to stop reusing the same examples and start trying to really prove whether or not this influence is happening. Not long after, the Latino Influence Project was born.
The study leverages a custom analysis of data from the Simmons National Hispanic Consumer Study, which measures over 48,000 respondents across 60,000 variables, including language, demographics, brand preferences, attitudes, lifestyles and even political outlook. Not surprisingly, the data showed that non-Hispanics who live in high-density Hispanic neighborhoods behave, buy and believe more similarly to Hispanics than non-Hispanics living in low-density Hispanic neighborhoods, even after controlling variables such as geography, education, income, age and other factors.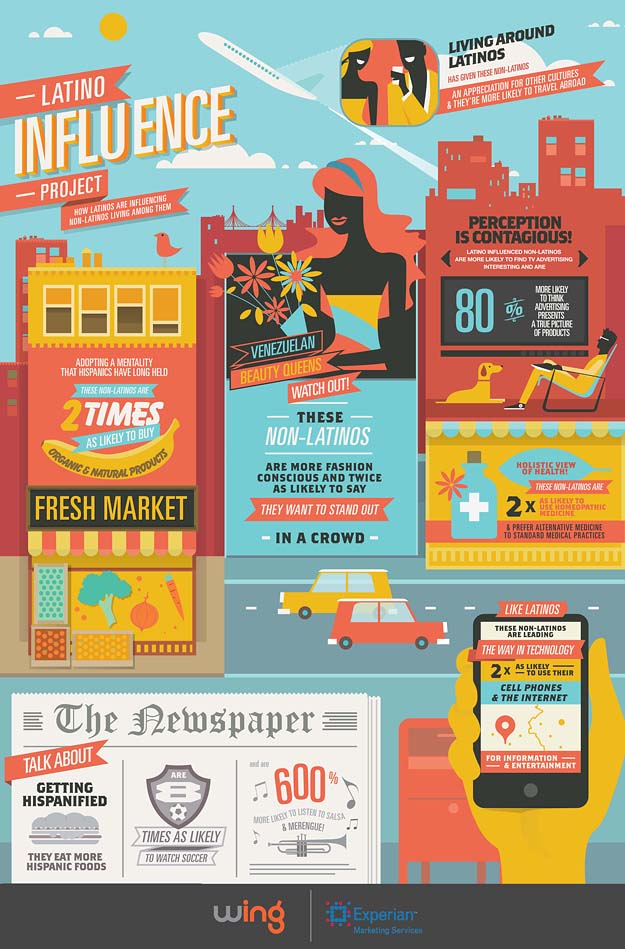 Some of our findings reinforced what we expected to see. For example, the data shows that non-Latinos living among Latinos:
Consume and enjoy more Hispanic products, including food, music and sports. They are 5.5 times more likely to eat jalapeños and are 6 times as likely to listen to and enjoy salsa and merengue.
Enjoy standing out in the crowd and being fashionable. They are twice as likely to say they like to stand out from the crowd and 70% more likely to experiment with new clothing styles.
However, we were surprised to see that the Latino influence on the mainstream extends far beyond just food, sports and fashion. Non-Latinos living among Latinos also:
Lead the way in technology. They are twice as likely to use their cell phones and the Internet for information and entertainment.
Eat less processed food. They are twice as likely to look for organic and natural when shopping for food.
Are environmentally conscious. They are twice as likely to buy recycled products.
The growing Hispanic population together with the influence they are exerting on non-Hispanics that live around them means that our whole notion of "general market" is changing, and will continue to evolve. We think that's pretty cool.
To find out more about the Latino Influence Project and learn more about what we found (and what we think it all means), please join the Webinar being hosted by Wing and Experian Marketing Services on Thursday November 29th, 2012 at 2:00 EST. You can also download the Latino Influence Project report.
Holly McGavock is Wing's Director of Planning, where she helps brands like Olay, Downy, Red Lobster and Radio Shack, among many others, connect with Latino consumers.