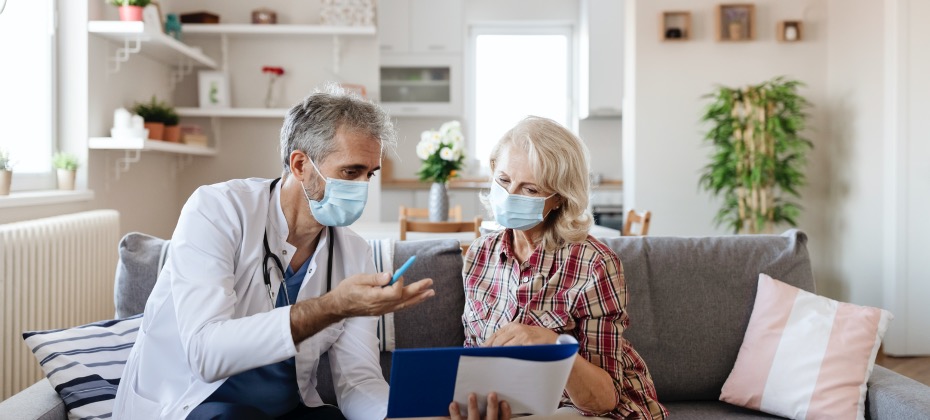 More than 40% of patients surveyed skipped medical care in the early months of the pandemic, according to a recent study by researchers at the Johns Hopkins Bloomberg School of Public Health. Of those who needed care, 58% missed scheduled preventive care. Similar trends are observed in cancer screening, with appointments for breast, colorectal, and cervical cancers – in some cases dropping by around 80%-90% in March and April 2020, compared to 2019. Diagnostic testing for several cancers also plummeted, as did HPV vaccinations.
These trends aren't unexpected: COVID-19 forced medical facilities to cancel or scale back services, while fear of infection and financial worries kept many patients away. But with most services operating at near-normal capacity again, and the vaccine program tipping the balance in favor of rescheduling care, preventative services are still lagging. Many patients remain reluctant to attend screening and wellness visits, despite the health risks associated with delaying care for potentially serious conditions.
Re-establishing a preventive care routine is essential. For patients, getting back on track with earlier diagnosis means more timely treatment and a better chance of recovery. It promises a better financial outlook for patients, payers, and providers alike, who all suffer higher costs when medical conditions escalate. And providers want to get their day-to-day business back on track to smooth out what has been a heavily disrupted workflow and revenue cycle over the last year.
Providers must reassure patients that returning to care is safe and necessary. Compassionate and personalized support will be key to making sure patients get the right care at the right time. Automated patient outreach strategies built on comprehensive patient data can help reverse the trends in forgone care.
How can data and automation support personalized patient outreach?
Kelly E. Anderson, one of the authors of the John Hopkins study, suggests that "physicians can mitigate some of the long-term harmful effects of this forgone care by proactively reaching out to patients who missed care, to try and reschedule the care either in-person or through telehealth."
Automated outreach combined with easy patient scheduling platforms can help providers identify and invite healthcare consumers to get much-needed preventive care appointments back on track. For example:
Automation makes scheduling easy for patients and efficient for providers
Online scheduling platforms allow patients to reschedule missed appointments at a time and place that suits them. A targeted outreach list of those patients most likely to need screening (for example, based on age, lifestyle, or health risk factors) can be used to send automated booking prompts and reminders by text message or interactive voice response (IVR). It's simple and convenient for patients and reduces pressure on call center staff. Plus, it generates a wealth of useful real-time data on response rates to pinpoint areas for improvement.
With the right data, providers can direct patients to appropriate services
For patients that can't or prefer not to attend their usual healthcare facilities, directing them to telehealth services or alternative venues might be a good option. Similarly, patients with a medical or family history that suggests a higher risk of cancer ought to be prioritized for screening. But you can only do this when you know who those patients are, and what exactly they need. Social determinants of health can be a powerful tool to help providers determine a holistic view of patients' clinical and non-clinical needs.
ConsumerView collates consumer data from over 300 million individuals, across multiple demographic, psychographic and behavioral attributes, so providers know more about the lifestyles and interests to be able to effectively resonate and engage.
Data helps create a better patient financial experience
Since many patients are worried about the loss of health insurance, outreach efforts might also involve pointing patients towards appropriate financial support. When socio-economic data reveals that a patient is struggling financially, providers can quickly check for missing coverage, offer tailored payment plans, and help obtain charity care if required.
Automated outreach can also deliver the upfront information about healthcare pricing that so many patients demand, and help staff collect faster patient payments by providing easy payment links through text and IVR campaigns.
Consumer data can inform compassionate patient communications
With the majority of patients opting out of scheduled appointments because of concerns about COVID-19 exposure, any invitation to reschedule care should offer plenty of reassurance about hygiene protocols. Some patients may need a gentle nudge to reschedule appointments, so if you can help them feel comfortable visiting facilities and tell them what to expect, they'll be more likely to return.
Offering additional reassurance and support to communities who are traditionally underserved by healthcare services, or who have been harder hit by COVID-19, will be even more important. Best contact information, social determinants of health insight and ethnicity insight can support efforts to promote screening to groups who may face additional barriers to care.
With the right data, you can go beyond compassionate messages and choose an appropriate communications channel that's the right fit for the consumer, too.
One thing that hasn't been hindered by COVID-19 is the trend toward healthcare consumerism. Patients have a choice about which provider they use. Proactively supporting patients to catch up on missed care is a surefire way for providers to stand out as the easy choice.
Learn more about how Experian Health can support personalized and proactive patient outreach.